Storyline
SIR PATRICK STEWART, MATT LeBLANC AND ANNIE MURPHY ARE THE COVER STARS FOR WATCH! MAGAZINE'S JANUARY/FEBRUARY ISSUE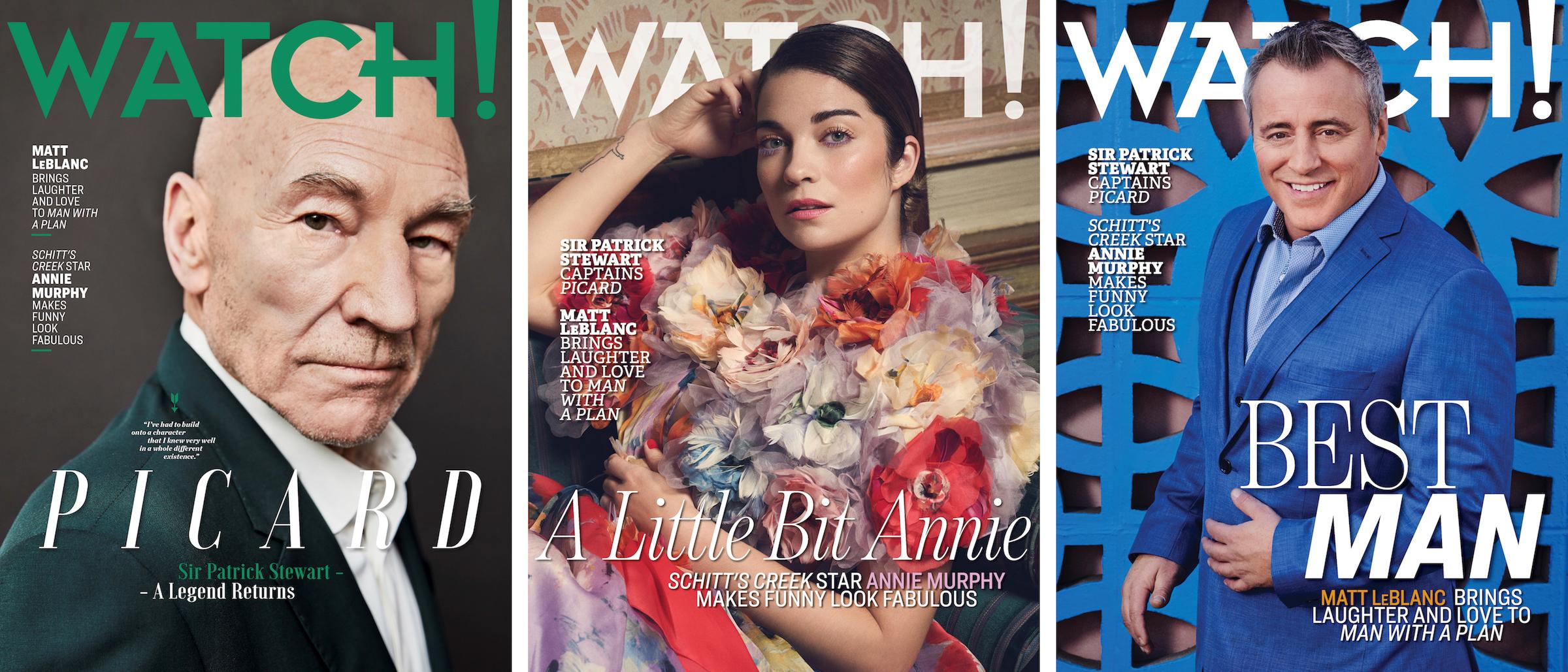 Sir Patrick Stewart Reveals the Concept that Made Him Want to Reprise His Iconic Role as Jean-Luc Picard on CBS All Access' New Series "Star Trek: Picard"
Fan-Favorite Matt LeBlanc Talks about the Appeal of Playing His First Family-Man Character on CBS' Returning Comedy "Man with a Plan"
Annie Murphy Discusses One of Her Favorite Experiences on Pop TV's Critically Acclaimed "Schitt's Creek" and Shares Which Attribute of Her Former Socialite Character that She'd Love to Have in Real Life
NEW YORK – Jan. 28, 2020 – Sir Patrick Stewart, Matt LeBlanc and Annie Murphy are the exceptional cover stars for Watch! magazine's January/February edition, on newsstands now through mid-March.
Also in the issue are stories on Kristen Johnston, the newest cast member on CBS' critically acclaimed series MOM; Judy Tygard, executive producer of CBS News' award-winning 48 HOURS; Ken Ehrlich, reflecting on his fabulous 40 years as executive producer of the GRAMMY Awards; NCIS: NEW ORLEANS' star CCH Pounder discussing her cherished collection of more than 500 paintings, sculptures and tapestries; and author Ariana Neumann, who penned the deeply personal new book When Time Stopped: A Memoir of My Father's War and What Remains. Readers can also delve into fun behind-the-scenes facts about CBS All Access' new STAR TREK: PICARD series, refresher quizzes on characters and past plot twists on SHOWTIME's returning hit series HOMELAND, a guide to the newest hot fashions and spring makeup looks, and much more!
During Sir Patrick Stewart's interview with writer Gina McIntyre about STAR TREK: PICARD, which premiered Thursday, Jan. 23 on CBS All Access, the legendary star shares that he had initially planned to politely decline the offer to bring Jean-Luc Picard (from "Star Trek: The Next Generation") back from retirement in a new series. However, as he heard more from the producers, he was swayed. "The most important decision that was made, certainly as far as it affected me, was that we all agreed that 18 or 19 years had passed for Jean-Luc Picard…What would happen to Jean-Luc when he was no longer a member of Starfleet, no longer captaining a starship, no longer intimate with all those crew members that he had worked with for all those years? That was why I changed my mind. I've never been in a series before where I've had to build onto a character that I knew very well in a whole different existence." Additionally, Stewart talks about reuniting on screen with some of his "Star Trek: Next Generation" friends/stars and touches upon the new cast's camaraderie: "Something happened when we all went to the San Diego Comic-Con for the very first time as a company to promote STAR TREK: PICARD. We had a chance to socialize properly, to hang out and talk and chat and drink some glasses of wine – real wine, not fake wine like we'd been drinking on the show. [Laughs] That experience shifted the dimension of our relationships, and we went from being colleagues to being friends."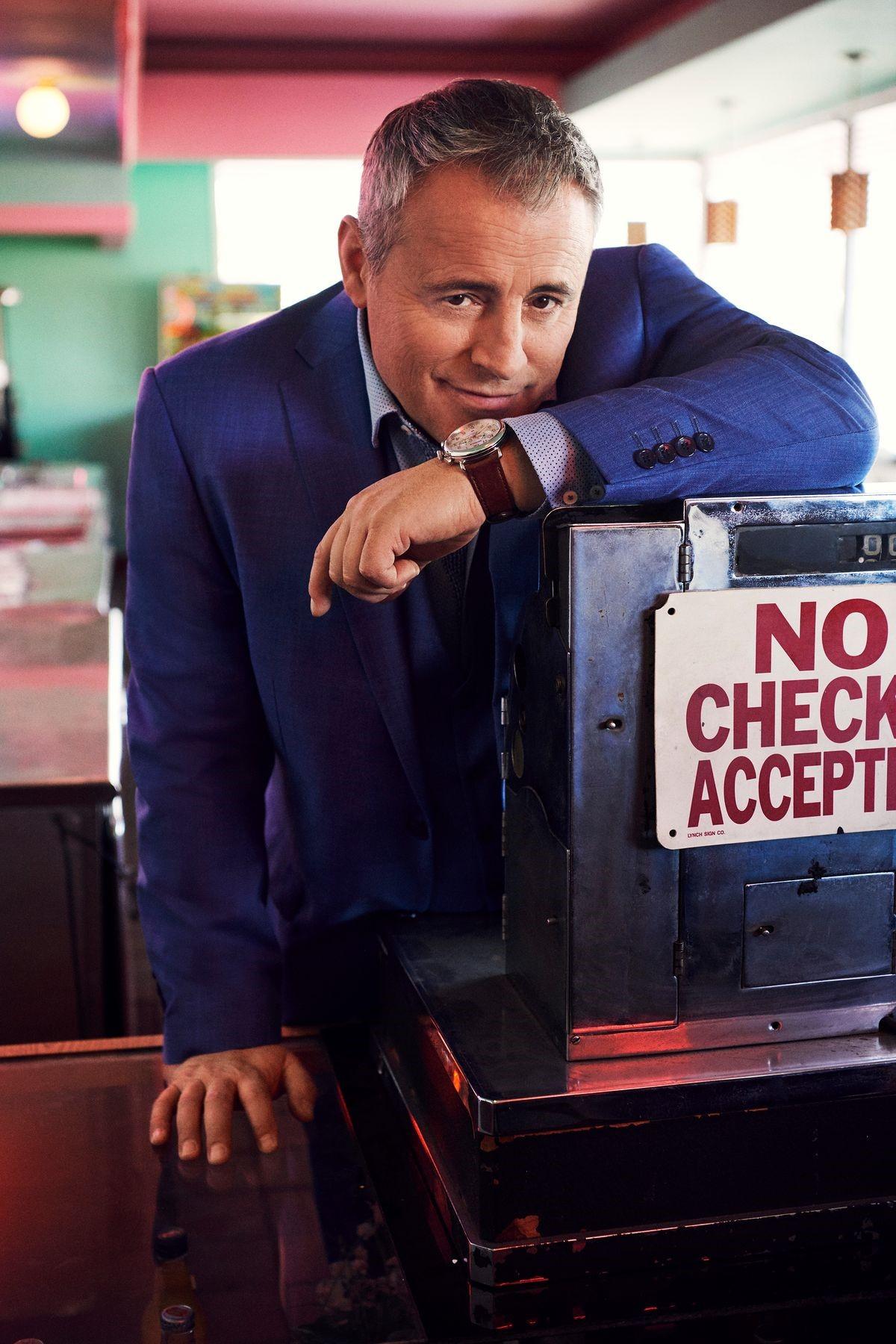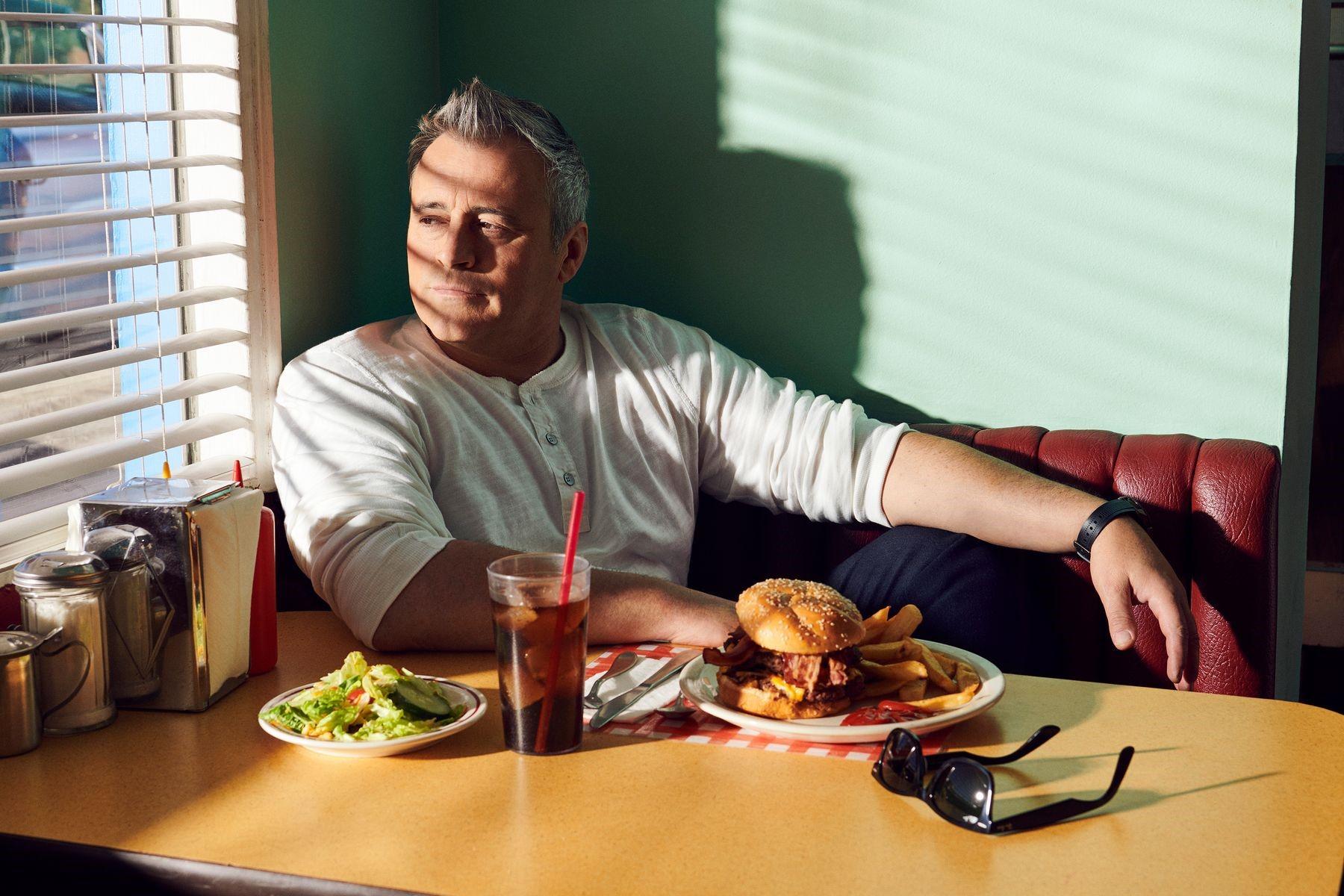 For Matt LeBlanc's cover shoot, which was photographed by Peter Yang in and around the colorful – and vintage – Cadillac Jacks Cafe at the Pink Motel in Sun Valley, Calif., he was styled by Sharon Williams in a mix of modern tailored suits, sharp jackets and comfy casual wear. During his interview with writer Henry Goldblatt, the likable and easygoing Golden Globe Award winner talks about the start of his career and what it's like being so recognizable: "It's weird to go into a room full of strangers and everybody knows your name, what you do for a living and how much money you make. But it's been long enough now that it doesn't really bother me." As for his initial decision to accept the title role in the popular CBS comedy series MAN WITH A PLAN, LeBlanc says, "My whole career, I never played a guy in a relationship. I never played a dad. I thought, 'Nobody's getting any younger.' This is what my life is now." And, now, with the series returning for its fourth season in the spring, LeBlanc shares that he remains grateful for his role, his executive producer status, and his stellar co-stars, including Liza Snyder, Kevin Nealon and Stacy Keach. "I wish I could have been more content when I was younger, but nobody is content when they're young…I'm happy where I am. I feel successful. And I feel fulfilled."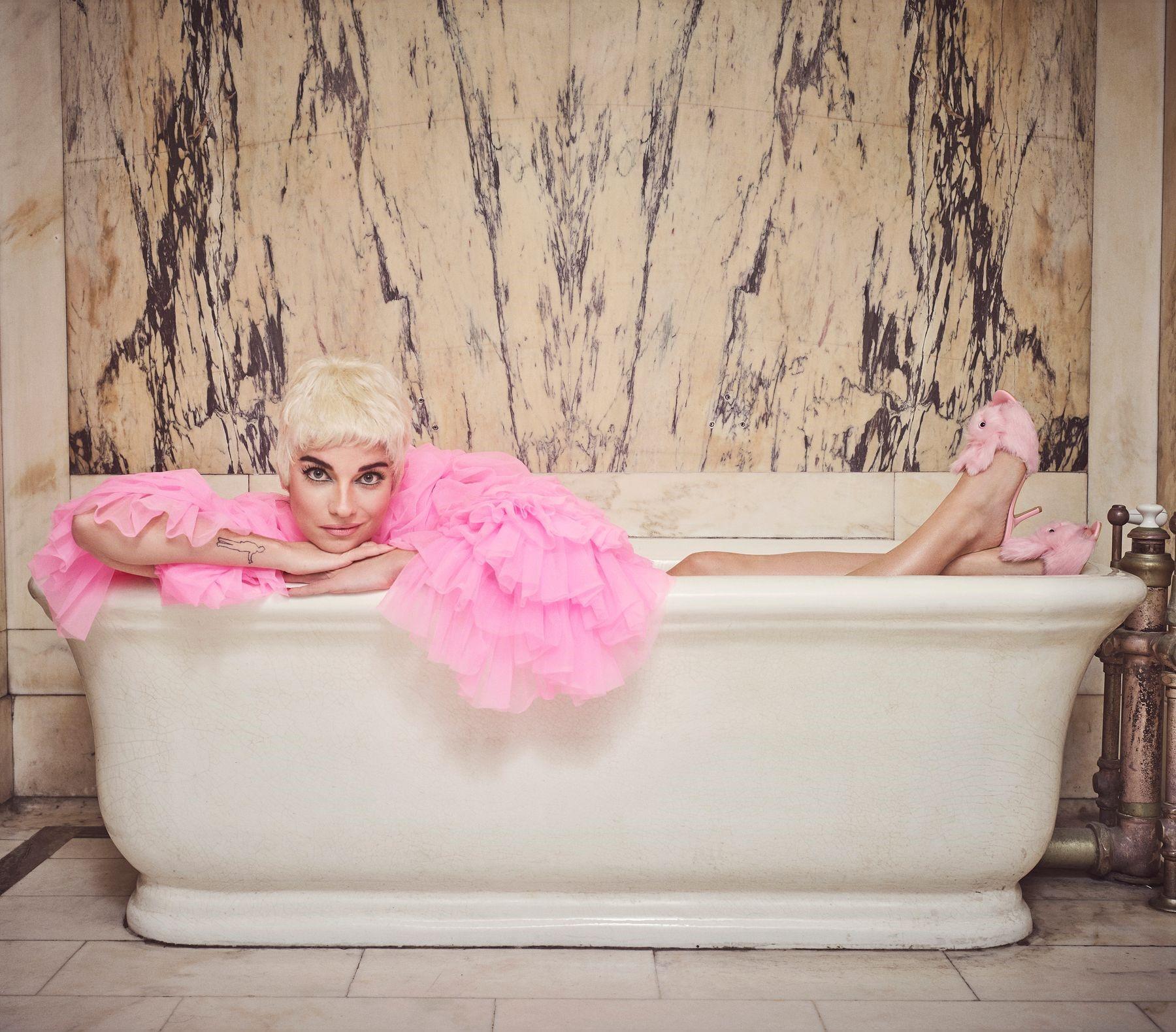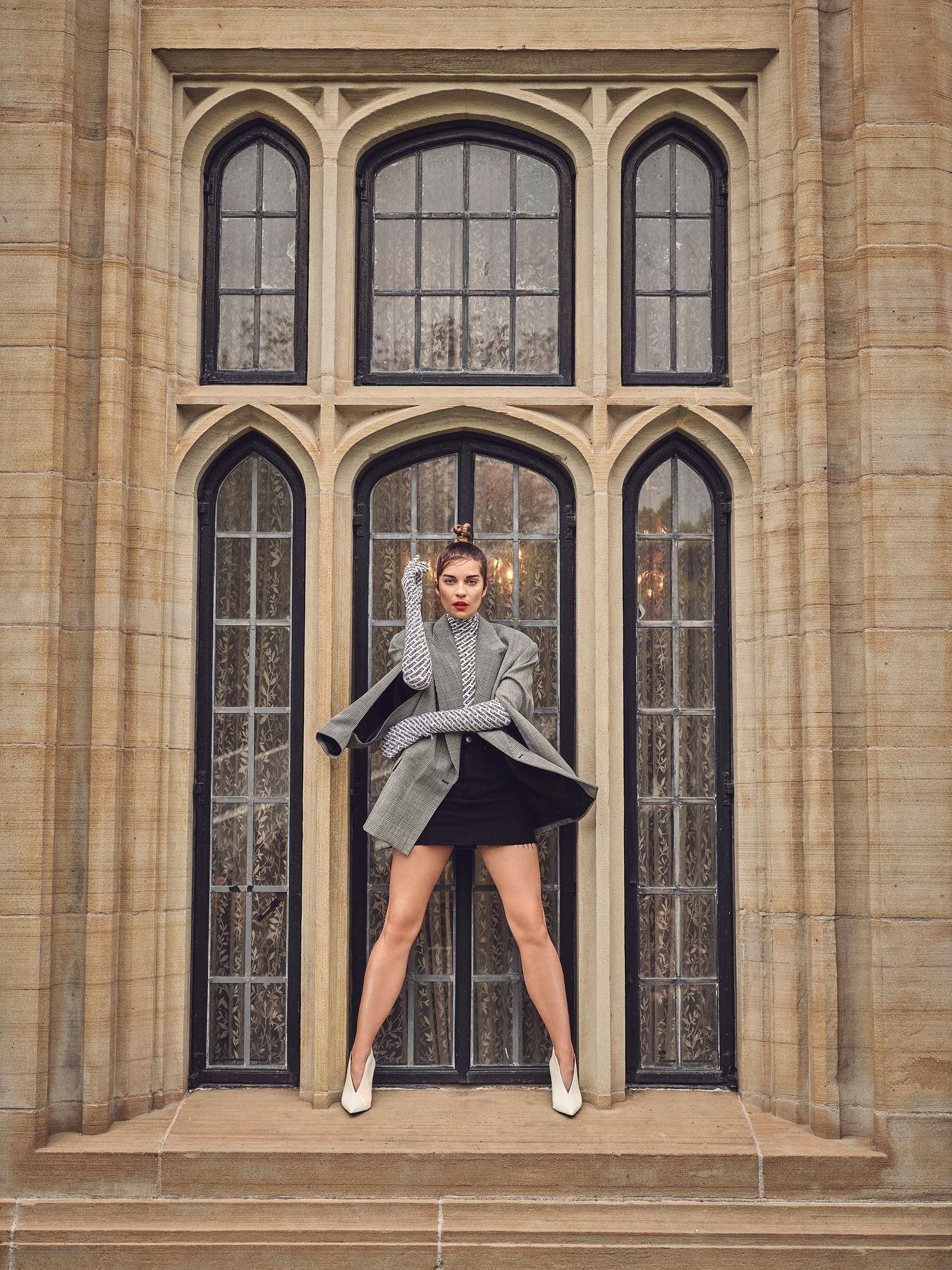 SCHITT'S CREEK star Annie Murphy's glamorous and whimsical photo session, which was styled by Sasha Charnin Morrison, Watch! magazine's style director, and was shot by Watch! director of photography Christopher Ross, is set against the backdrop of Toronto's luxurious Casa Loma, a castle first built by Canadian financier Sir Henry Pellatt in 1914. Casa Loma is now a heritage landmark owned by the City of Toronto – and it's a setting befitting of the previous lifestyle of Alexis, Murphy's character on Pop TV's wildly popular and critically acclaimed series, which is now in its sixth and final season. Interviewed by writer Johanna Schneller, Murphy, a Critics' Choice Award nominee, talks about the amusing and particularly memorable experience of writing and performing "A Little Bit Alexis," the Britney Spears and Paris Hilton-inspired theme song for her SCHITT'S CREEK character's short-lived reality show, and being moved by hearing co-star Eugene Levy singing it quietly to himself, despite not knowing the lyrics. In describing Murphy's talents to Schneller, Eugene Levy says, "It's her timing, her physicality, her delivery, it's the whole package. I'm in awe of what she can do. She runs the gamut from the funniest moments to the tiniest looks that tug right at your heart. But unlike so many actors, Annie doesn't possess what my wife calls the 'look at me' gene…She likes to be at the back of the crowd, watching someone else at the front." Murphy also discusses her trip to Jordan as an ambassador for CARE Canada, where she met some of the 36,000 refugees at a camp in the desert. "[It] really put things in perspective for me. They had gone through horrors but were so full of hope and goodness and kindness." Relaying her desire to help others who battle depression, something she's been open about managing recently, Murphy says, "Therapy is an incredibly helpful tool. So much can be fixed. We can avoid so much sadness and turmoil. I want to do everything I can to help lift the stigma and encourage more support for mental health." And which trait of Alexis would she like to keep? Her self-confidence… "It's the most anti-Canadian way of being. Canadians are like, 'I'm sorry I'm here, oops!' So taking a sprinkle of confidence from her would be nice."
Additional stories in the issue include:
Kristen Johnston chatting with columnist Brantley Bardin about her series regular role on MOM, and why working on a show about finding the humor and joy in recovery resonates with her both personally and professionally: "…one of the greatest things I learned in early recovery is that it's fun – you can laugh. It's not just 10 depressed people in a grim room somewhere. So to stumble onto MOM years later? It means a lot."

Executive producer Judy Tygard of CBS News' 48 HOURS talking to columnist Fred Schruers with pride about original reporting and the impact journalism has on true crime cases for her show. "When you get a call from a family saying, 'Thank you,' or your reporting has gotten someone out of prison, or you've helped get bad guys locked up, that is what keeps people going in their toughest times."

A feature by writer Eric Renner Brown on Ken Ehrlich, reflecting on his fabulous 40 years as executive producer of the GRAMMY Awards as he takes his final bow. "I could never do what these artists do, but I know music and I have this kind of innate understanding. I can create these duets, I can create mashups, I hear these things in my head. I can sit in a room with almost any artist, and the common ground is music and we can talk about it."

NCIS: NEW ORLEANS' star CCH Pounder talking to writer John Griffiths about her colorful collection of more than 500 pieces (paintings, sculptures and tapestries), much of which is contemporary African art.

Author Ariana Neumann relaying how inheriting a box from her father that inexplicably contained a WWII-era German identification card with his photo and another man's name led her to investigate her paternal family's past, which ultimately resulted in her new book When Time Stopped: A Memoir of My Father's War and What Remains.
THE DOCTORS' Travis Stork sharing his favorite spots in his home base of Nashville.

CBS Sports' reporter Jamie Erdahl revealing the healthy routine that is keeping her fit after having her baby daughter.
Misha Collins (The CW's SUPERNATURAL) sharing one of the many child-friendly recipes from his cookbook and discussing how to get kids to engage in the cooking process as a means of enticing them to eat healthy food.

A feature on the inspiring ("kick-ass") female superheroes and civilians on The CW this season.

Fun behind-the-scenes facts about the newly launched series STAR TREK: PICARD.

Refresher quizzes on characters and past plot twists on SHOWTIME's HOMELAND as the award-winning drama nears the start of its eighth and final season on Feb. 9.

A guide to the newest hot fashions (color! prints! bows!), spring makeup looks (neon eyeliner, anyone?!) and much more!
Also, CBSWatchmagazine.com continues to complement the print magazine's articles while still showcasing its own unique content, including photos and videos that are original to Watch!
About Watch!
The official magazine of CBS since 2006, Watch! offers a rare, glamorous window into the lives of television and film's biggest stars. With distinctive photography by top tier talents and first class stories curated by industry veterans, Watch! has steadily become one of the most elegant, sophisticated publications today. This intriguing amalgam of entertainment, celebrity, culture, fashion, travel and beauty features talent from CBS, SHOWTIME, The CW, CBS All Access, CBS Television Distribution, Simon & Schuster, CBS Films, Pop and beyond.
The magazine's digital properties present readers with richer pathways to continue the journey beyond the velvet rope. Timely behind-the-scenes videos and photo galleries bring the reader closer to their favorite characters and their favorite shows. The digital version of Watch! can be found at cbswatchmagazine.com. The bi-monthly print magazine is enjoyed by subscribers and sold on newsstands at select Barnes & Noble, Hudson News, Target and Walmart stores.
Media site: www.cbspressexpress.com/watch-magazine/
Website: www.cbswatchmagazine.com
Facebook: facebook.com/CBSWatch/
Twitter: https://twitter.com/CBSWatch