Release
WATCH MAGAZINE'S FALL PREVIEW ISSUE, FEATURING COVER STARS PAULA NEWSOME, JORJA FOX AND MANDEEP DHILLON OF "CSI: VEGAS" AND NATE BURLESON FROM "CBS MORNINGS" AND "THE NFL TODAY," IS AVAILABLE NOW – IN PRINT AND DIGITALLY!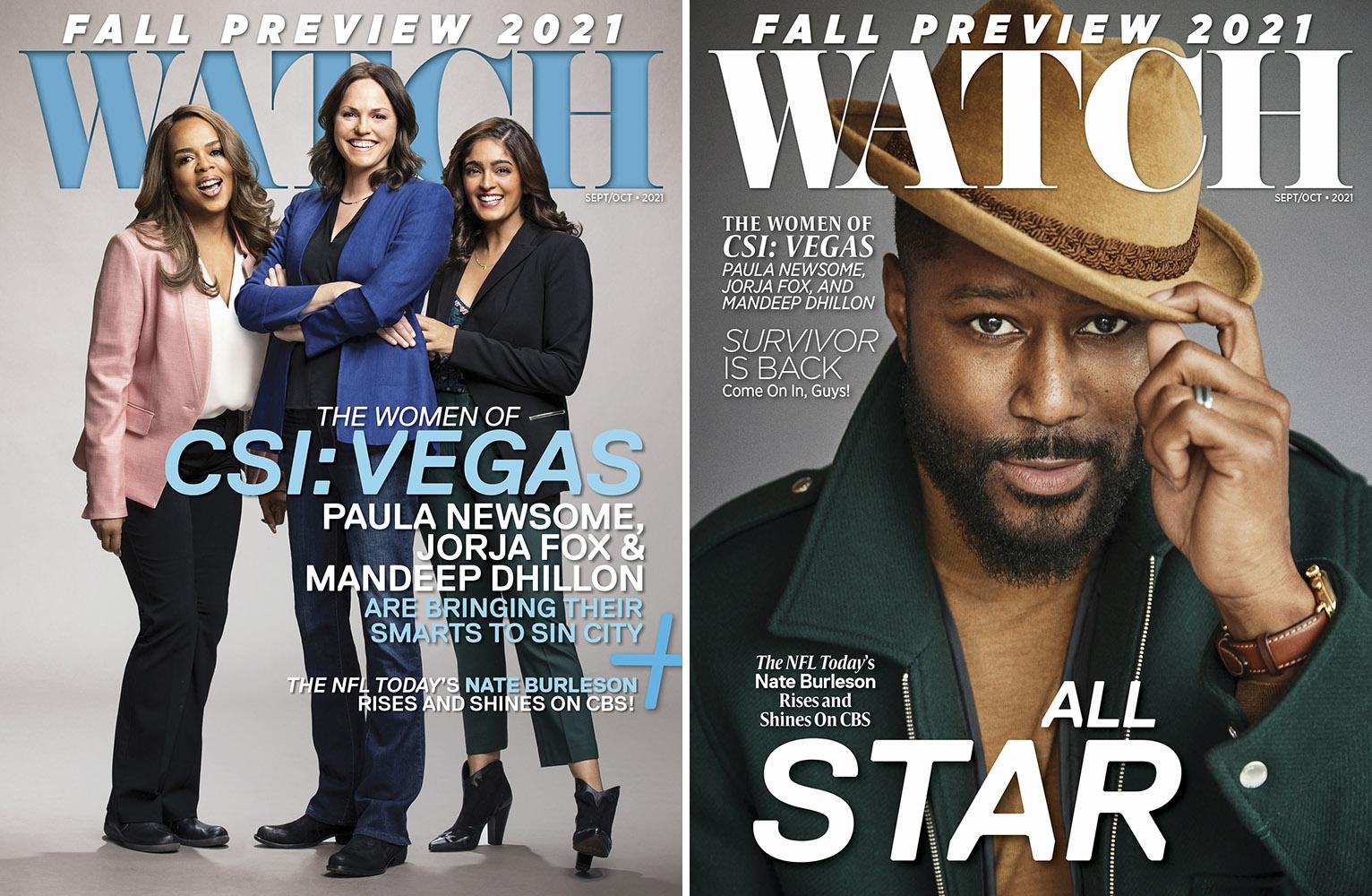 This Issue Also Features Interviews with Host/Executive Producer Jeff Probst (with Intel About SURVIVOR 41); Stars Rose McIver and Utkarsh Ambudkar (Chatting About the Spirit of Their New CBS Comedy Series GHOSTS); and ENTERTAINMENT TONIGHT co-hosts Kevin Frazier and Nischelle Turner (Celebrating the 40th Anniversary of Their #1 Syndicated Entertainment Newsmagazine)
Click HERE for the Digital Issue with the Women of "CSI: Vegas" on Its Cover
Click HERE for Digital Issue with Cover Star Nate Burleson
NEW YORK – Sept. 22, 2021 – Watch magazine's Fall Preview Issue, featuring cover stars Jorja Fox, Paula Newsome and Mandeep Dhillon from CSI: VEGAS (CBS' upcoming sequel to the Network's global hit "CSI: Crime Scene Investigation") and Nate Burleson (co-host of the newly launched and reimagined morning news program CBS MORNINGS and analyst on THE NFL TODAY, CBS' hugely popular National Football League pre-game studio show) is available now – in print and digitally!
This issue also features intel from host and executive producer Jeff Probst about tonight's highly anticipated premiere of SURVIVOR 41; an interview with stars Rose McIver and Utkarsh Ambudkar about the spirit of CBS' upcoming new comedy series GHOSTS; memories, milestones and a Q&A with ENTERTAINMENT TONIGHT co-hosts Kevin Frazier and Nischelle Turner in honor of their #1 syndicated entertainment newsmagazine's 40th anniversary – plus fab fall fashions; Halloween costume ideas, and much more!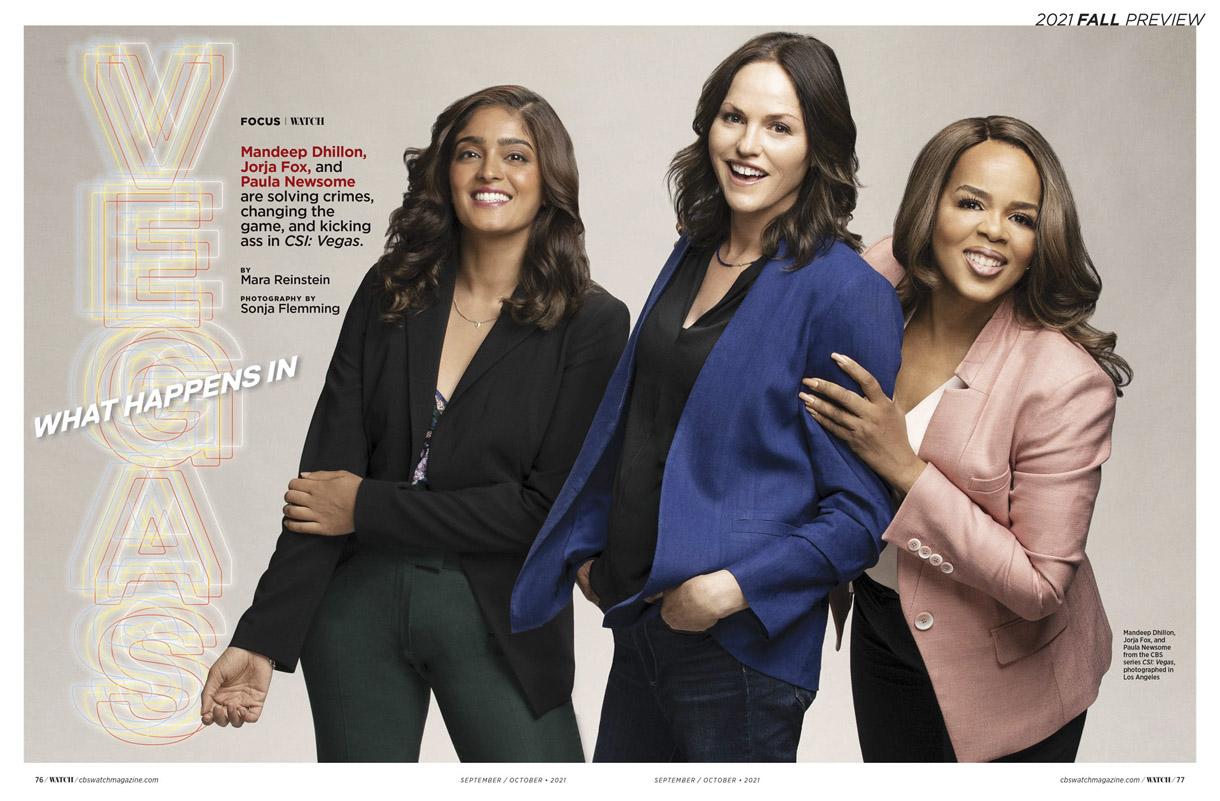 CSI: VEGAS stars Jorja Fox, Paula Newsome and Mandeep Dhillon were photographed in Los Angeles by Sonja Flemming and interviewed by writer Mara Reinstein about what it's like working together on their show – which despite being new (premiering on Wednesday, Oct 6 on CBS and streaming on Paramount+) still has quite a legacy, thanks to its powerhouse predecessor "CSI: Crime Scene Investigation" and the return of several of the original series' beloved stars, including Fox and William Petersen. Said Fox, "Sara Sidle is definitely my all-time favorite character…Now there's a lightness of being with her. When [as her character has been doing since leaving the CSI team] you travel the world to tropical places and work against climate change and mammal extinction, you're in a pretty amazing place, even though the work is challenging. And she's doing it with her husband [Gil Grissom, played by Petersen], the man she loves. She comes back in a really good place…Five years later, I'm with all these phenomenal new people. I love this group, and we have such an interesting dynamic...[Newsome and Dhillon] are both really strong, brave and interesting women…I love that we're three smart, bad-ass characters who get s—t done."
Dhillon, who hails from London, and moved to the U.S. for this role as Allie Rajan, relays, "It's been so nice having Jorja because she knows what works and what doesn't. She was giving us advice from the beginning of shooting. Like, when you see a dead body – you're not supposed to have a reaction, because this is your job… Jorja is so chill and lovely. Paula has great energy. It's great to see strong and smart women on the show, especially Black and brown women. It's very important, and I'm happy the producers went in that direction."
Added Newsome who plays Maxine Roby, the head of the new CSI team, "I love working with [Dhillon] because she's a fun millennial. I still have to ask her how to post something on social media! Jorja is kind, smart and considerate. I'm grateful that she's been part of the show for so long and knows the ins and outs. It's a huge benefit." As for Newsome's role on the show, "She's the kind of boss you would want to have because she's intelligent and funny. You don't get a lot over [on] her, and you can have a difficult conversation with her. We're in a new day, thank god, where women are not just the boss or the wife or the girlfriend. Maxine gets to do all of it, which makes her really fun. I'm grateful to be part of her journey."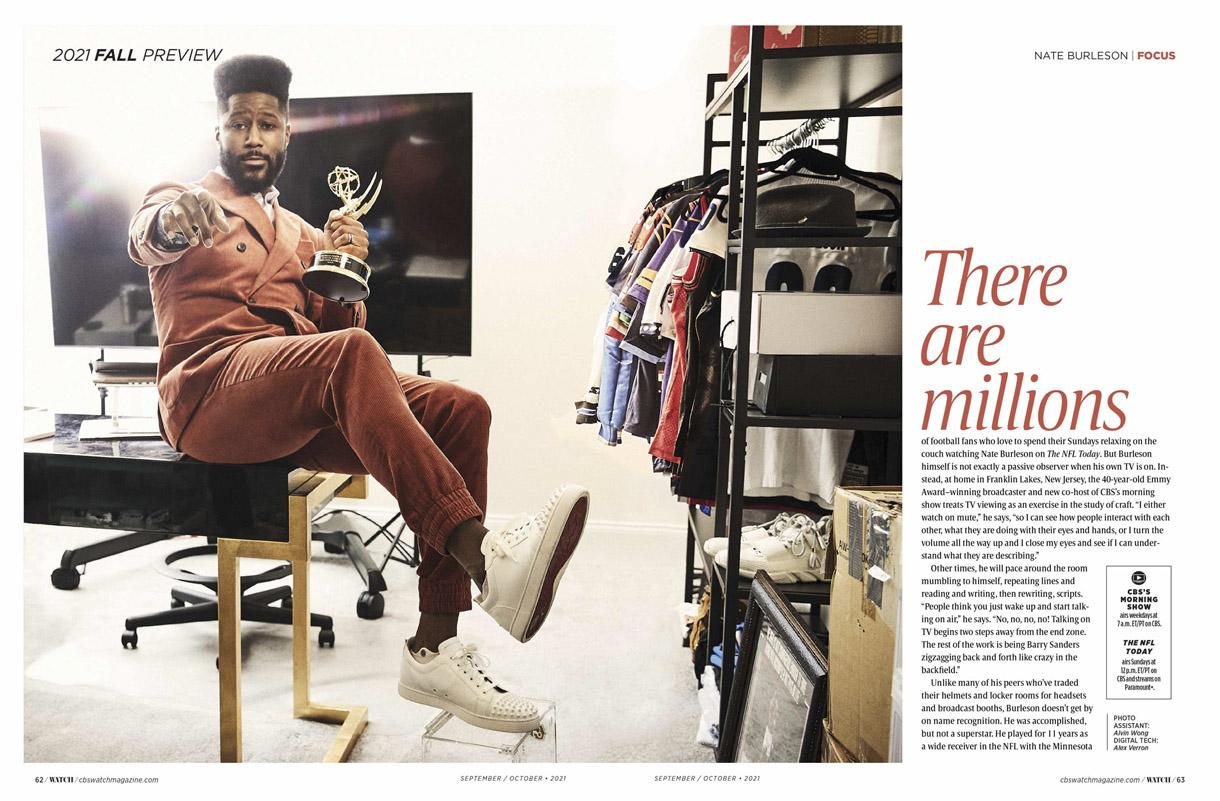 Nate Burleson was photographed by David Needleman at home in New Jersey, while donning clothes from an extensive assortment in his impressive closet. During his interview with writer Alex Bhattacharji, the enthusiastic Emmy Award-winning broadcaster talked about what made him tackle professional football, his early ambitions beyond sports, his mission to always be extra-prepared on the job, and what it means to him to have just added co-host of CBS News' newly launched CBS MORNINGS (alongside Gayle King and Tony Dokoupil) to his slate earlier this month – while still working as a respected analyst on The NFL TODAY and a color commentator on Nickelodeon's NFC wild card game. Said Burleson, "Maybe it was meant for me to not win a Super Bowl, because it created this hunger inside to win in a different space…Throughout my career, as much as I love football and as much as it provided a great life for me, I've always had dreams of doing something bigger than the sport. And [CBS MORNINGS] is it. I'm not completely removed from football, which is why I'm still working on THE NFL TODAY and with NFL Network. But to do something that touches everything – from daily news, pop culture, movies, music, politics, and everything in between – it's right up my alley…It's an exciting journey, and it's been a long time in the making. I left football in 2014, and I've been juggling multiple jobs since – sometimes as many as five – and they've all been specifically done to prepare me for a shot like this. I've been honing my skills, and hopefully I can display that every single morning to this new audience."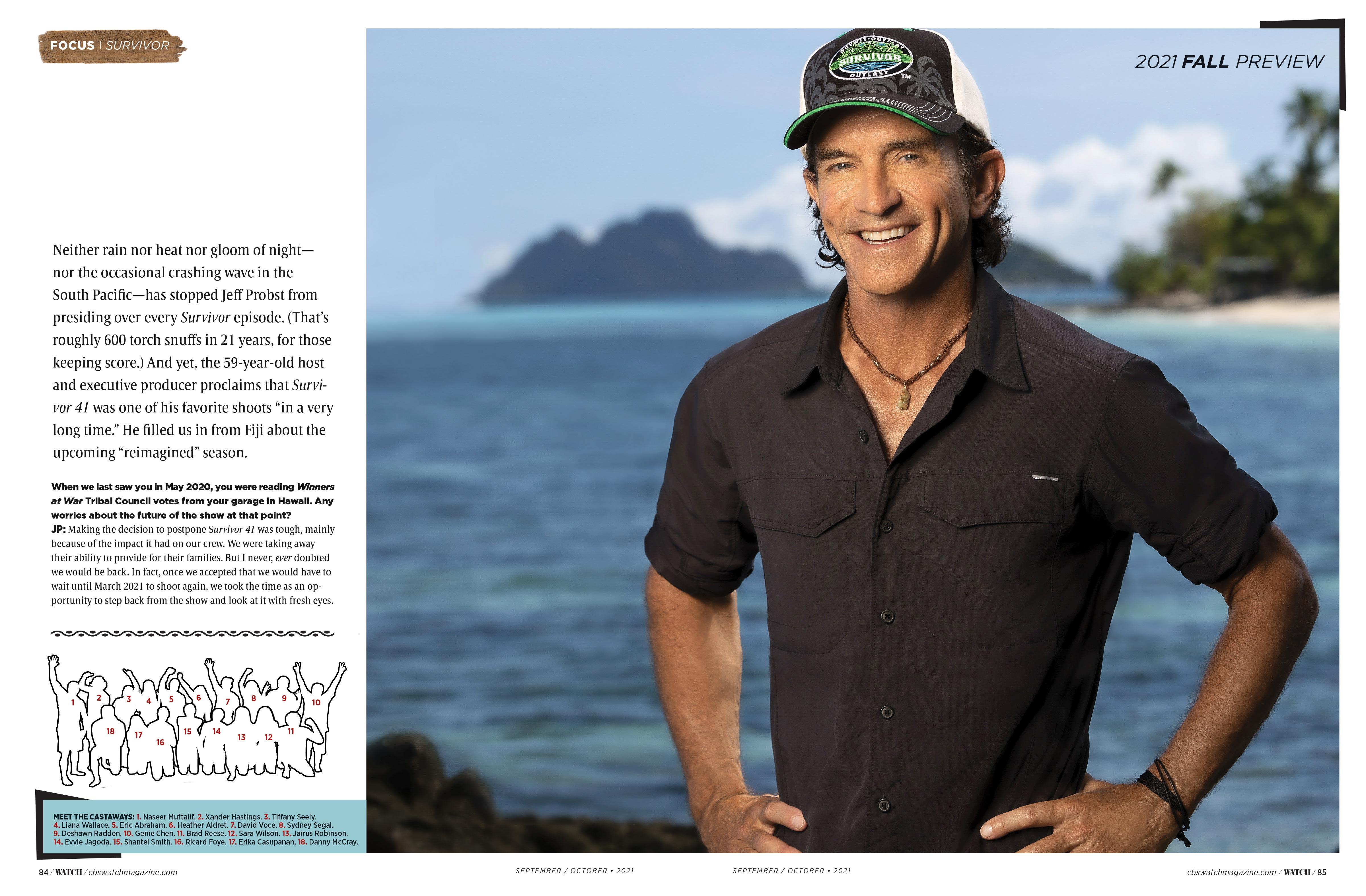 Host and executive producer Jeff Probst spoke to writer Mara Reinstein about tonight's (Wednesday, Sept. 22) highly anticipated premiere of SURVIVOR 41 in Fiji after a 16-month COVID-induced hiatus, and he revealed what's different this season. Explained Probst, "Once we accepted that we would have to wait until March 2021 to shoot again, we took the time as an opportunity to step back from the show and look at it with fresh eyes…This is a reimagined game, and every single element has been heightened. We changed it from 39 days to 26 – and then adjusted everything else accordingly, to ensure it would be 26 of the most exhilarating days anyone could endure while still playing a game that was already challenging physically and emotionally. The living conditions are extremely difficult, as we did not give the players their daily ration of rice. The pace is blistering fast. The tribes are small. You are in constant danger of losing your vote. There were very few rewards, additional penalties for losing a challenge, many dilemmas and zero guarantees." Probst added that there's also a game within the game: "Each week, a puzzle will be hidden somewhere, just for the fans. They'll have to spot it and solve it. It culminates at the end of the season and ultimately connects back to the actual game…[Players] have no idea! They are often walking past puzzles, completely oblivious. If it works, we will continue it and make it even bigger in future seasons."
This Watch issue also introduces the newest castaways and refreshes fans' memories about SURVIVOR's iconic players, the couples who found lasting love on the island, tribal council doozies, OMG moments – and more!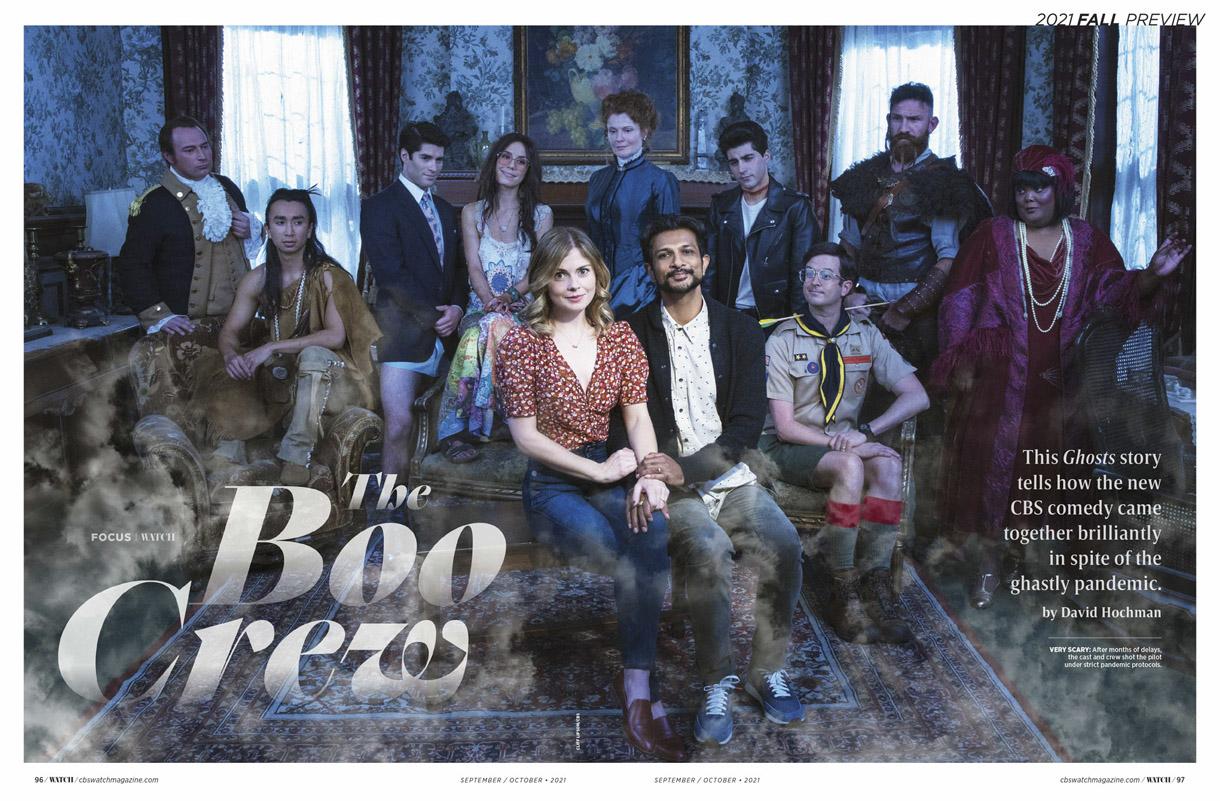 Rose McIver and Utkarsh Ambudkar, stars of the new CBS comedy series GHOSTS, debuting Thursday, Oct. 7, talked with writer David Hochman about their earthly roles as Samantha and Jay, a married couple who decide to convert a huge rundown country estate they inherited into a bed and breakfast – only to find it's inhabited by spirits of deceased residents who now call it home and don't appreciate having new guests. GHOSTS is based on a popular British series on the BBC, which helped lure in the two stars.
Said McIver, a New Zealander, "Well, there's a reason the BBC version is an absolute hit. It's just so good! I watched the first couple episodes and completely love it." Shared Ambudkar, "I watched maybe five minutes of the original and was laughing and found it super fresh and charming…I love that it's funny without being mean…." McIver added, "It's topical too. On the back of this insane year, we've all learned we have to tolerate other people's living habits and how we need to cooperate to cohabitate. To explore that with humor might actually help us laugh a little at what we've all just experienced in quarantine." Followed Ambudkar, "I also appreciate that I get to play a lead role where the ethnicity of the character doesn't really matter. It's so great to see that happening more… to have this situation on TV every week it feels really fortunate."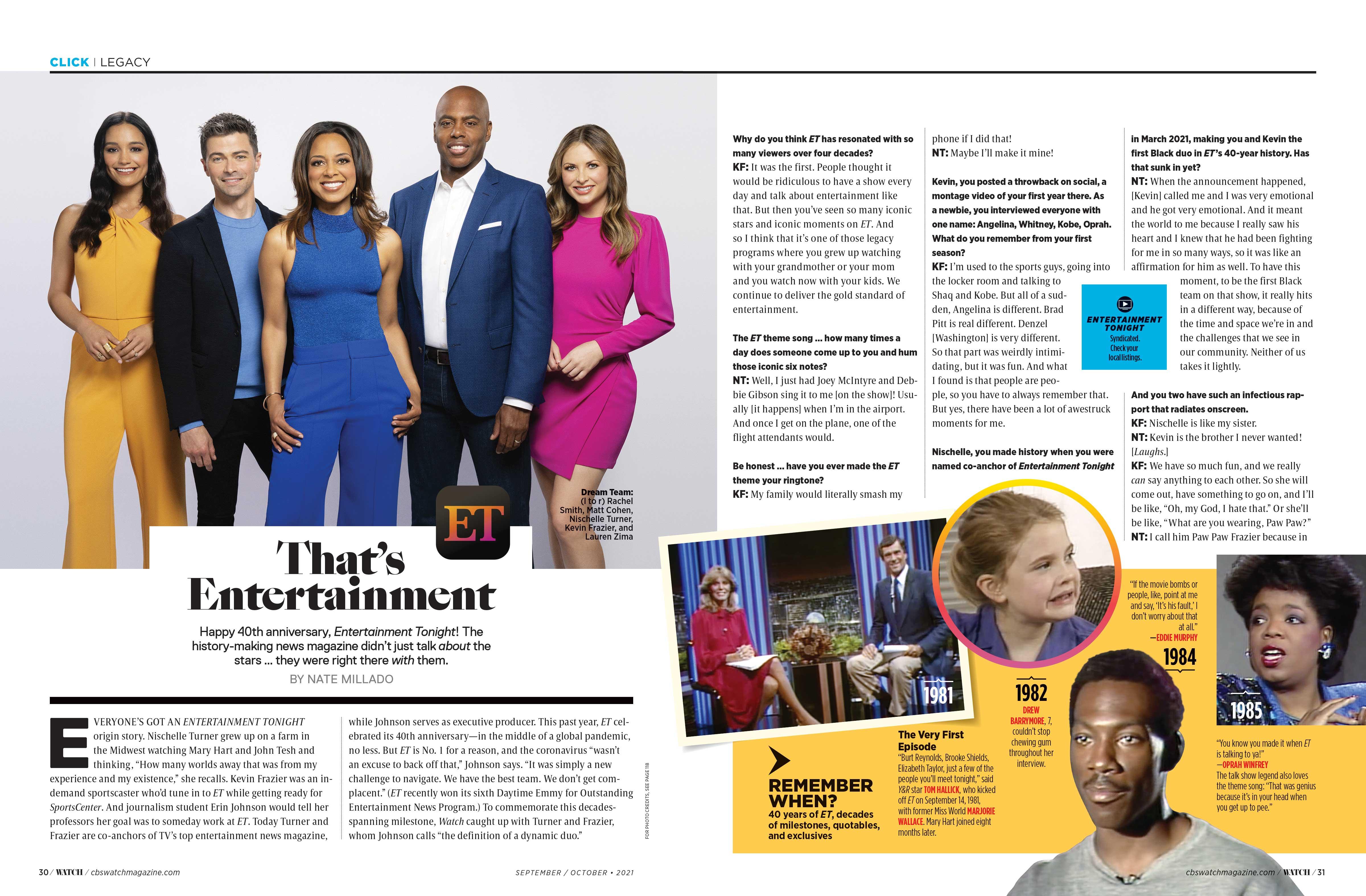 Watch honors the 40th anniversary of CBS Media Ventures' ENTERTAINMENT TONIGHT with remembrances of some of the show's biggest milestones, quotables and exclusives – and a Q&A with co-hosts Kevin Frazier and Nischelle Turner. Regarding ET's popularity over four decades, Frazier says, "You've seen so many iconic stars and iconic moments on ET. And so I think that it's one of those legacy programs, where you grew up watching with your grandmother or your mom and you watch now with your kids. We continue to deliver the gold standard of entertainment." Recalling what it felt like to make history in March 2021 when Turner joined as a co-host, making her and Frazier the first Black host duo in ET's 40-year history, Turner shares, "When the announcement happened, [Kevin] called me, and I was very emotional and he got very emotional. And it meant the world to me because I really saw his heart, and I knew that he had been fighting for me in so many ways, so it was like an affirmation for him as well. To have this moment, to be the first Black team on that show, it really hits in a different way, because of the time and space we're in and the challenges that we see in our community. Neither of us takes it lightly." What are their favorite interviews to date? Turner: "The day that I got to meet and interview my namesake, Nichelle Nichols, who was Uhura from 'Star Trek.' That meant the world to me." Frazier: "One of the big moments of all time was at the Democratic National Convention, when Barack Obama was going to be named the presidential nominee. My father was so emotional because he never thought he'd see something like this in his lifetime. And then we [interviewed] Oprah, and she said to me, 'I cried my eyelashes off.' And this quote went [viral] around the world. But it was just such a genuine moment where she came out and literally her mascara had run and she was crying. You cried your eyes out. I'll never forget that moment."
Also in the edition are:
A preview of the returning fan favorites and exciting new series on CBS and The CW.

"24 Hours With…" Debra Martin Chase, the trailblazing executive producer behind the megahit Queen Latifah series THE EQUALIZER.

Emmy-winning "The Young and the Restless" costume designer David Zyla, spilling his wardrobe secrets to writer Meirav Devash.

Yasmine Al-Bustami from the new CBS series NCIS: HAWAI'I, sharing her favorite places and activities in her hometown of Dallas.

S.W.A.T. star Alex Russell revealing how switching up his gym sessions with Hollywood trainer Paolo Mascitti helped him get more fit.

MAGNUM P.I. actor Tim Kang divulging his love of speed and the race track, where he spends countless hours both in fast cars and midsized motorcycles.

Javicia Leslie, who plays the title character on BATWOMAN on The CW, reflecting on what she values and enjoys.

Michelle Buteau, stand-up comedian and star of FIRST WIVES CLUB on BET+, sharing her secret for getting laughs.

A guide to fab fall trends (knee-length coats! Fashions with fringe! Dreamy knit dresses!) – and some Halloween costume ideas inspired by some of TV's most popular characters.
About Watch
The official magazine of CBS since 2006, Watch offers a rare, glamorous window into the lives of television's biggest stars. With distinctive photography by top tier talents and first-class stories curated by industry veterans, Watch magazine has steadily become one of the most elegant, sophisticated publications today. This intriguing mix of entertainment, celebrity, culture, fashion, and beauty features talent from CBS, SHOWTIME, The CW, Paramount+, CBS Media Ventures and CBS Studios.
The magazine's digital properties present readers with richer pathways to continue the journey beyond the velvet rope. Timely behind-the-scenes videos and photo galleries bring the reader closer to their favorite characters and their favorite shows.
Website: www.cbswatchmagazine.com
Facebook: facebook.com/CBSWatch/
Twitter: https://twitter.com/CBSWatch
Instagram: https://www.instagram.com/CBSWatch
* * *
Watch Press Contact:
| | | |
| --- | --- | --- |
| Barbara Abseck | 212-975-4637 | |