Release
WATCH MAGAZINE RELEASES A SPECIAL DIGITAL PARAMOUNT+ ISSUE, AVAILABLE NOW!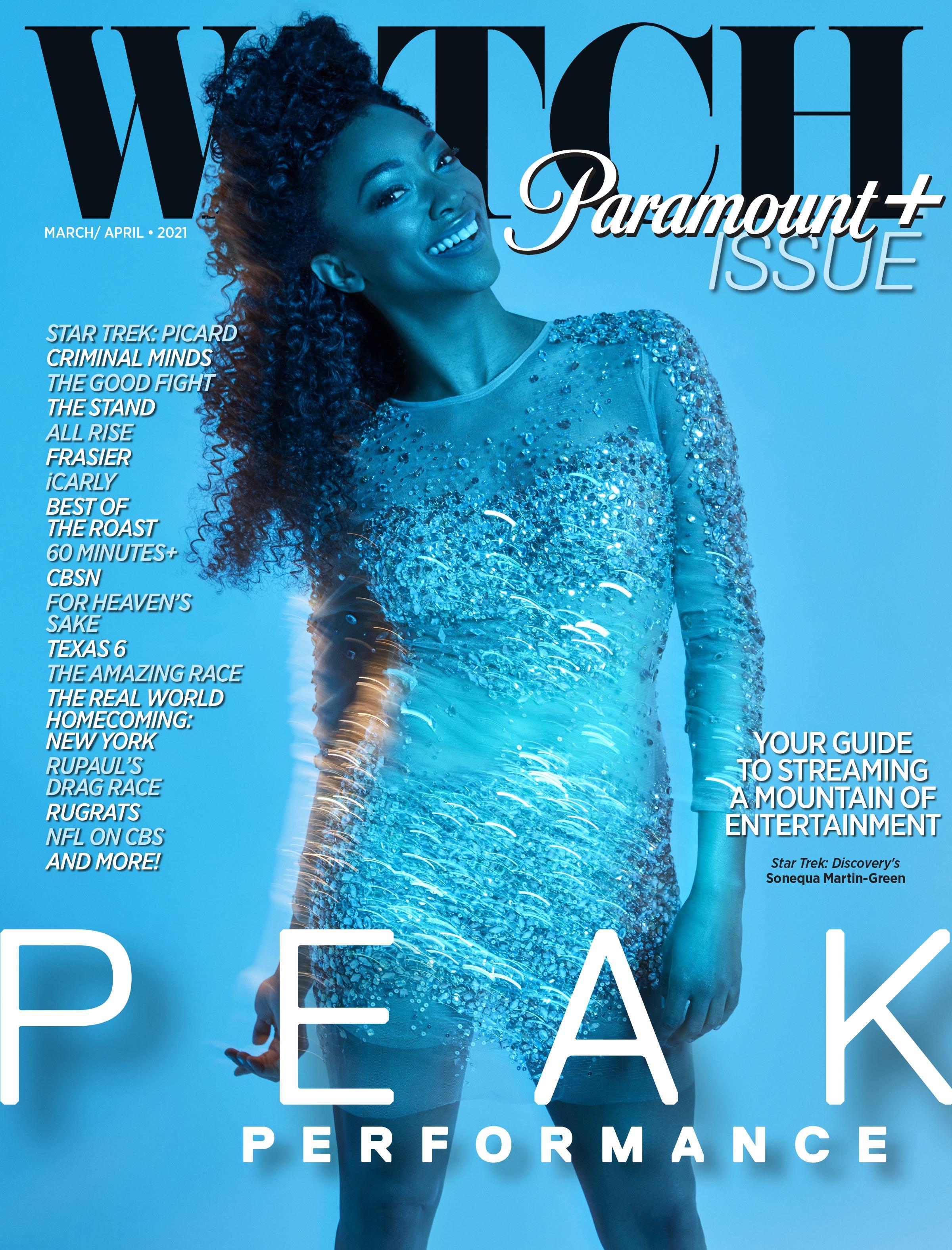 Sonequa Martin-Green, Star of Paramount+ Original Series "Star Trek: Discovery,"
Is on the Cover of this March/April Digital Issue
This Unique Watch Edition Is a Guide to Content on
ViacomCBS' Newly Launched Streaming Service
Watch magazine presents a special Paramount+ digital issue with cover star Sonequa Martin-Green of Paramount+ Original Series STAR TREK: DISCOVERY. Available now, this March/April edition highlights a vast array of programming categories/programs available to viewers on ViacomCBS' newly launched streaming service and includes an interview with Tom Ryan, President and CEO, ViacomCBS Streaming and Julie McNamara, EVP and Head of Programming, Paramount+.
Click the Link for Paramount+ Issue of Watch: http://read.cbswatchmagazine.com/April2021
Known for its distinctive original photography of (and by) top tier talent, Watch peppered its own portraits and fashion shoot images of various ViacomCBS stars and broadcasters throughout the current edition, including its cover.
Readers can virtually flip through the issue for a pictorial primer to content on Paramount+, including its exclusive original series; blockbuster feature films from the Paramount Pictures library; award-winning programs from CBS News and CBS Sports; hit Nickelodeon children's programs; beloved classic series; and popular specials, dramas, comedies, reality series and documentaries from ViacomCBS properties such as CBS, BET, VH1, MTV, Comedy Central, CMT and Smithsonian Channel.
So...where to begin? The "Star Trek" franchise or THE EQUALIZER? THE REAL WORLD HOMECOMING: NEW YORK or the new THE SPONGEBOB MOVIE: SPONGE ON THE RUN? "The Godfather" trilogy or 60 MINUTES+? THE NFL ON CBS or "I Love Lucy"? Watch offers scores of ideas – but the rest is up to the viewers!
About Watch
The official magazine of CBS since 2006, Watch magazine offers a rare, glamorous window into the lives of television's biggest stars. With distinctive photography by top tier talents and first class stories curated by industry veterans, Watch magazine has steadily become one of the most elegant, sophisticated publications today. This intriguing mix of entertainment, celebrity, culture, fashion, and beauty features talent from CBS, SHOWTIME, The CW, Paramount+, CBS Television Distribution and CBS Studios.
The magazine's digital properties present readers with richer pathways to continue the journey beyond the velvet rope. Timely behind-the-scenes videos and photo galleries bring the reader closer to their favorite characters and their favorite shows. The digital version of Watch magazine can be found at http://read.cbswatchmagazine.com/April2021
Media site: www.viacomcbspressexpress.com/watch-magazine/
Website: www.cbswatchmagazine.com
Facebook: facebook.com/CBSWatch/
Twitter: https://twitter.com/CBSWatch
Instagram: https://www.instagram.com/CBSWatch
* * *
Watch Press Contact:
| | | | | | |
| --- | --- | --- | --- | --- | --- |
| Barbara Abseck | | 212-975-4637 | | | |