Release
WATCH MAGAZINE'S 15th ANNIVERSARY ISSUE FEATURES COVERS WITH "THE NFL TODAY" HOST JAMES BROWN AND "BOB ♥ ABISHOLA" STAR FOLAKE OLOWOFOYEKU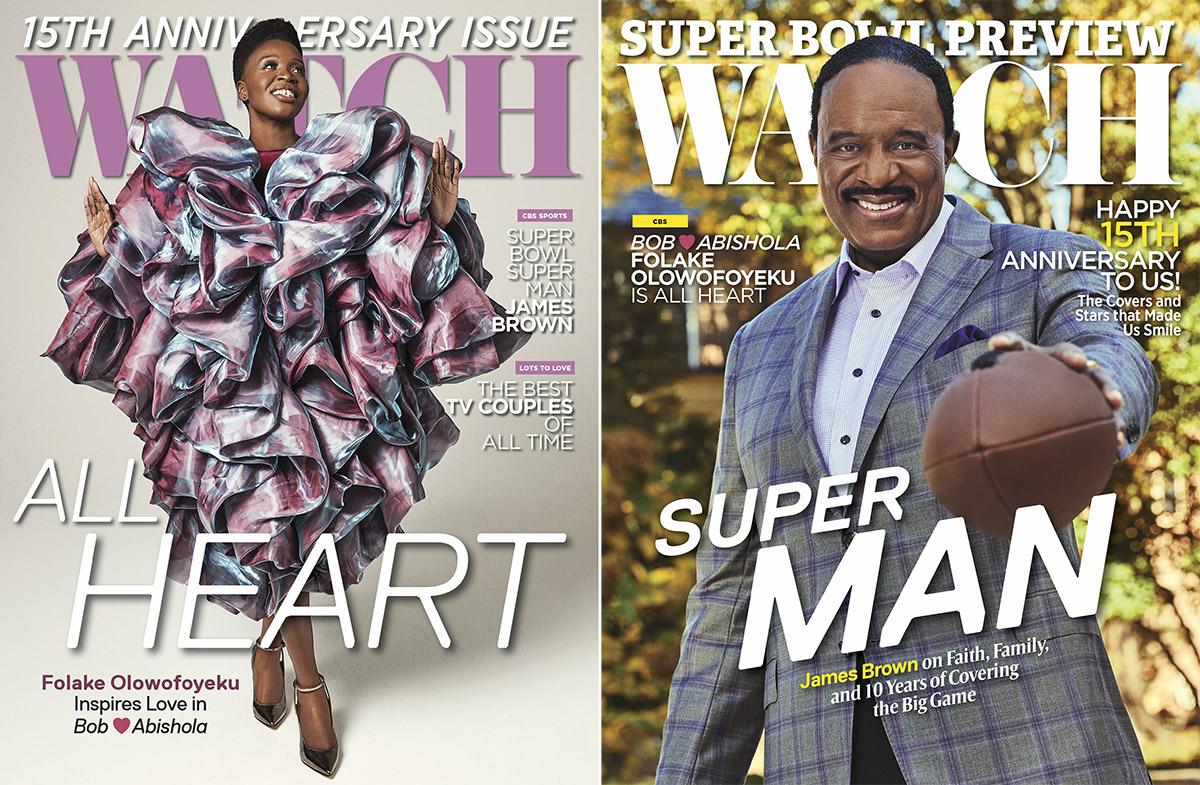 NEW YORK – Jan. 26, 2021 – Critically acclaimed star Folake Olowofoyeku (BOB ♥ ABISHOLA) and three-time Emmy Award winning host James Brown (THE NFL TODAY) are featured on the covers of Watch magazine's 15th anniversary issue, on newsstands today – and available digitally.
Click HERE for the James Brown digital issue
Click HERE for the Folake Olowofoyeku digital issue
The issue includes a pictorial celebrating 15 years of Watch issues and the talent who made them so special, a Q&A with actor Kal Penn (CBS' upcoming drama CLARICE), a story on Javicia Leslie (the new title character for season two of The CW's BATWOMAN), a chat with showrunner Aaron Rahsaan Thomas about his hit CBS series S.W.A.T., 48 HOURS correspondent Erin Moriarty revealing her pandemic-impacted daily routine in "24 Hours with…", a SUPER BOWL preview highlighting several members of the CBS Sports team whose valuable behind-the-scenes efforts play a key role in the highly-anticipated game broadcast, a Black History Month-themed salute to groundbreaking shows and characters, an ode to Valentine's Day highlighting five decades worth of popular TV duos, a guide to the new and returning shows premiering on The CW, a story on BULL star Jaime Lee Kirchner's passion for creating meaningful art pieces, ALL RISE star J. Alex Brinson revealing his favorite sites and activities in Vancouver, SEAL TEAM star AJ Buckley discussing his side business that was inspired by fatherhood, and the fabulous beauty and style tips in "Shine," including a look at some resourceful stars who pulled together weddings during the pandemic.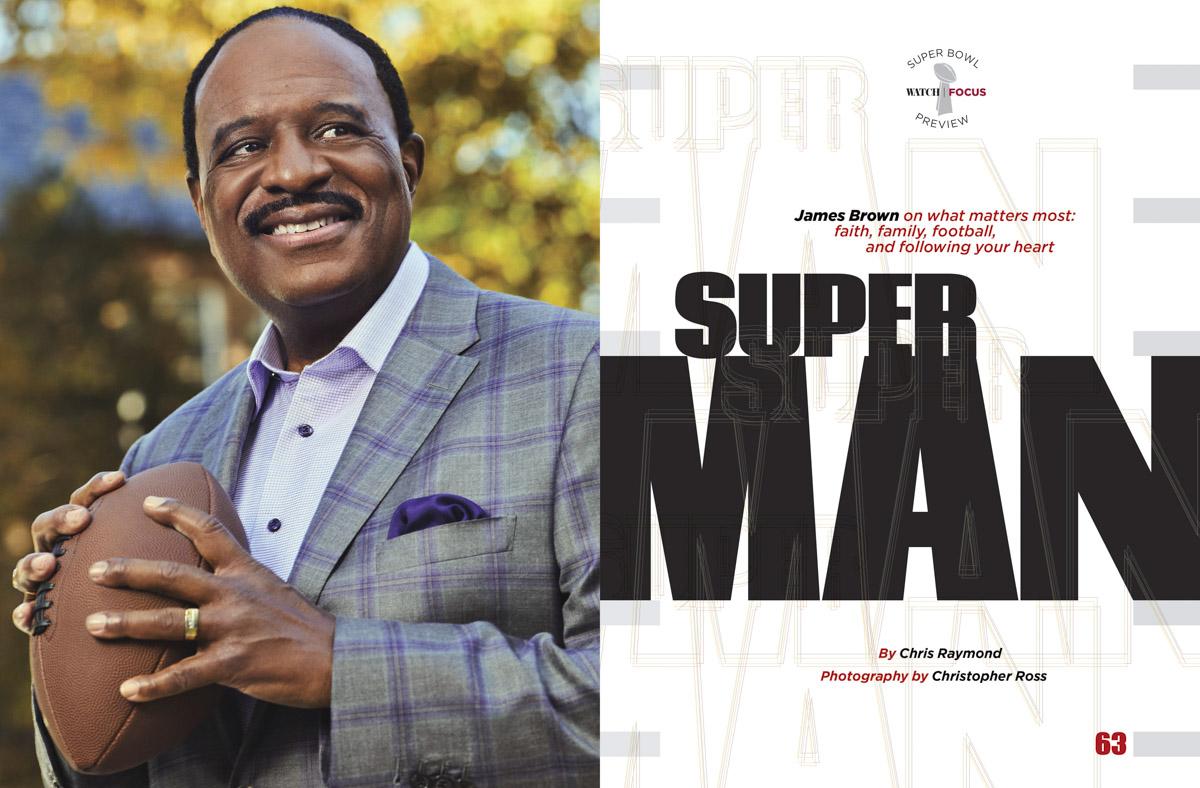 James Brown, the affable Harvard University alumnus, three-time Emmy Award-winner and anchor of THE NFL TODAY, who was elected into the Sports Broadcasting Hall of Fame last year, was photographed last fall by Watch director of photography Christopher Ross. Brown, who will host Super Bowl coverage for a record-setting 10th time on Feb. 7 during Super Bowl LV on CBS, spoke to writer Chris Raymond, reflecting on key people and events that have impacted and enriched his life through the years – and revealing his mindset when hosting the Super Bowl: "I refuse to think of the magnitude of the game, because that would have me focusing on the wrong thing."
Attributing the foundations of his lifelong values and goals to his parents, Mary Ann and John, and his high school basketball coach, Morgan Wootten, Brown shared that although his parents didn't have advanced degrees, "[They] had PhDs in drive and determination, a desire to see all five kids do well… [My mother] instilled in all of us the idea that there is a spirit of excellence in our family." Like Brown's parents, Wootten guided Brown to fully commit to God, family and school. Beyond excelling in school, "It also meant becoming a person who contributed significantly to strengthening the fabric of your community – taking what you learned and making certain it was being used for the benefit of others," explained Brown.
As for his faith, "I was a good young man, but that doesn't mean I was a man of faith," he shared. "I certainly grew in that regard. There are absolute truths, and I learned them over the years. It laid a foundation for me." Added Brown, "I was blessed to marry Dorothy, who, much like my mother, is a strong woman of faith." An ordained minister since 2009, Brown is actively involved in speaking at churches and conferences around the country, addressing issues like racial inequality, food insecurity and domestic violence – and stressing the need for love and compassion. "I always want to be a unifier. That's the way I've been from the very beginning."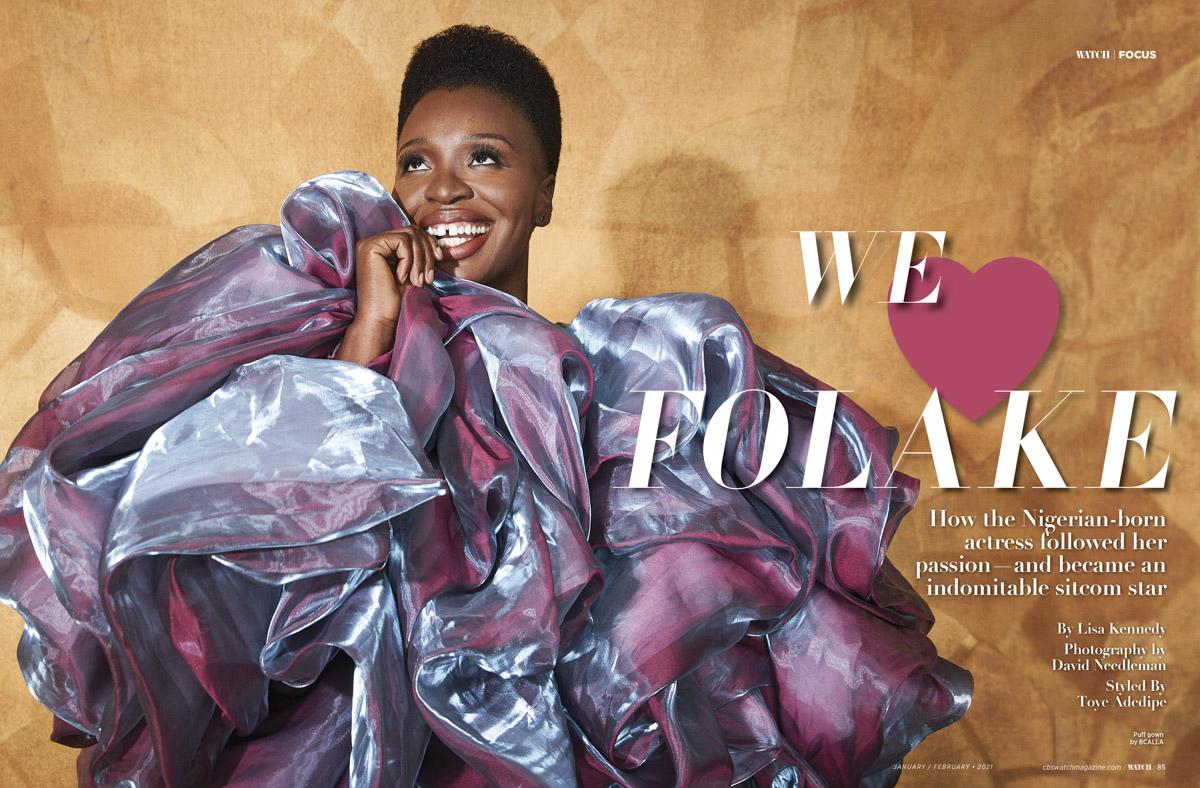 Folake Olowofoyeku, the Nigerian-born actress and musician who has won the hearts of critics and audiences as Nigerian immigrant Abishola in Chuck Lorre's hit Monday night CBS series BOB ♥ ABISHOLA, now in its second season, was photographed by David Needleman in Los Angeles this past October. She was styled by Toye Adedipe in a variety of ornate gowns, dresses and separates with a rich color palette and spoke with writer Lisa Kennedy about her series, her native country's struggles and her path to becoming a comedy star in the U.S.
Regarding her career choice, Olowofoyeku shares, "I've pretty much been [in the U.S.] on my own since I was 18. My parents didn't want me to be in the arts…The first time I visited New York was on my birthday in October 2001. I figured out a way to stay. And I found a way to say I was studying economics and then ended up in the theater department."
Does she feel like she's carrying a lot of weight, being a Nigerian actress playing a major role on American television? "I don't feel a burden so much as a responsibility. Now the sitcom is showing in Nigeria…I'm getting a lot of fans trickling in from back home. Each fan feels like they know best how she should be portrayed… It was very important to me that Abishola not be a caricature. I wanted her to be real and relatable, not just to Nigerians but all immigrants, and, of course, Americans…The writers do an amazing job. And [creator/executive producer] Chuck [Lorre]. He's brilliant."
"I'm straddling so many experiences: the Black experience in America, the immigrant experience in America, the woman experience in America, the Nigerian experience in America. There are so many different worlds I feel I have to juggle."
As for how the Lekki Toll Gate Massacre in Nigeria in October impacted Olowofoyeku, she explained, "Where the initial massacre occurred is where I grew up…my family, they're all there…Peaceful protestors were just sitting down on the ground in front of the tollgate… that is itself a symbol of oppression. That's why it was a significant point for people to go protest – protesting police brutality, protesting unemployment, and just all the crazy injustices that exist within the country…The youth that are so often called 'lazy' stood up and said, 'No more.' And they were gunned down…What happened in Nigeria hit me hard. I was at work yesterday and – it was tough – I had to talk to everyone and tell them, 'We're doing a show about Nigeria, and I think it's important that you know what's going on in Nigeria.'"
Now that Bob (Billy Gardell) and Abishola are engaged, she also has a joyful reason to expose others to her native land. "I'd love us to shoot a couple of episodes in Nigeria, because a Nigerian wedding is quite a thing. It goes on for over a week sometimes. We have the traditional wedding that could be one episode. We have the white wedding that could be another episode. It would be so magical. I pitched the idea, so it's out in the universe."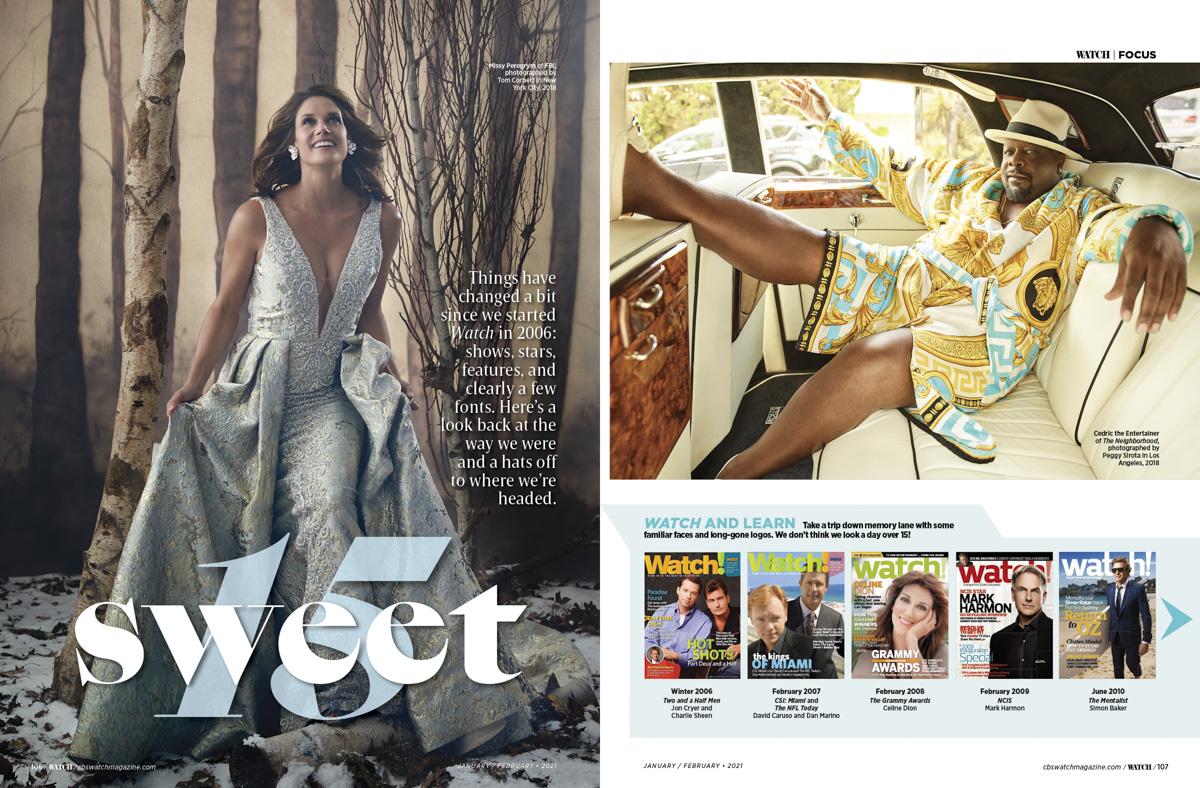 In celebration of its 15th anniversary, Watch provides a look down memory lane, with a six-page pictorial of past covers, portraits and fashion spreads with beloved stars from the hottest shows of the times.
The issue also features:
Kal Penn's Q&A with columnist Brantley Bardin about his current role as an FBI agent on the new CBS series CLARICE (premiering Feb. 11). The show is about FBI Agent Clarice Starling as she returns to the field one year after the events of "The Silence of the Lambs." Says Penn, "It's not a procedural, so there's not a new case each week. An unusually layered approach has been taken to telling the story, so Clarice and our Violent Criminal Apprehension Program team will be discovering what's going on as the audience does."

Javicia Leslie, chatting with writer Nate Millado about taking over the role of the title character for season two of The CW's Sunday night series BATWOMAN. The first African-American woman to portray Batwoman in a live-action production, Leslie shares that she's "inspired by Eartha Kitt in general, not just as Catwoman, but also as an artist and an activist. She continued to speak even when women weren't 'supposed to.'"

Columnist Fred Schruers' feature on Aaron Rahsaan Thomas, the showrunner of CBS' hit series S.W.A.T., now in its fourth season. Says Thomas, "Even as we pitched the show to CBS, [co-showrunner] Shawn Ryan and I approached the material about the tension between police and the community feeling that it's not so much that it's a timely topic as it's a timeless one."

A SUPER BOWL preview highlighting some of the most valuable players off the field and behind the scenes at CBS Sports, including Harold Bryant (executive producer and EVP, Production), Patty Power (EVP, Operations and Engineering), Shoshana Salmon (director of Traffic, Broadcast Operations), Kimani Morales (producer) and Gene Steratore (NFL Rules Analyst).

A Black History Month-themed salute of groundbreaking shows, breakout performances and barrier-breaking moments featuring African-American televisionaries, such as "The Jeffersons," "Good Times," and the memorable lip-lock on "Star Trek" between Lt. Uhura's and Captain Kirk, which was one of the first interracial kisses on U.S. TV.

An ode to Valentine's Day with writer Robert Rorke's loving look at some of the most popular and trailblazing TV duos over the past five decades, from George and Louise on "The Jeffersons" and Bobby and Pam Ewing on "Dallas" – to Sheldon and Amy on "The Big Bang Theory," Fran Fine and Mr. Sheffield on "The Nanny" and David and Patrick on "Schitt's Creek."

A guide to The CW shows premiering in January and February on The CW, such as the new SUPERMAN & LOIS and WALKER and the returning hits RIVERDALE, BLACK LIGHTNING and THE FLASH.

Watch style director Sasha Charnin Morrison's feature on brides (famous and otherwise) and the looks they did (or can) don after resourcefully pulling together their weddings in the world of COVID.

48 HOURS correspondent Erin Moriarty revealing her pandemic-impacted daily routine in "24 Hours with…" Says Moriarty, "Before COVID, I was just a correspondent. Now, doing live shots from my home, I'm my own tech person, my own lighting and sound engineer, and the cameraperson. Oh, did I mention my hair and makeup is DIY, too? That was very traumatic in the beginning, but I've got the hang of it now – mostly."
A story on BULL star Jaime Lee Kirchner regarding her passion for creating meaningful art – and the intuitive spark that guides her creative process. "It's very specific," says Kirchner, "like a craving that comes over you or a call that you have to answer."

Philadelphia native J. Alex Brinson from ALL RISE shares some of his favorite mini-escapes in his adopted city of 10 years – Vancouver.

SEAL TEAM star and father AJ Buckley discussing how necessity was the mother of invention when he became co-founder and designer of Paperclip, a 100% sustainable line of diaper bags with built-in changing stations.
About Watch
The official magazine of CBS since 2006, Watch magazine offers a rare, glamorous window into the lives of television's biggest stars. With distinctive photography by top tier talents and first class stories curated by industry veterans, Watch Magazine has steadily become one of the most elegant, sophisticated publications today. This intriguing mix of entertainment, celebrity, culture, fashion, and beauty features talent from CBS, SHOWTIME, The CW, CBS All Access, CBS Television Distribution, CBS Studios and coming in March 2021, Paramount +.
The magazine's digital properties present readers with richer pathways to continue the journey beyond the velvet rope. Timely behind-the-scenes videos and photo galleries bring the reader closer to their favorite characters and their favorite shows. The digital version of Watch magazine can be found at https://digital.cbswatchmagazine.com/JamesBrown The national print version of Watch magazine is enjoyed by subscribers and sold on newsstands at select Barnes & Noble, Hudson News, Target and Walmart stores.
Media site: www.cbspressexpress.com/watch-magazine/
Website: www.cbswatchmagazine.com
Facebook: facebook.com/CBSWatch/