Release
DREW BARRYMORE, TICHINA ARNOLD AND CBS NEWS CORRESPONDENTS MICHELLE MILLER, JEFF PEGUES AND JERICKA DUNCAN ARE FEATURED ON THE COVERS OF WATCH MAGAZINE'S NOV./DEC. ISSUE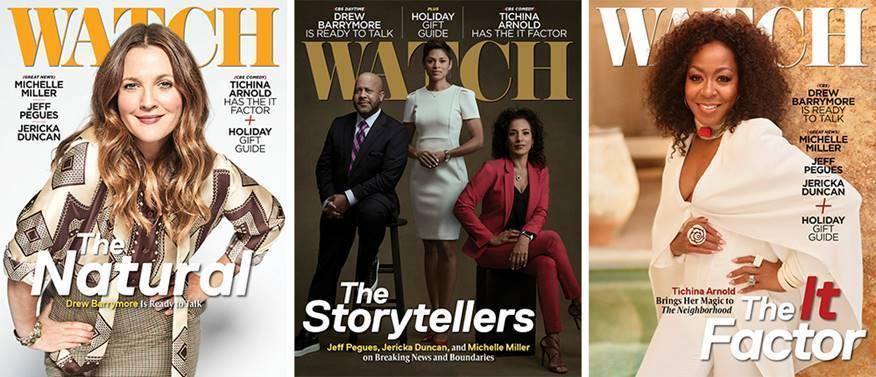 Actress/Entrepreneur Drew Barrymore Chats about Debuting her Namesake Talk Show During the Pandemic, Her Quest to Provide a Light-Hearted Experience for Her Viewers, and the Advice She's Savoring from Two of CBS' Celebrated Hosts
Actress and Singer Tichina Arnold ("The Neighborhood") Shares Her Gratitude to Be Working with Co-Star/Executive Producer Cedric the Entertainer on a Show that Understands and Displays Her as a Black Woman in America and Provides a Platform for Significant Topics such as Black Lives Matter
CBS Weekend News Anchor and National Correspondent Jericka Duncan,
"CBS This Morning: Saturday" Co-Host Michelle Miller and
CBS News Chief Justice and Homeland Security Correspondent Jeff Pegues Share their Thoughts on the True Meaning and Objectives of Diversity, Their Journalistic Approach to Stories, and the TV Reporters/Anchors of Color Who Inspired Their Career Paths
NEW YORK – Dec. 15, 2020 – Drew Barrymore (host and executive producer of THE DREW BARRYMORE SHOW), actress/singer Tichina Arnold (THE NEIGHBORHOOD) and CBS News Correspondents Jeff Pegues, Michelle Miller and Jericka Duncan are featured on the covers of Watch magazine's November/December edition, on newsstands now through mid-February – and available digitally.
Drew Barrymore: https://december.cbswatchmagazine.com/Drew
Tichina Arnold: https://december.cbswatchmagazine.com/Tichina
CBS News Correspondents: https://december.cbswatchmagazine.com/CBS
Additionally, the issue features a Holiday Gift Guide of goodies inspired by the styles of some of television's fan-favorite stars; a Q&A with Tony Award-winning actress Annaleigh Ashford (star of CBS' new comedy B POSITIVE); showrunner and producer Jenny Lumet discussing CBS' upcoming drama series CLARICE; a spread on the upcoming CBS All Access limited series THE STAND (with insights from showrunner Benjamin Cavell and intel on which part was written by Stephen King himself); author Susie Yang speaking about her hot debut novel White Ivy; EVIL star and new father Aasif Mandvi revealing his daily routine in "24 Hours with…"; FBI: MOST WANTED star – and London native – Roxy Sternberg sharing her favorite hometown haunts; the ever-shining "Shine" section, with glam makeup tips and a glittering array of "Must vs. Lust" holiday attire and accessories at every price point – and more!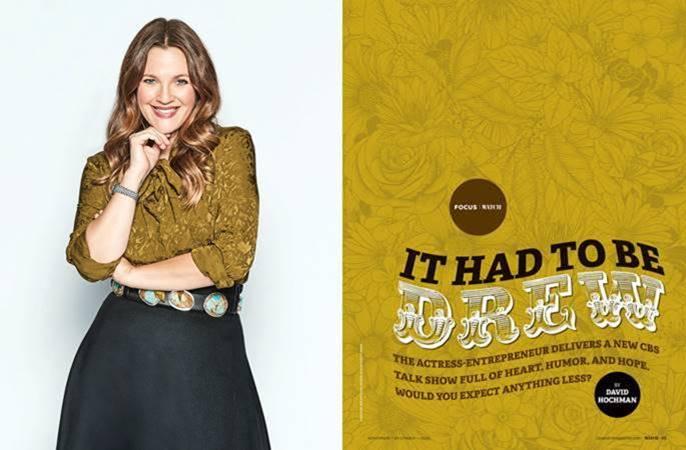 Cover star Drew Barrymore, the Golden Globe Award winning actress and entrepreneur who recently launched her own New York-based talk show, CBS Television Distribution's THE DREW BARRYMORE SHOW, spoke with writer David Hochman about starting her program during the pandemic, her quest to provide a light-hearted experience for her viewers in her roles as both host and executive producer, the famous folks who are giving her advice on this new phase of her career (including Stephen Colbert and Gayle King!), her dream guest, and what she's learning from her daughters.
Shared Barrymore, "This show is about little moments of joy, huge moments of laughter and an almost forgotten sense of thoughtful optimism. We're desperate for optimism right now. I know I am. Tapping into that feeling isn't easy, but if you can get there, it's more rewarding than ever." She adds, "Probably my best training ground was 'Saturday Night Live.' I've been hosting since 1982, and I've seen how much fun it is to produce intelligent comedy on the fly. If you mess up, if you do something silly, if something totally fails, you lean into it. I never want to be a perfect automaton. I'm so imperfect myself… we made a plan but mostly we just jumped in."
As for her connection to CBS THIS MORNING co-host Gayle King, Barrymore reveals, "She's a burgeoning friend and mentor and we work in the same building. She's so incredible in her body of work and knowledge of the television space. She's rocking daytime and evening specials, she's brilliant with pacing, so I just soak up what she has to say. She also helps me with bigger-picture stuff… she's a parenting mentor to me…I love the fact that she chooses kids and family over work a lot of the time, and I've done the same thing. Seeing her make those choices makes me feel like I have my priorities in the right place."
For her ultimate guest, Barrymore reveals, "I'd want Tom Cruise to ride a motorcycle onto the CBS Broadcast Center roof and then drop down into the studio as his Tom Cruise rad self. A girl's gotta have dreams, right?"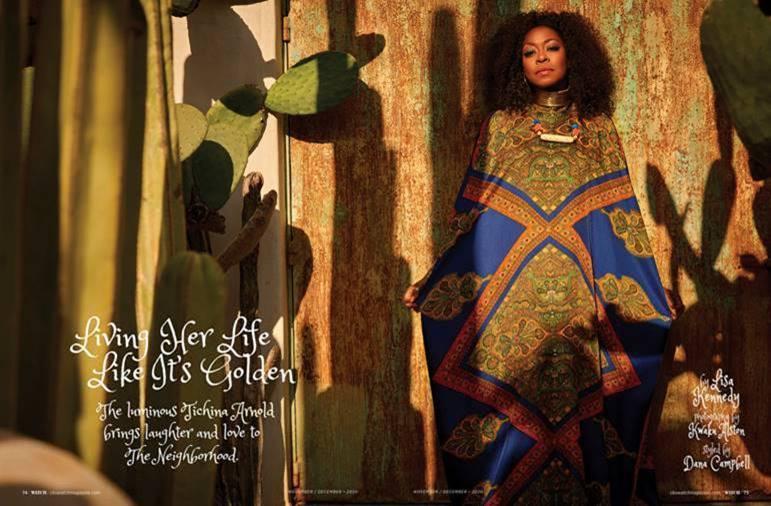 The three-time NAACP Image Award winning television/film actress and singer, Tichina Arnold, star of CBS' hit comedy THE NEIGHBORHOOD, was photographed by Kwaku Alston for her cover shoot in a southwestern-inspired adobe home in Venice, Calif., for which she was styled by Dana Campbell in Afrocentric Bohemian Chic-style long flowing dresses, ponchos, lightweight coats and skirts, and ornate accessories. While speaking to writer Lisa Kennedy, Arnold chatted about what drew her to THE NEIGHBORHOOD, what it's like working with Cedric the Entertainer, her gratitude for being on a show with a platform to start dialogues about significant topics such as Black Lives Matter, the importance of selecting projects she truly loves – and the rules she's instituted for herself about how she engages on social media.
Regarding her TV husband, actor/comedian and THE NEIGHBORHOOD executive producer, Cedric the Entertainer, Arnold says, "Cedric's always been such a wonderful human being, and the show has that temperature. The show has that texture to it because he's a good leader. He is a good leading man. He's smart. He's respectful. He has a lot of empathy for people. He knows how to communicate."
About the evolution of her character, Arnold reveals, "Creator Jim Reynolds had 'Tina' all mapped out. But when I came and read for the role, he saw other things. So I'm appreciative of that, because Black women, we're not just one thing. We have so many facets to us. Every time I open the script, there's always something new about Tina that I learn, which is fun. Jim will ask me, 'Tichina, do Black women do this?' And I'll tell him abso-frigging-lutely-not. You see her flaws, and Cedric makes sure of it."
Continues Arnold, "This show could not have come at a better time…a lot of negativity has been stirred up – and this negativity is nothing new. This is what we as Black people have been dealing with…and I think this created a wonderful platform to start dialogue. This show displays our differences… The point is, whether we're White, Black, we have different ways of communicating with each other. So what I love about being on the show is that we continue communication…I think it's wonderful we've tapped into Black Lives Matter [in the third season premiere episode]. Just add 'too' behind it. We matter, too… "I'm grateful that I can be a part of a body of work that understands me as a Black woman in America and that actually displays me as a Black woman in America. We have a long way to go in understanding each other, and THE NEIGHBORHOOD really addresses that."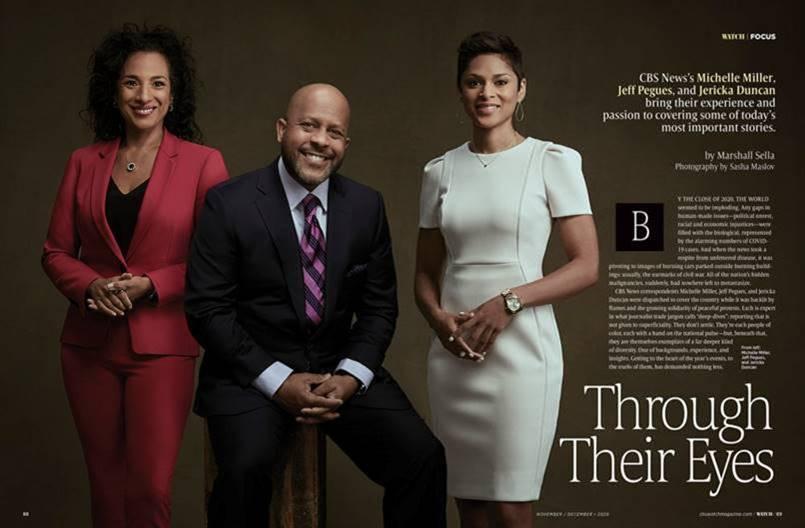 For their cover story, which was photographed by Sasha Maslov, CBS WEEKEND NEWS Anchor and National correspondent Jericka Duncan, CBS THIS MORNING: SATURDAY Co-Host Michelle Miller and CBS News Chief Justice and Homeland Security Correspondent Jeff Pegues shared their thoughts with writer Marshall Sella on the true meaning and objectives of diversity, their journalistic approach to stories, the TV reporters/anchors of color who inspired their career paths – and more. (Among several referenced role models, all three cite former ABC World News Tonight anchor Max Robinson, and Pegues and Duncan both name former 60 MINUTES correspondent Ed Bradley.)
Says Miller, "Diversity exists on so many levels…it's not only about what we see – skin color – but what we mean. It's about where we've been… and who we are." On whether the country is moving in the right direction on diversity, Miller reflects, "The pendulum swings. When the door opens, you've got to open it wide – because there are forces that are angling to close it shut. People need to constantly work to ensure that everybody has a seat at the table. Alliances should be made; ignorance should be shed. It's important for people to really believe and trust that diversity is good for everyone."
Per Pegues, "A lot of people think of diversity simply as a matter of quotas. I think that diversity of ideas is extremely important – not only important as far as news coverage, but also in terms of the bottom line, where the business is concerned. We have to appeal to as large an audience as possible…My view is pretty simple. How do you do that? You bring in as many people as possible under the tent."
Adds Duncan, "…we are better when we are more diverse – when we reflect our community and the country that we live in. We are better as an organization when there are conversations in newsrooms about how to cover a story, because of, perhaps, the lens through which I am seeing the story. Or with somebody with a disability seeing the story. Or where there is someone coming from the gay community seeing the story. That's the beauty of what we do: the discourse. And sometimes not agreeing – in hearing each other out! That's democracy...that's the way you would hope a newsroom functions as well."
With regard to their own work and process, says Miller: "As a journalist, what I am hoping to do with each story is to widen the aperture of their concept of the view out there, based on history and current reality. And those are the stories I like to tell. And hopefully those are the stories that give context to all the craziness out there."
Duncan shares, "There's so much information coming at us. That has to be how we stand out; by getting it right. Which can mean not always being the first to go ahead with something before we know [everything]. It still is a standard to have at least two sources. It definitely makes it more difficult for us to sort through information when it's coming at record speed. Good journalism takes time. It takes sorting through information. It takes talking to experts, a lot of legal experts sometimes, to make sense of it all."
Reveals Pegues, "The reason I came to this news organization, to CBS, was because if its history. Because of Walter Cronkite, because of the Bob Schieffers, the Lesley Stahls of the world. I wanted to be like them – the best journalists. The history of the network matters…We tell it like it is. We present both sides. And that's not going to change."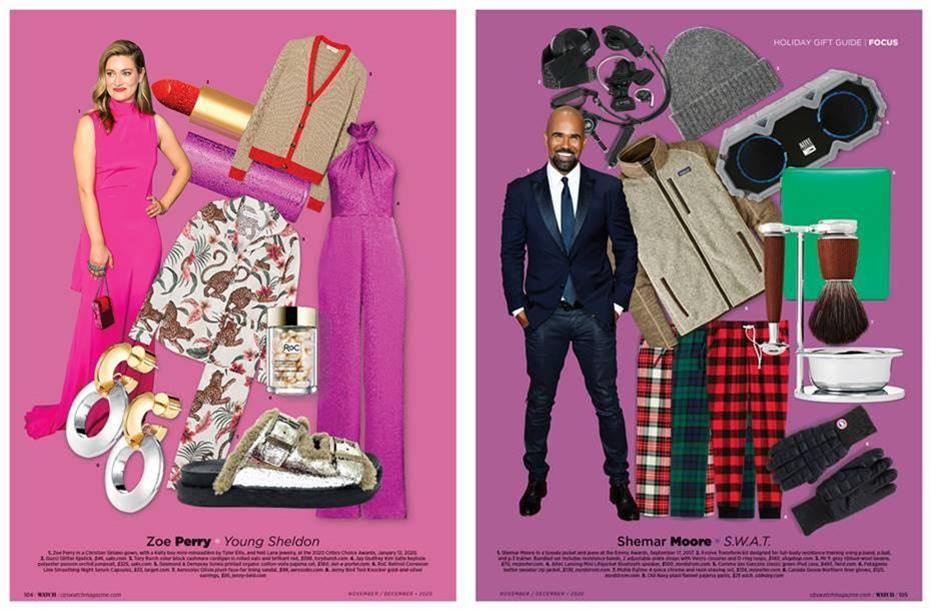 Back by popular demand… the Watch Holiday Gift Guide, with perfect presents inspired by the styles of fan-favorite stars, such as CBS All Access' Ginnifer Goodwin (WHY WOMEN KILL) and CBS' Shemar Moore (S.W.A.T.), Simone Missick (ALL RISE), Zoe Perry (YOUNG SHELDON), Melody Thomas Scott (THE YOUNG AND THE RESTLESS) and Carrie Ann Inaba (THE TALK).
The issue also includes:
Columnist Brantley Bardin's Q&A with Tony Award-winning actress Annaleigh Ashford (star of CBS' new Thursday night comedy B POSITIVE) – who, coincidentally, strives to be positive in life and on her social posts. "It's a struggle, obviously, at this time, but I think it's always been my goal to be a Positive Patty. And I think I'm in a moment of being a sort of shepherd for those who don't have the practice of looking ahead with bright eyes. Because as an artist, you have to have that believe something is coming."
Showrunner/producer Jenny Lumet chatting with columnist Fred Schruers about her upcoming CBS series CLARICE (debuting Thursday, Feb. 11), about FBI Agent Clarice Starling as she returns to the field one year after the events of "The Silence of the Lambs." Says Lumet, "The guys around her, and the villain got so much exploration, and I thought, Yeah, she's the one who's actually victorious…I want to know what she's been thinking, what she's been doing, what she learns."

A spread by writer Nate Millado on the new CBS All Access limited series THE STAND, including insights from showrunner Benjamin Cavell about Stephen King's involvement. ("He wanted a more satisfying climax for Frannie," explains Cavell, regarding why King wrote the final episode. "I think it's quite beautiful.") The feature also provides a "cheat sheet" breakdown of the characters, played by renowned stars such as Whoopi Goldberg, Alexander Skarsgård, James Marsden, Odessa Young, Jovan Adepo, Amber Heard, Greg Kinnear – and more!

Noteworthy new book recommendations and an interview with author Susie Yang about her hot debut novel White Ivy, in which a Chinese immigrant reconnects with her wealthy/WASPy childhood crush until someone threatens to expose her double life.

EVIL star and new father Aasif Mandvi revealing his daily routine in "24 Hours with…" Says Mandvi, "The EVIL cast has a text chain. It gets pretty funny at times. We're constantly ribbing each other. I keep making fun of Kurt Fuller, who plays Dr. Boggs, by telling him that [actor] Richard Kind is going to take his part on the show."

FBI: MOST WANTED star – and London native – Roxy Sternberg sharing her favorite hometown haunts, such as enjoying the view from atop the London Eye and dining at the famous restaurant The River Cafe.

A story on 18 celebs (including Meg Ryan, Julian Moore, Eva Longoria, Taye Diggs, Jason Biggs and James Earl Jones) who got their big break on a CBS daytime drama.

The "Shine" section, with glam makeup tips (Say goodbye to the blues with bold blue eye liner!) and a glittering array of "Must vs. Lust" holiday attire (Leopard prints! White tuxedo dresses! Sparkly fuchsia finery!) inspired by the flawless style of stars like Christine Baranski and Sonequa Martin-Green (respectively in CBS All Access' THE GOOD FIGHT and STAR TREK: DISCOVERY), and Madelaine Petsch and Lili Reinhart (in The CW's "Riverdale"). Plus, in Casa de Sasha, Watch Style Director Sasha Charnin Morrison recommends rocking enormous rings with colorful precious stones to dress up the loungewear or jeans getting extra wear this year.
About Watch
The official magazine of CBS since 2006, Watch magazine offers a rare, glamorous window into the lives of television's biggest stars. With distinctive photography by top tier talents and first class stories curated by industry veterans, Watch Magazine has steadily become one of the most elegant, sophisticated publications today. This intriguing mix of entertainment, celebrity, culture, fashion, and beauty features talent from CBS, SHOWTIME, The CW, CBS All Access, CBS Television Distribution, CBS Studios and coming in 2021, Paramount +.
The magazine's digital properties present readers with richer pathways to continue the journey beyond the velvet rope. Timely behind-the-scenes videos and photo galleries bring the reader closer to their favorite characters and their favorite shows. The digital version of Watch magazine can be found at https://december.cbswatchmagazine.com/Drew The national print version of Watch magazine is enjoyed by subscribers and sold on newsstands at select Barnes & Noble, Hudson News, Target and Walmart stores.
Media site: www.cbspressexpress.com/watch-magazine/
Website: www.cbswatchmagazine.com
Facebook: facebook.com/CBSWatch/