Storyline
FROM "OUT OF THIS WORLD" TO BEAUTIFULLY GROUNDED... THE COVERS OF THE JANUARY/FEBRUARY 2018 ISSUE OF WATCH! MAGAZINE FEATURE THE FABULOUS CAST OF "YOUNG SHELDON" AND THE REMARKABLE ROSE LESLIE OF "THE GOOD FIGHT"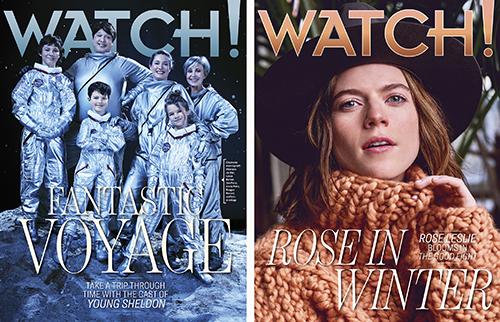 In the Issue, Iain Armitage, Zoe Perry, Lance Barber, Annie Potts, Montana Jordan
and Raegan Revord ("Young Sheldon") Take a Trip Through Time and Space,
While Rose Leslie ("The Good Fight") Basks in a Bohemian Wonderland
Additionally, Chris Jackson ("Bull") Is Suitably Suave
in a 1960s Blue Note-inspired Photo Spread,
and Lili Reinhart and Camila Mendes ("Riverdale") Are Mad for Mod
in Their Chic 1950s-themed Fashion Shoot

NEW YORK – Jan. 23, 2018 – The two covers of the January/February issue of Watch! magazine (on newsstands as of today) alternate between "out of this world" and beautifully grounded, with the colorful cast of YOUNG SHELDON posing triumphantly in "outer space" – and THE GOOD FIGHT's remarkable Rose Leslie basking in a bohemian wonderland. Additionally, Chris Jackson (BULL) is suitably suave in a 1960s Blue Note-inspired photo spread, and Lili Reinhart and Camila Mendes ("Riverdale") are mad for mod in their chic 1950s-themed fashion shoot.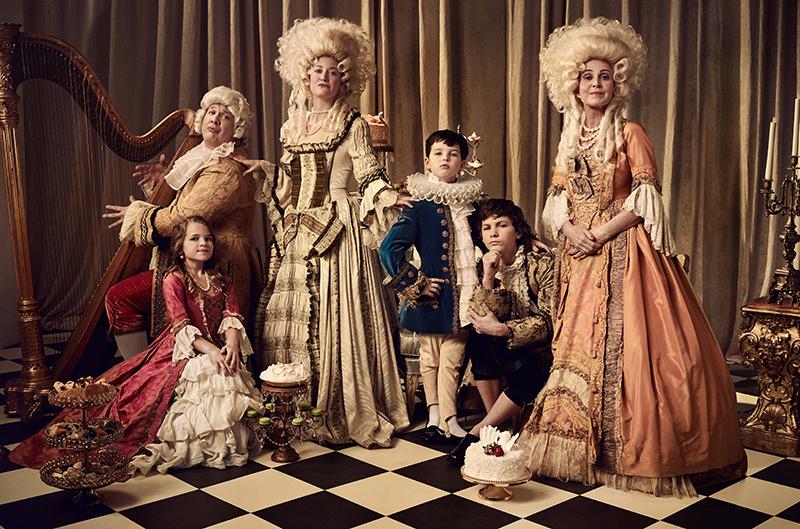 I ain Armitage, Zoe Perry, Lance Barber, Annie Potts, Montana Jordan and Raegan Revord of TV's #1 new comedy, YOUNG SHELDON on CBS, traveled through time and space during their Los Angeles-based Watch! shoot, which was photographed by Miller Mobley and styled by Jordan Grossman. Camaraderie and smiles abounded during and between the set-ups during which the cast posed as a proud family of the future in outer space, an affluent family from the late Renaissance period bedecked in the frilly/elaborate look of the day, a wholesome 1950s family donning 3-D glasses while enjoying the fare on their old-school television set – and more. Writer John Griffiths sat down with each of the cast members to conduct individual Q&As for his story. During Griffiths' interview with Armitage, he asks how Armitage is making sure he doesn't get a big head from all of his roles and the resulting celebrity status. Armitage responds: "…There's nothing different about people who are famous. Plus, I have a deal with my mom – if I ever get bratty or a big head, we won't do this. And I like doing this!"
Rose Leslie, whose CBS All Access series THE GOOD FIGHT is returning for its second season on Sunday, March 4, delighted in the relaxed nature of the bulky knit sweaters, soft silk pajamas and kimonos – and the colorful flowing gowns – selected for the shoot by Watch! style director Sasha Charnin Morrison. Leslie was photographed by Watch! director of photography Christopher Ross among a fantastical mix of antiques and artifacts in a private home in the West Village in New York City, and later interviewed by Watch! columnist Fred Schruers, to whom she gushed about the writing on her show, her co-stars ("I've come to that realization that everything that Christine Baranski is, I would love to replicate.") and the forthrightness of her character's same-sex relationship. Said Leslie, "I felt it was incredibly refreshing, to have that be my character's sexuality and for it never to have been made a thing."
For the affable and suave Chris Jackson, known for portraying a well-dressed stylist who fine-tunes clients' appearances for trial on CBS' hit series BULL and playing lead roles in Broadway musicals such as "Hamilton," Watch! chose a suitable theme, look and location: Jackson was styled as a 1960s Blue Note-era crooner donning classic formal attire throughout Manhattan's historic Jane Hotel. Jackson was photographed by David Needleman, styled by Christina Pacelli and interviewed by Lynn Darling, with whom Jackson chatted about his character on BULL and the message clothes send, the identity crisis he faced as a child when his family became bi-racial after his mother's new marriage, the friend/mentor who changed his path ("I began to see my life in a greater context"), and his life with his wife and two children, one of whom has autism spectrum disorder. Says Jackson about his son's condition: "No two people are the same. Autistics aren't broken – they are who they are. We should try to understand them the same we should try to understand anyone. Pay attention. Listen more. Empathize."
Camila Mendes and Lili Reinhart (Veronica and Betty, respectively, from The CW's much-buzzed-about series RIVERDALE, based on the characters from Archie Comics) went retro at a "50s-chic" shoot photographed by Derek Kettela – and styled by Ashley Zohar – in a mid-century home Sherman Oaks, Calif. In Emily Hirshey's story, the off-screen friends discuss the long audition processes they underwent to land their roles on the show, what it was like when they first met and filmed the show's pilot, what they think of their series' characters and more… When asked which RIVERDALE character they relate to most, Mendes answered, "Betty. I'm just more bubbly, I'm much sweeter. I'm not as quippy and strong and fierce as Veronica." Added Reinhart: "We're both a lot more laid-back than all of the characters. I feel like that's what makes me most like Jughead…"
Additional elements in this edition of Watch! include:
Writer Marc Berman highlighting a multitude of memorable moments from past GRAMMY® Awards as the special approaches its 60th telecast, Jan. 28 on CBS

A feature by John Griffiths delving behind the success of INSIDE EDITION as the CBS Television Distribution program celebrates its 30th season

A conversation with BULL executive producer Glenn Cordon Caron by Fred Schruers

A Q&A with star Meaghan Rath (CBS' HAWAII FIVE-0) by Brantley Bardin

Writer Stuart Elliott's reflections on the "The Great Folgers Switch" advertising campaign, which launched in the early 1980s and perked up interest in Folgers' instant coffee

Star Melissa Claire Egan (CBS' THE YOUNG AND THE RESTLESS) revealing her favorite designers and beauty products

Star Jessica Paré (CBS' SEAL TEAM) dishing about places to explore in her hometown of Montreal

Star Steve Howey's (SHAMELESS on SHOWTIME) "Travel Diary," revealing his favorite travel items and adventures (reported by Mona Buehler)

A Q&A with James Lee Burke by Sam Jenkins about Robicheaux, Burke's newest novel

Stanley Bing's musings on needing to break bread (and share cocktails) to get ahead, in his column "Last Call"
Also, CBSWatchmagazine.com continues to complement the print magazine's articles while still showcasing its own unique content, including photos and videos that are original to Watch!
About Watch!:
The official magazine of CBS since 2006, Watch! offers a rare, glamorous window into the lives of television and film's biggest stars. With distinctive photography by top tier talents and first class stories curated by industry veterans, Watch! has steadily become one of the most elegant, sophisticated publications today. This intriguing amalgam of entertainment, celebrity, culture, fashion, travel and beauty features talent from CBS, SHOWTIME, The CW, CBS All Access, CBS Television Distribution, Simon & Schuster, CBS Films, Pop and beyond.