Storyline
WATCH! MAGAZINE PRESENTS SHEMAR MOORE, JANE PAULEY AND MICHAEL WEATHERLY ON THE COVERS OF ITS NOVEMBER/DECEMBER ISSUE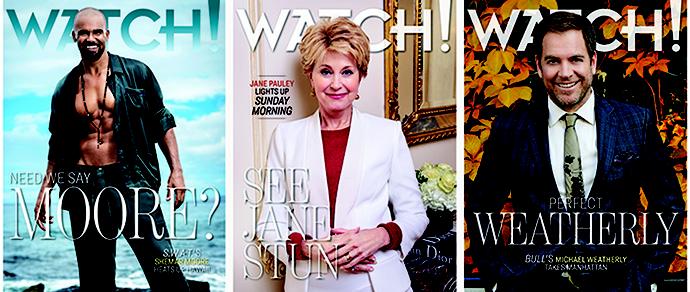 Gayle King Interviews Pauley and Joins Her
in the Corresponding Photo Spread
Candice Patton ("The Flash") Goes Tropical in a Fashion Spread Shot in Jamaica
NEW YORK – Nov. 21, 2017 – Watch! magazine features fan-favorite CBS stars Shemar Moore, Jane Pauley and Michael Weatherly on the covers of its November/December issue.
"S.W.A.T." star Shemar Moore, who jetted to the Wailea Beach Resort in Maui for his Watch! photo shoot with photographer Kwaku Alston, chatted with writer Malcolm Venable about his career, spirituality, food splurges, travel and how his "karmic energy aligned and good things started to fall into place" after he disconnected from his phone and gadgets on a first-ever trip to Australia upon leaving CRIMINAL MINDS.
CBS SUNDAY MORNING anchor Jane Pauley was interviewed by her friend and colleague, CBS SUNDAY MORNING co-host Gayle King, with whom she also teamed up for photographs (taken by Watch! director of photography Christopher Ross) and high tea in New York City's historic Plaza Hotel. In Pauley's feature, she talks about her current role, the scrutiny she endured at age 24 as the first woman to anchor an evening newscast in Chicago, the press frenzy and subsequent transition after she departed from the "Today" show, and the benefits of age. Says Pauley, "I don't worry about that banana peel anymore at all. I can take risks."
Michael Weatherly gamely strolled the streets of SoHo in winter clothes on one of the steamiest days of summer for his Watch! shoot with photographer Mary Ellen Matthews. During his interview with Jeffrey Toobin, a best-selling author and staff writer at The New Yorker, Weatherly chats about life after his years as DiNozzo on NCIS, and how in real life he went to DiNozzo's father, played by Robert Wagner, for advice on whether he should take the lead role in BULL, which, now in its second season, is a Top 10 series. About BULL, Weatherly relays, "I just love the idea that…I would get to play a guy who is somewhere between a Bond villain and Dr. Phil."
Candice Patton, the glamorous star of THE FLASH on The CW, traveled to Jamaica to be photographed by Christopher Ross for her tropical fashion spread, set at the Trident Hotel in Port Antonio. In Marc Bernadin's story, Patton talks about the good energy she gets from fans, her quest to maintain some mystery despite the pull of social media, being passionate about diversity in the entertainment industry, her future aspirations and why failure's a great thing. Says Patton, "…we should be looking to fail, because once you do, you can move to the next rung on the ladder. People stay on the bottom rung because they're so afraid of failing."
Additional elements in the issue include a deep-dive by writer Jessica Shaw into 45 seasons of THE PRICE IS RIGHT; a must-see holiday gift guide curated by deputy editor Kristin Perrotta and style director Sasha Charnin Morrison; fashion, beauty and travel tips; a Q&A with Linda Lavin (CBS' 9JLK) by Brantley Bardin; a feature with S.W.A.T executive producer Shawn Ryan by Fred Schruers; a Q&A with Stanley Bing about his new novel, Immortal Life; a look back at the Energizer Bunny campaign by Stuart Elliott; and a feature on Beth Mowins, CBS' first woman NFL play-by-play commentator.
Also, CBSWatchmagazine.com continues to complement the print magazine's articles while still showcasing its own unique content, including photos and videos that are original to Watch!
About Watch!:
The official magazine of CBS since 2006, Watch! offers a rare, glamorous window into the lives of television and film's biggest stars. With distinctive photography by top tier talents and first class stories curated by industry veterans, Watch! has steadily become one of the most elegant, sophisticated publications today. This intriguing amalgam of entertainment, celebrity, culture, fashion, travel and beauty features talent from CBS, SHOWTIME, The CW, CBS All Access, CBS Television Distribution, Simon & Schuster, CBS Films, Pop and beyond.
The magazine's digital properties present readers with richer pathways to continue the journey beyond the velvet rope. Timely behind-the-scenes videos and photo galleries bring the reader closer to their favorite characters and their favorite shows. The digital version of Watch! can be found at cbswatchmagazine.com. The bi-monthly print magazine is enjoyed by subscribers and sold on newsstands at select Barnes & Noble, Hudson News, Target and Walmart stores.
Media site: www.cbspressexpress.com/watch-magazine/
Website: www.cbswatchmagazine.com
Facebook: https://www.facebook.com/cbswatch
Twitter: https://twitter.com/cbswatchmag
Instagram: cbswatchmag
* * *
Watch! Press Contact:
| | | |
| --- | --- | --- |
| Barbara Abseck | 212-975-4637 | |