Release
THE COVERS OF WATCH MAGAZINE'S SEPT./OCT. ISSUE FEATURE THE CORRESPONDENTS OF THE LEGENDARY #1 NEWS PROGRAM, "60 MINUTES," AND THE CAST OF TV'S COMICAL #1 NEW SERIES, "GHOSTS"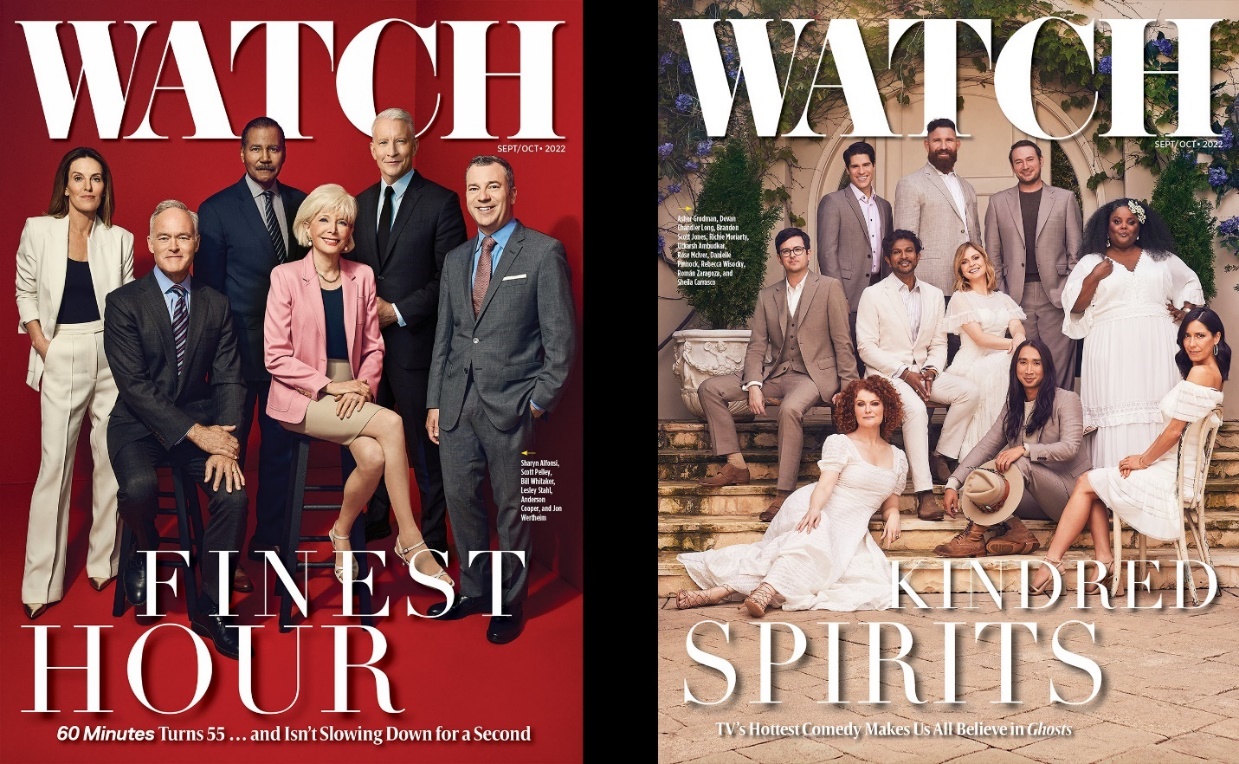 The Issue Is Available Digitally Now and Hits Newsstands Next Week
Click HERE for Watch Digital Cover Issue of "60 Minutes" or Scan Below QR Code

Click HERE for Watch Digital Cover Issue of "Ghosts" Cast or Scan Below QR Code

NEW YORK – Sept. 14, 2022 – Watch magazine's Sept./Oct. issue, available now digitally and on newsstands as of Sept. 20, features two covers: the remarkable CBS News correspondents of legendary #1 news program, 60 MINUTES, which is celebrating its 55th anniversary; and the stars playing the "livings" and ghosts on TV's #1 new show (#1 comedy series on Paramount+), GHOSTS, which is entering its sophomore season on CBS.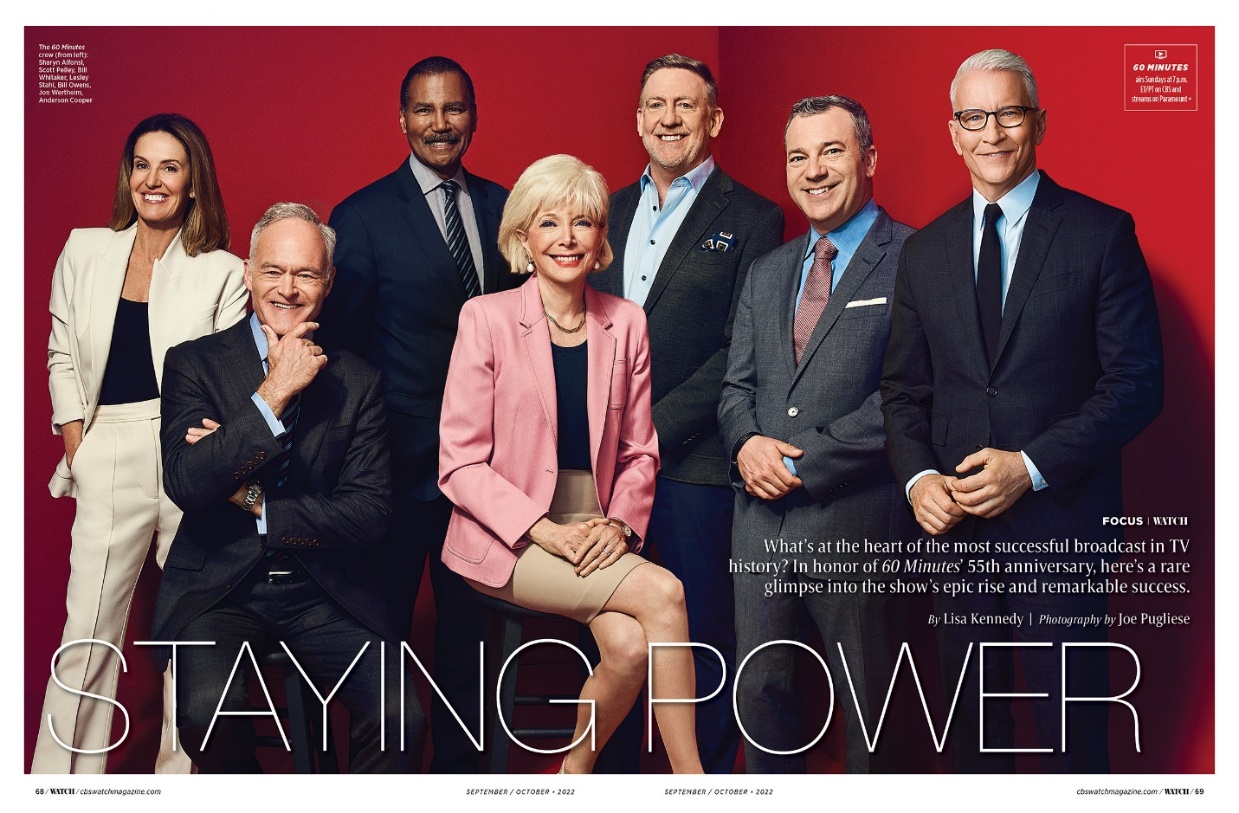 World-class 60 MINUTES journalists Lesley Stahl, Scott Pelley, Bill Whitaker, Jon Wertheim, Sharyn Alfonsi and Anderson Cooper were photographed for Watch by Joe Pugliese. Along with their highly esteemed executive producer, Bill Owens, the team spoke to writer Lisa Kennedy about the start of their careers at CBS News; how it felt to become part of the most successful broadcast in TV history (which begins its 55th season on Sunday, Sept. 18), where the guiding lights of the late correspondents Morley Safer, Mike Wallace and Ed Bradley still loom large; what they see as their most memorable, impactful and, in some cases, most challenging stories; and how Owens and their colleagues help keep the bar high.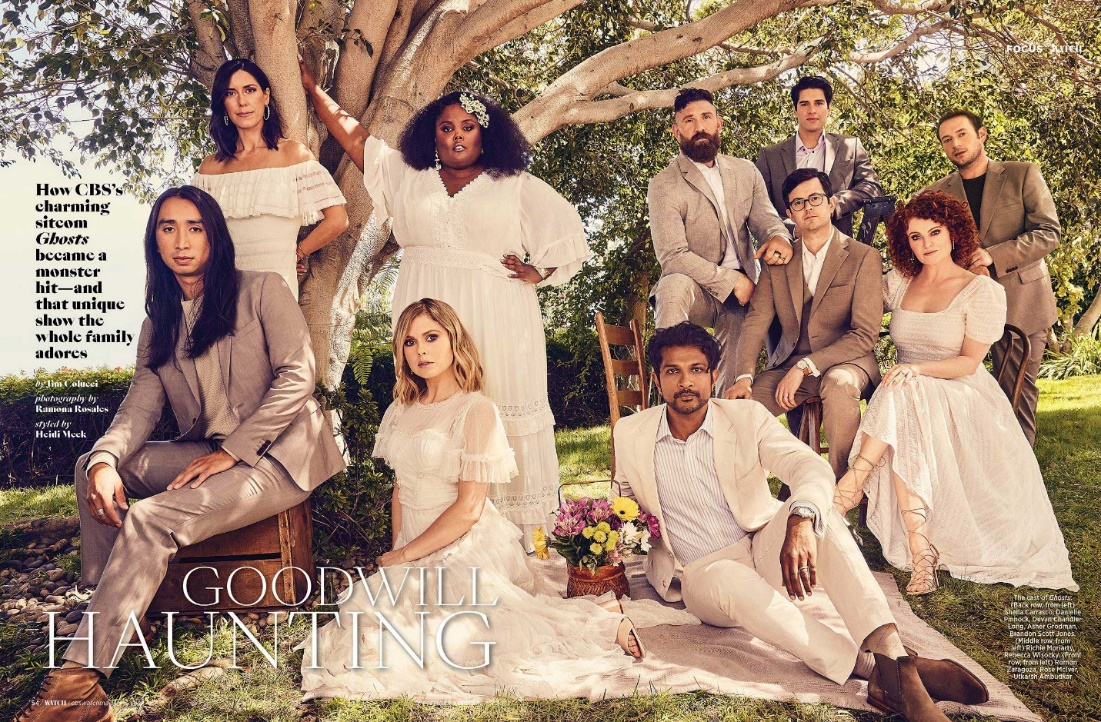 For their Watch shoot at a Malibu, Calif. estate, the easy camaraderie of GHOSTS stars Rose McIver, Utkarsh Ambudkar, Brandon Scott Jones, Richie Moriarty, Danielle Pinnock, Asher Grodman, Román Zaragoza, Sheila Carrasco, Rebecca Wisocky and Devan Chandler Long was unmistakable as they gathered to be styled by Heidi Meek and photographed by Ramona Rosales. During their interview with writer Jim Colucci, the celebrated cast of TV's #1 new show (and #1 comedy series on Paramount+), which begins its second season Thursday, Sept. 29 on CBS, discussed their characters, the "special sauce" of the show, their favorite season one moments, who gets the most laughs from their co-stars during filming and who/where they'd like to haunt! Colucci also talked to GHOSTS executive producers Joe Port and Joe Wiseman, who revealed what it took to make the original British series more "American, "and the fun challenge involved in finding reasons to have the ghosts on the property.
Additionally, this edition of Watch includes behind-the-scenes details from the hosts of the series from CBS' All-Reality Wednesdays (also available on Paramount+): Phil Keoghan (THE AMAZING RACE, which will commemorate its 400th episode during its 34th season, premiering Wednesday, Sept. 21, 10 PM, ET/PT), Jeff Probst (SURVIVOR, which begins season 43 with a two-hour episode, 8 PM, ET/PT) and real-life wife and husband team Rebecca Romijn and Jerry O'Connell (THE REAL LOVE BOAT, the new reality romance adventure series, which sets sail for the season Wednesday, Oct. 5 at 9 PM, ET/PT).
The issue also includes:
A feature previewing the 2022 NFL ON CBS schedule highlighting the marquee games, epic playoff rematches and young star quarterbacks.

Interviews with the highly esteemed 93-year-old Bob Newhart, who discusses little-known fun facts about his classic mega-hit CBS show "The Bob Newhart Show," which debuted 50 years ago.

Veteran actor Richard Kind, who chats about his role in CBS' new Sunday night series EAST NEW YORK, debuting Sunday, Oct. 2.

Diane Farr, from the new Friday night CBS series FIRE COUNTRY, premiering Friday, Oct. 7, discussing her favorite fashion and beauty items in the "Irresistible" column.

Q&As with new series stars Olivia Luccardi and Lavel Schley from EAST NEW YORK; Madeline Wise and Tristen J. Winger from SO HELP ME TODD, premiering Thursday, Sept. 29; and Jules Latimer and Stephanie Arcila from FIRE COUNTRY.

A "24 Hours with…" featuring NFL ON CBS analyst Charles Davis, who shares what he does to prepare on game day.

Carter Redwood (FBI: INTERNATIONAL) reveals his favorite places in his hometown of Pittsburgh.

NCIS: HAWAI'I star Noah Mills shares how his love of surfing enabled him to embrace life's challenges.

World-famous illusionist and creator/executive producer Criss Angel of The CW's MAGIC WITH THE STARS, which debuts Saturday, Oct. 22, talks about the art of deception.

Emmy Award-winning costume designer Lee Harris (CBS Media Ventures' THE DREW BARRYMORE SHOW) shares his wardrobe secrets.

A guide to fresh fall trends (women's Maverick bomber jackets, robe coats and twisted trench coats, '80s neon colors, corsets and more!)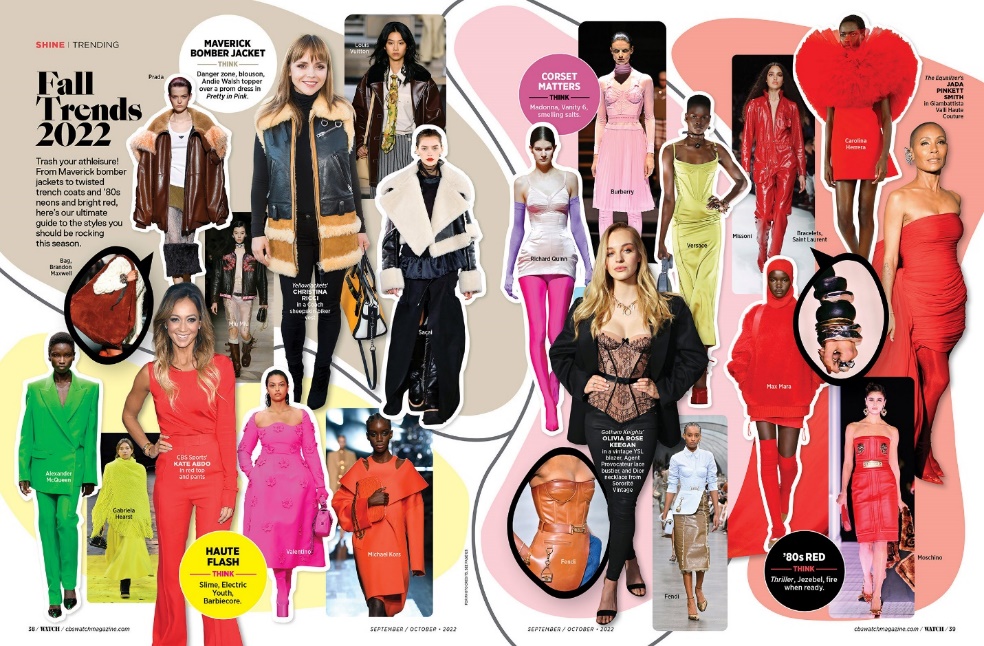 About Watch
The official magazine of CBS since 2006, Watch offers a rare, glamorous window into the lives of television's biggest stars. With distinctive photography by top tier talents and first-class stories curated by industry veterans, Watch magazine has steadily become one of the most elegant, sophisticated publications today. This intriguing mix of entertainment, celebrity, culture, fashion, and beauty features talent from CBS, Paramount+, SHOWTIME, The CW, CBS Media Ventures and CBS Studios.
The magazine's digital properties present readers with richer pathways to continue the journey beyond the velvet rope. Timely behind-the-scenes videos and photo galleries bring the reader closer to their favorite characters and their favorite shows.
Watch Website: www.cbswatchmagazine.com
Follow Watch on Instagram, Twitter and Facebook at @CBSWatch.
Press Contact: