Release
PARAMOUNT+ DEBUTS TEASER TRAILER AND KEY ART FOR THE ORIGINAL SERIES SPECIAL OPS: LIONESS
From Academy Award® Nominee Taylor Sheridan, SPECIAL OPS: LIONESS Will Premiere Globally on Sunday, July 23, Exclusively on Paramount+
Star-Studded Cast Includes Series Lead and Executive Producer Zoe Saldaña, Laysla De Oliveira, Emmy Award® Nominee Michael Kelly, with Oscar® Winner Morgan Freeman, and Oscar Winner and Executive Producer Nicole Kidman
The Espionage Thriller Is Produced by MTV Entertainment Studios and 101 Studios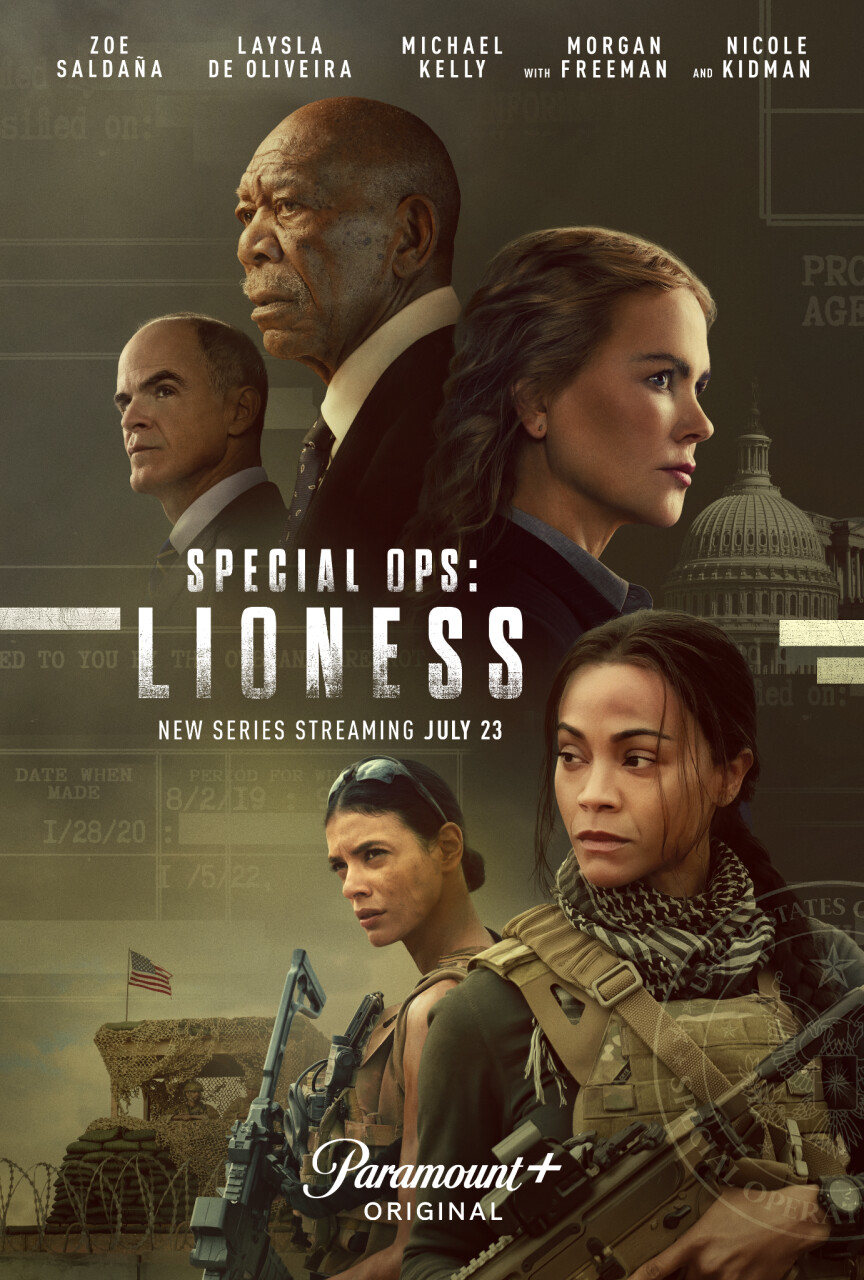 Photo credit: Paramount+
View Teaser Trailer Here
Download Key Art and Series Imagery Here
June 8, 2023 – Paramount+ today debuted the teaser trailer and key art for the highly anticipated original series SPECIAL OPS: LIONESS, which will premiere on Sunday, July 23 in the U.S. and all Paramount+ international markets exclusively on the service. From Academy Award nominee Taylor Sheridan, the espionage thriller features a star-studded cast, including series lead and executive producer Zoe Saldaña, Laysla De Oliveira, Emmy Award nominee Michael Kelly, with Academy Award winner Morgan Freeman, and Academy Award winner and executive producer Nicole Kidman. SPECIAL OPS: LIONESS is produced by MTV Entertainment Studios and 101 Studios for Paramount+.
SPECIAL OPS: LIONESS, inspired by an actual US Military program, follows the life of Joe (Saldaña) while she attempts to balance her personal and professional life as the tip of the CIA's spear in the war on terror. The Lioness Program, overseen by Kaitlyn Meade (Kidman) and Donald Westfield (Kelly), enlists an aggressive Marine Raider named Cruz (De Oliveira) to operate undercover alongside Joe among the power brokers of State terrorism in the CIA's efforts to thwart the next 9/11.
SPECIAL OPS: LIONESS will also star series regulars Dave Annable, Jill Wagner, LaMonica Garrett, James Jordan, Austin Hébert, Jonah Wharton, Stephanie Nur and Hannah Love Lanier. The series is executive produced by Taylor Sheridan, David C. Glasser, Zoe Saldaña, Nicole Kidman, Ron Burkle, Bob Yari, David Hutkin, Jill Wagner, Geyer Kosinski, Michael Malone and John Hillcoat.
SPECIAL OPS: LIONESS is the latest addition to Sheridan's growing slate on Paramount+, which includes 1923, 1883, MAYOR OF KINGSTOWN, and TULSA KING as well as the upcoming series LAWMEN: BASS REEVES and LAND MAN.
For more information about Paramount+ and SPECIAL OPS: LIONESS, please visit www.paramountplus.com and follow @ParamountPlus and @SpecialOpsLioness on Facebook, Instagram, and TikTok and @SpecOpsLioness on Twitter.
About Paramount+
Paramount+, a direct-to-consumer digital subscription video on-demand and live streaming service, combines live sports, breaking news and a mountain of entertainment. The premium streaming service features an expansive library of original series, hit shows and popular movies across every genre from world-renowned brands and production studios, including BET, CBS, Comedy Central, MTV, Nickelodeon, Paramount Pictures and the Smithsonian Channel. The service is also the streaming home to unmatched sports programming, including every CBS Sports event, from golf to football to basketball and more, plus exclusive streaming rights for major sports properties, including some of the world's biggest and most popular soccer leagues. Paramount+ also enables subscribers to stream local CBS stations live across the U.S. in addition to the ability to stream CBS News Network for 24/7 news and CBS Sports HQ for sports news and analysis.
For more information about Paramount+, please visit www.paramountplus.com and follow @ParamountPlus on social platforms.
About Paramount Media Networks & MTV Entertainment Studios
Paramount Media Networks & MTV Entertainment Studios is one of the preeminent media entities in the world that connects with global audiences through its nine iconic brands – MTV, Comedy Central, VH1, CMT, Pop, Logo, The Smithsonian Channel, Paramount Network and TV Land – and its Studios arm which produces acclaimed series and movies as well as award-winning documentaries through MTV Documentary Films.
About 101 Studios
101 Studios is a global entertainment company dedicated to the acquisition, financing, development, production and distribution of high-caliber, creator-driven storytelling. 101 empowers content creators through first-class collaboration and innovation. On the television side, 101 produces Taylor Sheridan's Emmy nominated series "Yellowstone," "Mayor of Kingstown," "1883" and the upcoming "George & Tammy," "Tulsa King," "Lioness" and "Bass Reeves." 101 Studios oversees and manages the newly formed Sports Illustrated Studios, a content platform based on the most compelling stories, characters and moments in sports past, present and future. Upcoming projects include "Paradise Found" based on the true story of high school football coach Rick Prinz; a docuseries about the sexual abuse and cover-up at Ohio State University, co-produced by George Clooney and Grant Heslov's Smokehouse Pictures; and the docuseries "Covers," a behind-the-scenes look at Sports Illustrated's top cover stories of all time. SI Studios has also exclusively partnered with iHeartMedia to create and distribute original podcasts through the iHeartPodcast network. On the film side, past releases include "The Current War: Director's Cut," the Sundance Audience award winner "Burden" as well as the family comedy "The War with Grandpa."
***
Paramount+ Press Contacts:
Morgan Seal: Morgan.Seal@paramount.com
Kate Mann: Kate.Mann@paramount.com
Natalie Speck: Natalie.Speck@paramount.com
MTV Entertainment Studios Contacts:
Michael Fabiani: Michael.Fabiani@paramount.com
Charli Wood: Charli.Wood@paramount.com
Patrick Santiago: Patrick.Santiago@paramount.com
101 Studios Contact:
Dani Weinstein: dweinstein@101studiosco.com