Release
"QUEENPINS" IS NOW STREAMING ON PARAMOUNT+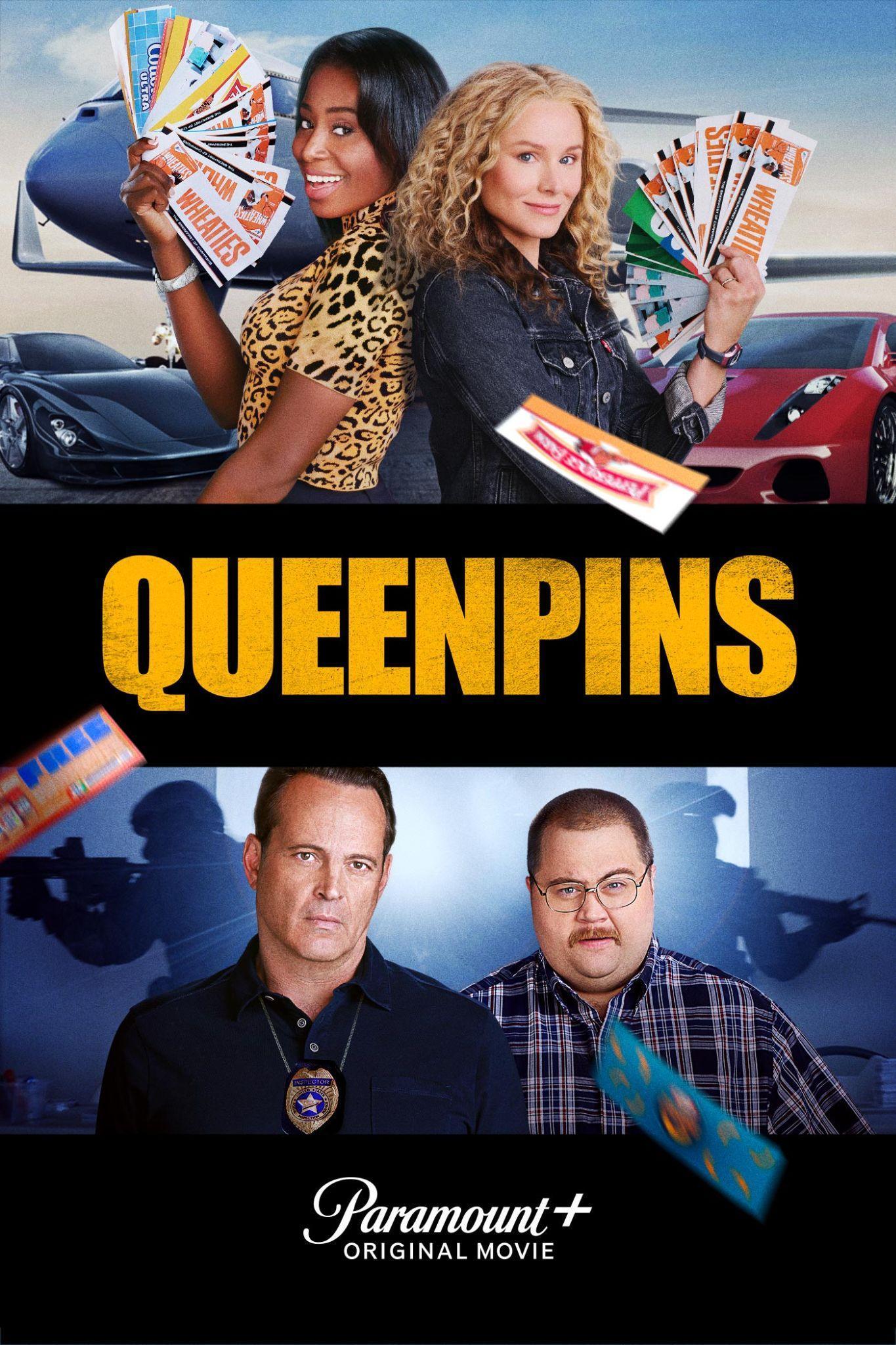 From AGC Studios, Marquee Entertainment, Red Hour Films and STXfilms,
the Feature-Length Comedy Starring Kristen Bell and Kirby Howell-Baptiste
Is Now Available to Stream Exclusively for Paramount+ Subscribers in the U.S.
Sept. 29, 2021 – Paramount+, the streaming service from ViacomCBS, today announced its original comedy movie QUEENPINS is now available to stream on the service. Following its theatrical release, the film is now available to stream exclusively for Paramount+ subscribers in the U.S.
Inspired by a true story, QUEENPINS is an outrageous comedy about a bored and frustrated suburban homemaker, Connie (Kristen Bell), and her best pal JoJo (Kirby Howell-Baptiste), a vlogger with dreams, who turn a hobby into a multi-million-dollar counterfeit coupon caper. After firing off a letter to the conglomerate behind a box of cereal gone stale, and receiving an apology along with dozens of freebies, the duo hatches an illegal coupon club scheme that scams millions from mega-corporations and delivers deals to legions of fellow coupon clippers. On the trail to total coupon dominance, a hapless loss prevention officer (Paul Walter Hauser) from the local supermarket chain joins forces with a determined U.S. postal inspector (Vince Vaughn) in hot pursuit of these newly minted "Queenpins" of pink-collar crime.
Released theatrically by STXfilms, QUEENPINS is written and directed by Aron Gaudet and Gita Pullapilly, and stars Kristen Bell, Kirby Howell-Baptiste, Paul Walter Hauser, Joel McHale, Bebe Rexha and Vince Vaughn. The film is produced by AGC's Head of Production Linda McDonough via her Marquee Entertainment banner alongside AGC Studios, and Red Hour Films' Nicholas Weinstock.
Paramount+ is building a robust slate of original feature-length films, including THE J TEAM, from Nickelodeon and starring JoJo Siwa; INFINITE, starring Mark Wahlberg and Chiwetel Ejiofor; the upcoming JERRY AND MARGE GO LARGE, from MRC Films' Landline Pictures and starring Bryan Cranston and Annette Bening; as well as titles produced by Paramount Players, including a prequel to PET SEMATARY, original supernatural story THE IN BETWEEN, featuring Joey King, and PARANORMAL ACTIVITY: NEXT OF KIN, a new, unexpected retooling of the PARANORMAL franchise premiering on Thursday, Oct. 29.
In addition, select upcoming films from Paramount Pictures will have their streaming debut on Paramount+, including the upcoming family feature CLIFFORD THE BIG RED DOG, which will be available to stream on Wednesday, Nov. 10, the same day it hits theaters. The Paramount Pictures films A QUIET PLACE PART II and PAW PATROL: THE MOVIE are currently available to stream on Paramount+.
About Paramount+:
Paramount+, a direct-to-consumer digital subscription video on-demand and live streaming service from ViacomCBS, combines live sports, breaking news, and a mountain of entertainment. The premium streaming service features an expansive library of original series, hit shows and popular movies across every genre from world-renowned brands and production studios, including BET, CBS, Comedy Central, MTV, Nickelodeon, Paramount Pictures and the Smithsonian Channel. The service is also the streaming home to unmatched sports programming, including every CBS Sports event, from golf to football to basketball and more, plus exclusive streaming rights for major sports properties, including some of the world's biggest and most popular soccer leagues. Paramount+ also enables subscribers to stream local CBS stations live across the U.S. in addition to the ability to stream ViacomCBS Streaming's other live channels: CBSN for 24/7 news, CBS Sports HQ for sports news and analysis, and ET Live for entertainment coverage.
For more information about Paramount+, please visit www.paramountplus.com and follow @ParamountPlus on social platforms.
About AGC Studios:
AGC Studios, founded in February 2018 by Chairman and CEO Stuart Ford, is in a very busy production period in both film and television. In film AGC is a partner on Roland Emmerich's recently wrapped MOONFALL starring Oscar® winner Halle Berry and Patrick Wilson for Lionsgate; produced and financed DEMONIC from Neill Blomkamp released by IFC Midnight, and LOCKED DOWN from director Doug Liman starring Oscar® winner Anne Hathaway and Oscar® nominee Chiwetel Ejiofor for HBO Max. They are in post-production on THE PERFECT FIND from director Numa Perrier starring Gabrielle Union and Gina Torres for Netflix; and in pre-production on LITTLE AMERICA from director Rowan Athale starring Sylvester Stallone. In addition, AGC was a co-financier and partner with CNN Films on two acclaimed documentaries LADY BOSS: THE JACKIE COLLINS STORY and on JOHN LEWIS: GOOD TROUBLE. AGC Television is in post-production on TINDER SWINDLER from Gaspin Media for Netflix; they recently financed and produced the first season of Sebastian Gutierrez's LEOPARD SKIN starring Carla Gugino and Jeffrey Dean Morgan; financed and produced an adaptation of Gabriel García Márquez's NEWS OF A KIDNAPPING for Amazon Studios; and is a co-financier and worldwide distributor of TROPPO starring Thomas Jane, Nicole Chamoun and Radha Mitchell in partnership with the Australian Broadcasting Corporation and IMDb-TV. Also in production is Season 3 of WAR OF THE WORLDS, a co-production with Canal+ and Fox International.
About STXfilms:
STXfilms, a division of Eros STX Global Corporation, is a next-generation film studio that produces, acquires, distributes, and markets motion pictures at scale. From blockbusters like Greenland, Hustlers, Bad Moms, and The Upside to hits like The Gentlemen, Molly's Game, and The Gift, STXfilms produces star-driven films for a global audience. In just 5 short years, its slate of films has already grossed over $1.8b in global theatrical box office. With a wide range of partners including Universal Pictures Home Entertainment and Showtime (which handle the physical and premium television releases of STXfilms content, respectively), the studio is a fast-growing, industry powerhouse. Upcoming films include Operation Fortune: Ruse de guerre, a new action-comedy film directed by Guy Ritchie and starring Jason Statham, Hugh Grant, Aubrey Plaza, and Josh Hartnett, The Marsh King'sDaughter directed by Neil Burger and starring Daisy Ridley and Ben Mendelsohn, American Sole starring Pete Davidson, O'Shea Jackson Jr., Camila Mendes, Offset, and Bad Bunny, The Godmother starring Jennifer Lopez, Universe's Most Wanted starring Dave Bautista, Muscle starring Vin Diesel and directed by F. Gary Gray, National Champions starring Stephan James and J.K. Simmons, Violence of Action starring Chris Pine, and Greenland: Migration, the sequel to the global hit starring Gerard Butler and Morena Baccarin.
Follow STXfilms for more film content: Twitter (@STXfilms), Instagram (@STXfilms), Facebook (/STXfilms), and YouTube (/STXfilms)
For the latest news and releases from ErosSTX: Twitter (@ErosSTX), Instagram (@ErosSTX), and Facebook (/ErosSTXOfficial)
Follow STXfilms for more film content: Twitter (@STXfilms), Instagram (@STXfilms), Facebook (/STXfilms), and YouTube (/STXfilms)
For the latest news and releases from ErosSTX: Twitter (@ErosSTX), Instagram (@ErosSTX), and Facebook (/ErosSTXOfficial)
* * *
Paramount+ Press Contacts:
| | |
| --- | --- |
| Morgan Seal | |
| Nikki Kozel | |
| Leigh Wolfson | |