Release
"INSIDE THE NFL" REACTS TO THE BUFFALO BILLS' IMPRESSIVE VICTORY OVER KANSAS CITY TONIGHT ON PARAMOUNT+
INSIDE THE NFL: DESTINATION BROOKLYN to feature special show from Brooklyn next week, coming to Paramount+ on Wednesday, October 26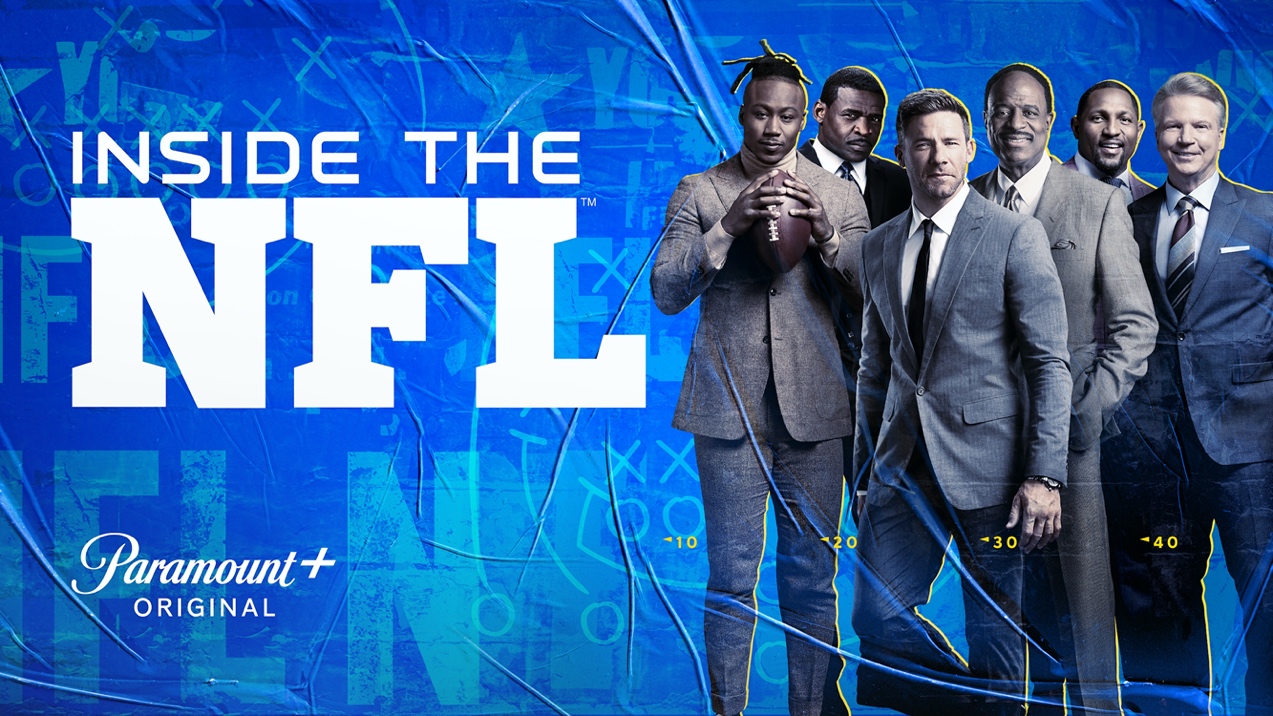 NEW YORK – October 18, 2022 – The Emmy® Award-winning studio show INSIDE THE NFL continues tonight, October 18 at 9:30 p.m. ET/6:30 p.m. PT, streaming on Paramount+. Host James Brown is joined by analysts Phil Simms, Brandon Marshall and Julian Edelman in studio to discuss the latest news and storylines from Week 6.
The crew reviews the Buffalo Bills' marquee victory over fellow AFC favorite Kansas City Chiefs on Sunday, anchored by star defensive end Von Miller. The analysts also discuss a tough loss for Tampa Bay Buccaneers quarterback Tom Brady and debate whether there is a quarterback battle brewing for the New England Patriots.
The team also announced INSIDE THE NFL: DESTINATION BROOKLYN, a special show next week that will be taped from Brooklyn and be available to stream on Paramount+ beginning on Wednesday, October 26.
Cincinnati Bengals wide receiver Ja'Marr Chase, Cleveland Browns running back Nick Chubb, Atlanta Falcons quarterback Marcus Mariota, Indianapolis Colts cornerback Kenny Moore II, Los Angeles Rams tight end Tyler Higbee, Green Bay Packers head coach Matt LaFleur and Chicago Bears head coach Matt Eberflus are wired for sound.
* Click HERE for a clip of Baltimore Ravens quarterback Lamar Jackson's long run
* Click HERE for a clip of the Minnesota Vikings' locker room celebration
* Click HERE for a clip of Kenny Moore II and the Colts' mascot
Following are quotes from this week's episode:
On the Bills' defense…
Simms – "After that playoff game, what did the Buffalo Bills say they had to do to win a championship or go to the Super Bowl? 'We've got to get another pass rusher.' Von Miller. How'd that pay off? The Buffalo Bills – they were able to get to Patrick Mahomes without blitzing. They were all over him. His protection was not good in that game at all."
Marshall – "We can talk about Patrick Mahomes and Josh Allen all we want, but Von Miller was the MVP of that game."
On Bills wide receiver Gabe Davis…
Edelman – "[He] has been a huge addition. Last year, at the end of the season, he started getting hot. He was banged up at the beginning of the year. He gives them another target. And having one of the best receivers in [Stefon] Diggs who pretty much takes all of the coverage up, to have another player go out and make plays, long, big, explosive plays, it's crazy."
On if Bailey Zappe should remain the starting quarterback in New England…
Edelman – "If he continues to play the way he's playing right now, he has to be the starter. Mac Jones will be coming off a high ankle sprain. His strength in the pocket is his ability to move. If he can't stick his foot in the ground, he can't plant off his foot, there's going to be some deficiencies. Zappe matched Mac's best game last year, on the road against the Cleveland Browns, getting a win."
On the Buccaneers allowing Tom Brady to miss practice…
Simms – "The coach allowed it, so that's up to the coach. Does the coach give any preferential treatment? The coach controlled that situation and if he said, 'It doesn't look good, and it's not good for our football team,' it wouldn't have happened. Todd Bowles had no problem with it, so I'm not going to sit here and rip Tom Brady."
On the Philadelphia Eagles entering a bye week…
Marshall – "I wouldn't like this if I'm the Philadelphia Eagles. When the schedule comes out, every single year we look at the big games. How many Monday Night Football games do we have? Thursday Night Football games, Sunday Night Football games, primetime games. And we also look at, when does that bye week hit? Is it midway through the year? Towards the end of the year? Because you're looking at this week to recover mentally and physically. Week 6, you're rolling. You're the Philadelphia Eagles. I want a couple more games before I go into a bye."
On Marcus Mariota and the Atlanta Falcons…
Edelman – "I'm going to hand out a couple Tough Tickets. Atlanta Falcons – they beat my 49ers. Five of the six games that they have played this year, they've had over 150 yards [rushing]. That's a tough football team. Marcus Mariota – he's been playing very good football, efficient. Thirteen of 14, two touchdowns in the air, one on the ground. He had to handle a lot of stuff over his career – getting replaced in Tennessee, not finding a role in Vegas – that has been a distraction. And he's kind of handled that very well. He doesn't really care. He just goes and does his business."
On Carson Wentz…
Edelman – "I've got to give a shoutout to one guy, that we all threw under the bus, that everyone in the media world is throwing under the bus – Carson Wentz. He gets a Tough Ticket. He had extreme mental toughness to be able to handle what his head coach did to him last week in the media. He broke his hand in the second quarter, stuck it out. It was a sloppy win, but I'll take a sloppy win over a pretty loss any day. Tough Ticket Tuesday."
On Matt Ryan and the Indianapolis Colts…
Simms – "Pro football – emotion, pride, you get embarrassed on the football field. Why am I bringing this up? The Indianapolis Colts – four weeks ago they got embarrassed in Jacksonville, 24-nothing. Matt Ryan sacked five times. Four weeks later they play them. Matt Ryan goes 42-58, three touchdowns, no interceptions, he's not sacked. They turn it around and win the game, 34-27. That tells you about the NFL, parity, how it can change so much with thoughts."
For more information about INSIDE THE NFL, visit Paramountplus.com, follow us on Twitter, Instagram and Facebook and join the conversation using #INSIDETHENFL.
# # #
CONTACTS:
Paramount+
Paul-Michael Ochoa
paulmichael.ochoa@viacomcbs.com
CBS Sports
Bailey Knecht
bailey.knecht@viacomcbs.com
SHOWTIME Sports
Kate Howard
kate.howard@showtime.com