Release
JANE PAULEY ANCHORS A SPECIAL "BY DESIGN" EDITION OF "CBS SUNDAY MORNING" FROM SANTA BARBARA, CALIF.
Sunday, May 22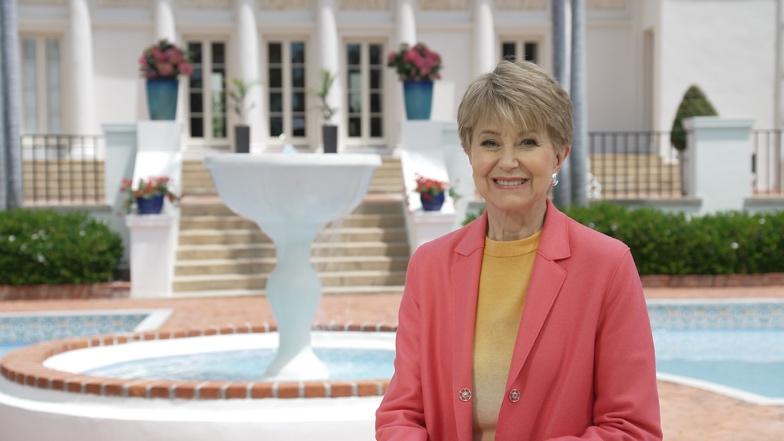 Jane Pauley anchors a special "By Design" edition of CBS SUNDAY MORNING from Santa Barbara, Calif, that focuses on all aspects of design – from the home to our lives – to be broadcast Sunday, May 22 (9:00 AM, ET) on the CBS Television Network and streaming on Paramount+.
This year's broadcast, anchored from Montecito's historic El Fureidis estate and prominent locations in Santa Barbara, builds on a long tradition at CBS SUNDAY MORNING to feature one broadcast in May focused on design and travel. Previous editions have been anchored from the Biltmore Estate in North Carolina, Hearst Castle in California, The Breakers in Rhode Island, as well as locations in Florence, London and Amsterdam.
Sunday's broadcast will feature David Pogue's look at how design and devices play an important role in tracking people's daily lives. Pauley will delve into the rich history of Santa Barbara, which was inspired by Spanish design and was once known as Hollywood of the North.
Seth Doane also reports from Wales, where an artist is turning sand and stone into fleeting works of art. Tracy Smith explores the design of surfboards. And Lee Cowan catches up with singer-songwriter Kenny Loggins, a nearby Montecito, Calif. resident, whose music was in the original TOP GUN and also in the sequel, TOP GUN: MAVERICK, both from Paramount Pictures, a division of CBS parent Paramount Global.
In addition, Martha Teichner reports on the design of vertical gardens; Kelefa Sanneh explores the gardens on living room walls; Nancy Giles looks into the rich history of wallpaper; Martha Stewart offers some top-drawer home office design tips; and Ben Tracy visits Paradise, Calif., which was all but destroyed by a wildfire in 2018, and reports on how the community is slowly rebuilding using fire resistant construction.
Finally, Luke Burbank reports on the many ways people are using shipping containers in home projects, and Susan Spencer looks at the classic design of paper clips, ice cream scoops and can openers. Also, Serena Altschul explores the world of second-hand fashion.
CBS SUNDAY MORNING is broadcast Sundays (9:00-10:30 AM, ET) on the CBS Television Network. Rand Morrison is the executive producer.
Follow CBS SUNDAY MORNING on Twitter, Facebook, Instagram and at CBSNews.com. Listen to CBS SUNDAY MORNING podcasts on all podcast platforms. Stream CBS SUNDAY MORNING on Paramount+.
***
Press Contact:
Richard Huff – Huffr@cbsnews.com