Release
CBS REPORTS DOC "CAMPAIGN OF DECEIT: THE ELECTION OF GEORGE SANTOS" PREMIERES TONIGHT ON CBS NEWS STREAMING AT 8:00 PM, ET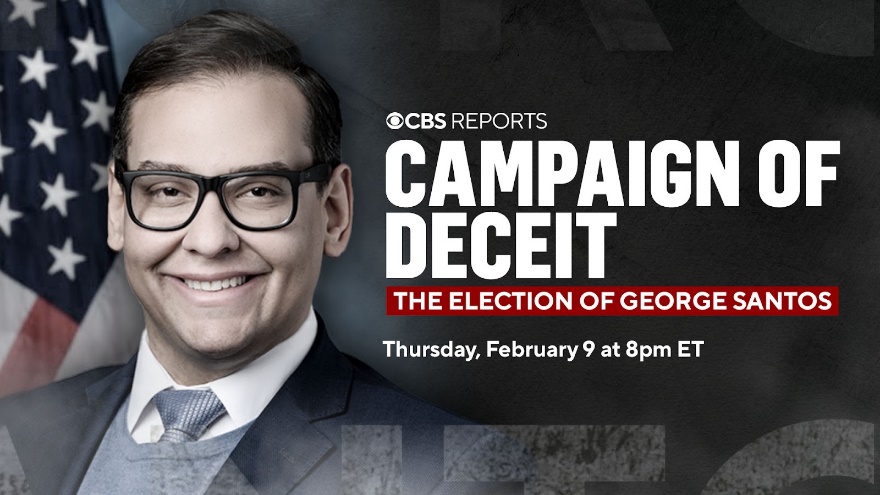 CBS News Political Correspondent Caitlin Huey-Burns Joined "CBS Mornings" Today to Preview the Documentary and Share a New Interview with a Woman Who Says She Is a Childhood Friend of Santos – She Revealed How He Used Her to Try to Attract New Investments for a Small Firm That Has Since Been Shut Down by the SEC: "It Was All Fraud."
Watch a Preview Here and the Full Documentary Here
Since the day George Santos announced his bid for a seat in Congress, much of what he's said about his life and career has proven to be false. So, who is George Santos?
In CAMPAIGN OF DECEIT: THE ELECTION OF GEORGE SANTOS, a new documentary premiering tonight at 8:00 PM, ET on the CBS News Streaming Network, CBS Reports and the CBS News Investigative unit, along with CBS News political correspondent Caitlin Huey-Burns, follow Santos' unlikely path from a basement in Queens to seaside Brazil to Long Island's wealthiest suburbs – unwinding a campaign of deceit that delivered him from humble beginnings to the halls of power in Washington. In the pursuit of a more complete picture of who Santos is, Huey-Burns interviewed former friends and acquaintances of Santos who said they had been burned by his falsehoods and betrayals.
Just published on CBSNews.com: Rep. George Santos' work for firm accused of Ponzi scheme drew SEC scrutiny
Watch CAMPAIGN OF DECEIT: THE ELECTION OF GEORGE SANTOS on CBS News Streaming, Paramount+ or by downloading the free CBS News App.
Watch more CBS Reports documentaries at cbsnews.com/cbs-reports.
***
Press Contact:
Hugo Rojo, CBS News Communications