Release
COUNT ON CBS NEWS AND STATIONS FOR 2022 MIDTERM ELECTIONS COVERAGE TODAY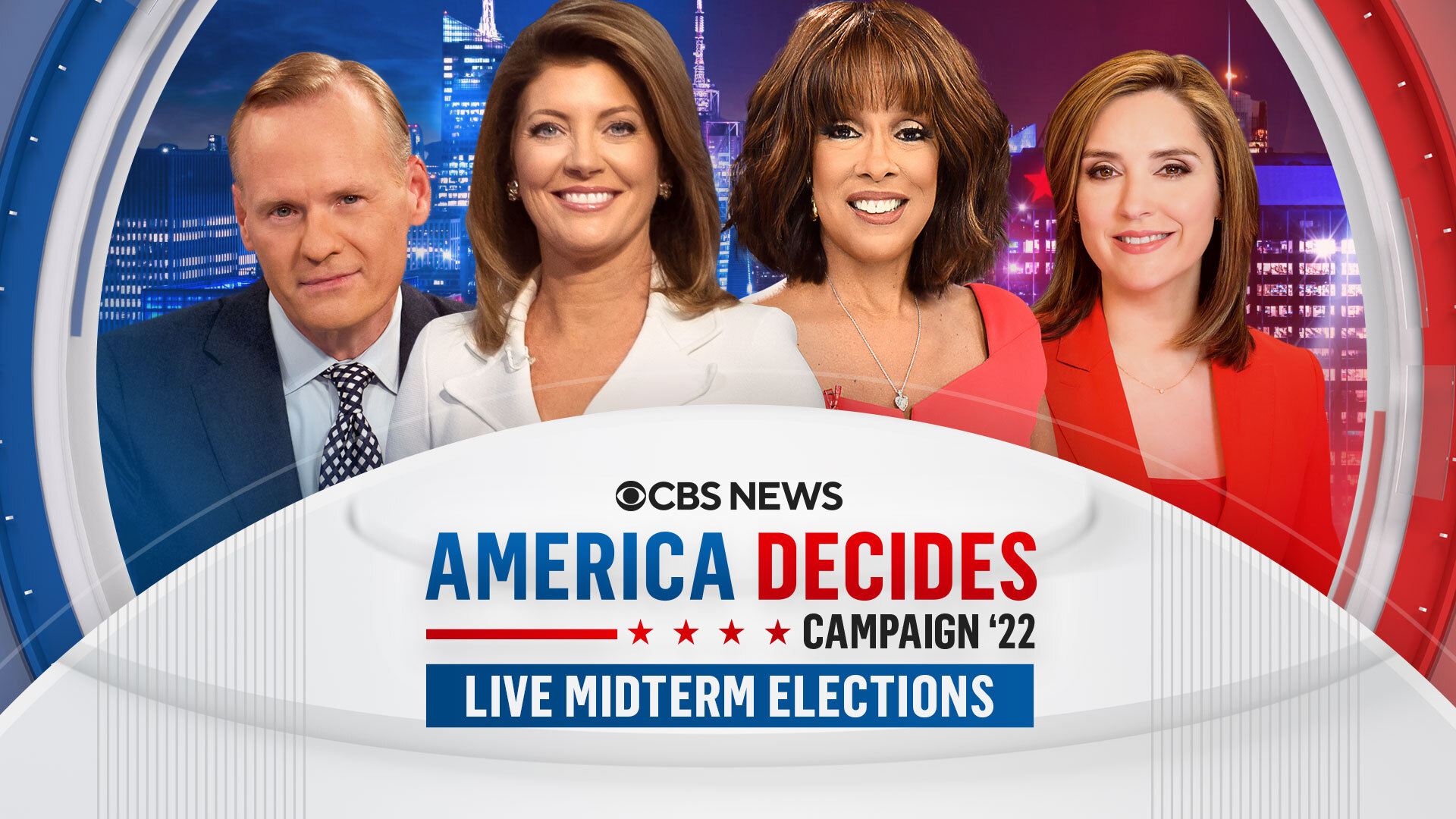 Watch a Preview: Join Norah O'Donnell, Margaret Brennan, Gayle King and John Dickerson for Live Coverage All Night Long on CBS News
Read More About CBS News and Stations' Robust Day-Long Coverage Here
Voters across the country will determine control of the U.S. House and Senate, as well as a number of governor's races, in the 2022 midterm elections on Tuesday, Nov. 8. CBS News will provide live coverage across all its platforms as results come in.
The CBS Television Network, CBS News Streaming Network and CBS Stations will offer in-depth analysis and reporting throughout the day. CBS News' AMERICA DECIDES: CAMPAIGN '22 will begin at 5:00 PM, ET on streaming and continue on broadcast and streaming at 8:00 PM. Live coverage will also continue throughout the evening until 2:00 AM on the CBS News Streaming Network, available online on the free CBS News app for connected television and mobile devices and on Paramount+.
CBS EVENING NEWS anchor and managing editor Norah O'Donnell will anchor coverage from New York City, at the CBS News Election Headquarters in Times Square. She will be joined by CBS MORNINGS co-host Gayle King, CBS News chief political analyst and PRIME TIME WITH JOHN DICKERSON anchor John Dickerson and FACE THE NATION moderator and chief foreign affairs correspondent Margaret Brennan.
Also joining the coverage will be CBS News executive director of elections and surveys Anthony Salvanto, chief election and campaign correspondent Robert Costa, chief White House correspondent Nancy Cordes, chief Washington correspondent Major Garrett, chief national affairs and justice correspondent Jeff Pegues, senior White House and political correspondent Ed O'Keefe, congressional correspondent Scott MacFarlane and national correspondent and CBS News Streaming anchor Vladimir Duthiers.
Throughout election night, CBS Network and CBS News Streaming coverage will, for the first time, feature live reports and analysis from political reporters at CBS Stations across the country; including Tom Wait from KCBS in Los Angeles, Jack Fink from KTVT in Dallas-Fort Worth, Jon Keller from WBZ in Boston, Esme Murphy from WCCO in Minneapolis-St. Paul, Shaun Boyd from KCNC in Denver, Jim DeFede from WFOR in Miami and Jon Delano from KDKA in Pittsburgh.
For the first time, CBS News will have a Democracy Desk, which will examine ongoing threats to American democracy with the journalists and experts at the forefront of the issues; including election law contributor David Becker on efforts in states to make the vote counting process more transparent, Jeff Pegues on how law enforcement is preparing for and dealing with threats to election workers, and Scott MacFarlane on election deniers and the fallout from the Jan. 6, 2021, attack on the U.S. Capitol.
Election coverage on the CBS News Streaming Network begins at 7:00 AM, ET on Tuesday, anchored by correspondent and CBS News Streaming anchor Anne-Marie Green, and continues with special election-focused political interviews and in-depth reporting by correspondents throughout the day. CBS News political correspondent Caitlin Huey-Burns in Washington, D.C., and correspondent Lilia Luciano in New York anchor a special edition of RED & BLUE and a countdown to results on AMERICA DECIDES: CAMPAIGN '22 from 5:00 PM until 8:00 PM, ET.
The first polls close at 6:00 PM, ET in Indiana and Kentucky, and the last polls close at 1:00 AM, ET in Alaska. CBS News will have correspondents on the ground in battleground states including Arizona, Florida, Georgia, Pennsylvania, Nevada, New Hampshire and Texas. CBS News will also feature live reports and analysis from political reporters at CBS stations across the country.
The latest CBS News Battleground Tracker poll shows Republicans are favored to win control of the House, with Republicans leading in 228 seats. That would constitute a 15-seat gain – lower than average for a party challenging a first-term president in recent history. At that level, the majority line is just on the lower edge of the margin of error for our model.
There are currently five Senate races CBS News considers toss-ups. The Senate is currently split evenly between Republicans and Democrats.
How to Watch 2022 Election Night Results and Live Coverage
What: CBS News election night coverage

Date: Tuesday, Nov. 8

Time: 5:00 PM, ET: Special edition of RED & BLUE on CBS News Streaming; 8:00 PM, ET: AMERICA DECIDES: CAMPAIGN '22 on TV and streaming

TV: CBS News stations (find your local station here)

Online stream: Live on CBS News in the player above and on your mobile or streaming device

Follow: Live updates on CBSNews.com
Guests Expected to Join Tonight's Coverage
Rep. Jim Clyburn, House majority whip (D-SC)

Gov. Glenn Youngkin, (R-VA)

Larry Summers, former treasury secretary to President Clinton and former economic advisor to President Obama

Rep. Adam Kinzinger (R-IL)

Rep. James Comer, (R-KY) / ranking member, House Oversight Committee
QUICK LINKS
CBS News Streaming Midterms Preview
Norah O'Donnell anchored a special streaming preview from CBS News Election Headquarters in Times Square. The streaming special features insight from CBS News' team of journalists covering the midterm elections. WATCH HERE
CBS News is pushing the envelope in how it reaches new and younger audiences with its trusted, rigorous and data-driven multiplatform reporting on social media:
Twitter Spaces
TikTok Explainers
***
Press Contacts:
Lance Frank, CBS News Communications
Hugo Rojo, CBS News Communications
April Andrews, CBS News Digital Communications
april.andrews@cbsinteractive.com
Mike Nelson, CBS Stations Communications