Release
ON "CBS MORNINGS": SENATOR TIM SCOTT ON FBI MAR-A-LAGO SEARCH, TRUMP'S FUTURE AND THE STATE OF THE GOP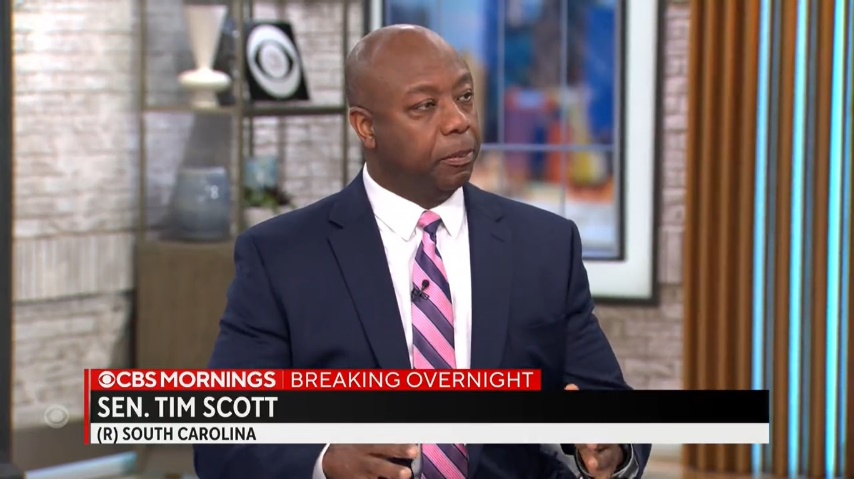 The FBI conducted a search of former President Donald Trump's Mar-a-Lago residence, apparently related to the possible mishandling of government materials. South Carolina senator Tim Scott joined CBS MORNINGS to discuss the investigation, what it could mean for the Republican Party, his Jan. 6 experience and his new book, America: A Redemption Story.
Senator Scott says the American public needs to let the FBI's search and DOJ investigation of Trump "play out" before jumping to conclusions – adding that this could raise more questions about whether the agency is "doing their job apolitical."
Watch Here: https://cbsn.ws/3dkwxjO
Twitter Link: https://twitter.com/CBSMornings/status/1556988918670626817
Excerpts:
-Senator Tim Scott on the credibility of the FBI in light of the search of former President Trump's home:
SEN. SCOTT: We've had the FBI before the Judiciary Committee, just in the last two weeks, trying to figure out why they do what they do. And there's been lots of questions before this raid about whether or not the FBI is doing their job apolitical and we don't know the answer to that question yet.
TONY DOKOUPIL: You have doubts about the FBI?
SCOTT: This is going to raise more questions, in my opinion. We need to let this play out and see exactly what happens. But we should all have been stunned and surprised and shocked at what happened yesterday. The real question is – (a) What is the Federal Records Act? and (b) What are we talking about? It has to be something of incredible magnitude for, at least my side of the aisle, to say that was warranted. Without that, I think we are going to find ourselves in a very big mess as it relates to the credibility of the FBI.
-Senator Scott on Trump:
DOKOUPIL: Do you still feel that [Trump] is the best representative of the Republican Party?
SCOTT: He certainly is the largest voice in American politics – period. Republican or Democrat. And it looks like he will continue to be. The more focus you put on him, the more likely the supporters will rally around him. There is a huge divide in our country.
GAYLE KING: But wait a second before you go, Senator. (Crosstalk) But do you still think he is the best?
SCOTT: The good news is I get to answer the questions how I see the question. But the truth is, without any question, the most powerful voice in all of politics and that's why so many people, left and right, continue to focus on President Trump.
Follow CBS MORNINGS on Twitter, Facebook, Instagram and YouTube.
***
Press Contacts:
| | | |
| --- | --- | --- |
| Samantha Graham | | |
| Tucker Hart | | |