Release
Rachael Ray: CAMERON DIAZ CHATS WITH RACHAEL ABOUT TURNING THE BIG 5-0, WHY SHE'S COMING OUT OF RETIREMENT, PRANKING DREW BARRYMORE AND HER WINE COMPANY 

PREVIEW CLIPS: CAMERON DIAZ CHATS WITH RACHAEL ABOUT TURNING THE BIG 5-0, WHY SHE'S COMING OUT OF RETIREMENT, PRANKING DREW BARRYMORE AND HER WINE COMPANY
MUST INCLUDE TUNE IN
AIR DATE: MONDAY, SEPTEMBER 26th
Show Website Link: https://www.rachaelrayshow.com/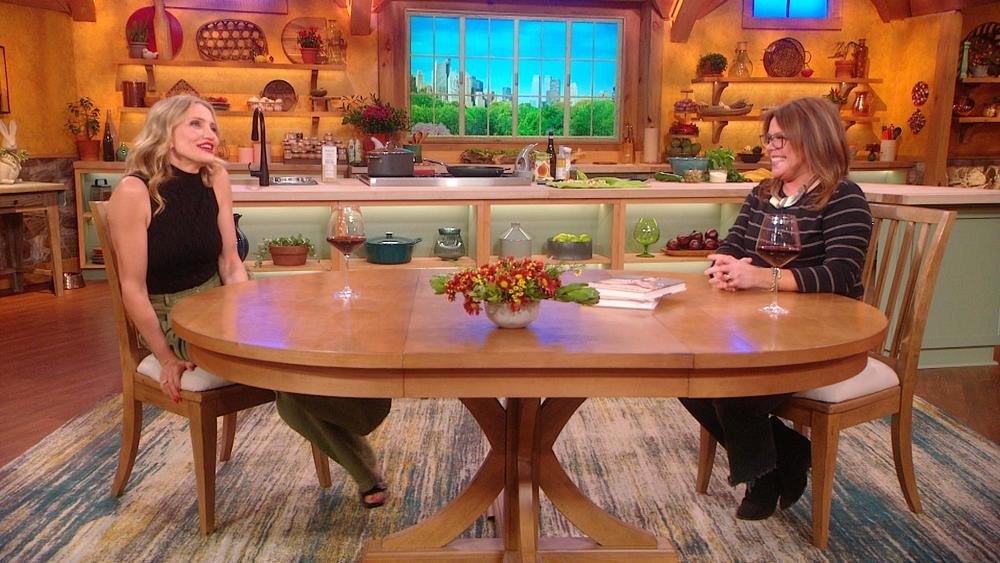 Photo/ Video Credit: Rachael Ray Show
PREVIEW CLIP 1: CAMERON DIAZ REVEALS WHY SHE CAME OUT OF RETIREMENT AFTER 8 YEARS FOR NETFLIX MOVIE
For Screening/Broadcast Only: https://spaces.hightail.com/receive/h85Zdgn7iL
Cameron Diaz: "It's been almost over a decade."
Rachael Ray: "I was going to say how long has it been 7, 8 years?"
Cameron Diaz: 8 years. The last film I did was with Jamie, it was Annie.
Rachael Ray: "Which we talked about; you were here for, I watched."
Cameron Diaz: "Yes, 2013, 14. I think we finished in 2014. So, that was the last film I did, and I was very much like, that's it for me. I was real…I'm done. I am, I'm done."
Rachael Ray: "Why do you have to be done?"
Cameron Diaz: "It's a different thing… I took the time, I met my husband, we got married, we built our family, our homes, all those things that take a lot of focus.
Rachael Ray: "And you wanted that to be the priority."
Cameron Diaz: "Yeah, that still is my priority. I wasn't certain at the time, in the beginning of it all, whether or not I could really do both and it turned out that at this point in time it's a really nice thing for my family. My husband, Benj, is the best. He's so supportive and he really wants to help me."
Cameron Diaz Continues: "He's been building his businesses for 8 years and he appreciates the support that I've given him in that, and he really wants to be able to show me that support. He's going to come along with our daughter, and we're all going to go together and make a movie in the U.K."
PREVIEW CLIP 2: AW! BENJI MADDEN GOT REALLY PANICKED ABOUT PLANNING CAMERON DIAZ'S 50TH BIRTHDAY
For Screening/Broadcast Only: https://spaces.hightail.com/receive/8eKaJF3jzp
Cameron Diaz: "Benj loves a celebration. When we first met our first year together he threw me three surprise birthdays, from one birthday. Literally, one day surprise birthday, the next day I thought we were going to dinner, another surprise birthday. I was like that has to be it and then another surprise. I was like… 'Would you please stop doing this. You're making people show up. It's the same group of people. Why are they being forced to hide in a bathroom?'
Rachael Ray: "My friends did give me a Mexican birthday dinner that was delightful. I too was surprised. I was like 'Oh gosh what do I do?' you just want to hide."
Cameron Diaz: "I know. I'm okay with that, I don't need it. This year because it was my 50th he was very much like we have to do something, and I couldn't commit. Every day he was like 'Hun, I need to talk to you. Can you come in my office really quick, I need to ask you something?' … I sit down and I think it's something that I wanted him to ask me and he's like, 'What are we doing for your birthday?'…So we just ended up doing a dinner with a group of friends that were in town last minute."
PREVIEW CLIP 3: CAMERON DIAZ WROTE ON DREW BARRYMORE'S TOILET PAPER AS A JOKE—AND THIS IS WHAT SHE SAID
For Screening/Broadcast Only: https://spaces.hightail.com/receive/KzkyZ1y6XM
Cameron Diaz: "I don't know why I don't get pranked on anymore because I don't get a lot of pranks."
Rachael Ray: "Do you prank?"
Cameron Diaz: "I don't, prank. I'm not a good prankster. Wait, yesterday I did write on Drew Barrymore's toilet paper so that she would find it in her toilet, when she goes to the bathroom, 'Have a great poo.'
Rachael Ray: "And you might have stained her backside, by the way. Depending on the marker you use. That could be a better prank we even know about."
Cameron Diaz: "I'm hoping she finds it without using it first."
Rachael Ray: "I will call Drew and ask her."
Connect with us on Instagram, YouTube, Twitter and Facebook
###