Storyline
RILEY AND VANESSA DISAGREE ON HOW TO HANDLE THE ISSUE WHEN HAZEL GETS IN TROUBLE AT SCHOOL, ON "UNITED STATES OF AL," THURSDAY, JAN. 13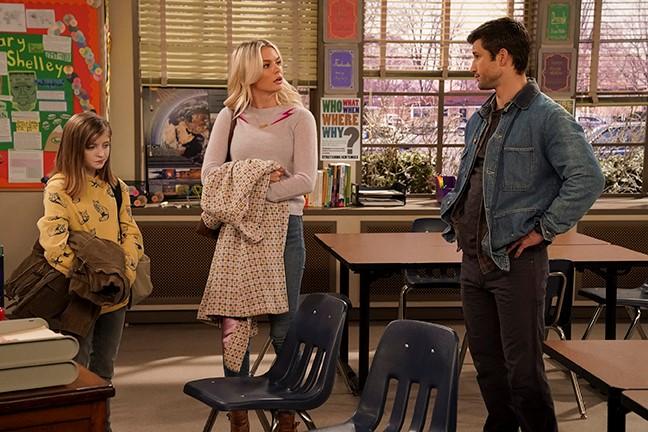 "Punch / Musht" – When Hazel gets in trouble at school, Riley and Vanessa disagree on how to handle the issue, on the CBS Original series UNITED STATES OF AL, Thursday, Jan. 13 (8:31-9:01 PM, ET/PT) on the CBS Television Network, and available to stream live and on demand on Paramount+*.
REGULAR CAST:
| | |
| --- | --- |
| Adhir Kalyan | (Al) |
| Parker Young | (Riley) |
| Dean Norris | (Art) |
| Elizabeth Alderfer | (Lizzie) |
| Kelli Goss | (Vanessa) |
| Farrah Mackenzie | (Hazel) |
GUEST CAST:
Brian Thomas Smith

Dayne Jarrah

Angel Laketa Moore

(Freddy)

(Danny)

(Mrs.Ro)
STORY BY: Chuck Lorre, Ursula Taherian, Bobby Telatovich
TELEPLAY BY: Andy Gordon, Chuck Tatham, Habib Zahori
DIRECTED BY: Mark Cendrowski
GENRE: Comedy
PHOTOS: https://www.viacomcbspressexpress.com/cbs-entertainment/shows/united-states-of-al/photos
*Paramount+ Premium subscribers will have access to stream live via the live feed of their local CBS affiliate on the service as well as on demand. Essential-tier subscribers will have access to on-demand the day after the episode airs.
CHEAT TWEET: Can Al & the family help Riley & Vanessa resolve disagreements over parenting issues? Tune in to @USofAlCBS 1/13 8:31PM @CBS @adhirkalyan @parker_young @deanjnorris @kelligoss @farrahmackenzie https://bit.ly/328ddke
CBS Instagram: https://www.instagram.com/cbstv
CBS PR Twitter: https://twitter.com/CBS
CBS TikTok: https://www.tiktok.com/@cbs
Website: https://www.cbs.com/shows/united-states-of-al/
Cast and crew on social:
Twitter

Instagram

Adhir Kalyan

@adhirkalyan

N/A

Parker Young

@parker_young

@parker.young

Dean Norris

@deanjnorris

@deanjnorris

Elizabeth Alderfer

Kelli Goss

Farrah Mackenzie

@LizAlderfer

N/A

NA

@lizderfer

@kelligoss

@farrahmackenzie
* * *
Press Contact:
Photo Contact:
| | | |
| --- | --- | --- |
| Amanda Beane | 818-655-1545 | |