Release
CBS ANNOUNCES EIGHT CELEBRITY TEAMS COMPETING ON "PICKLED," INCLUDING THE VOLLEY RANCHERS, PARTY 'TIL YOU CUKE, WHEN HARRY NET RALLY, AND THE PADDLE SNAKES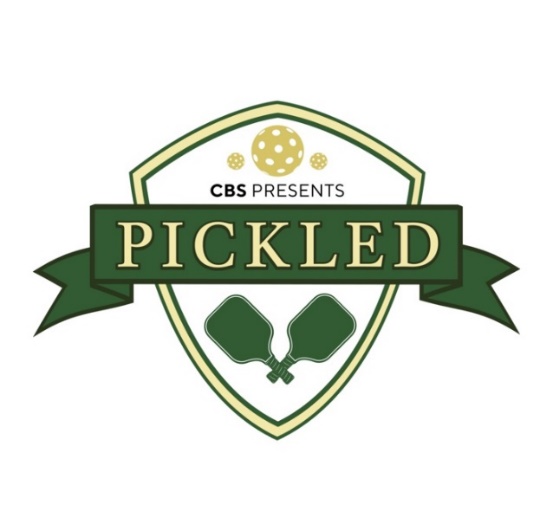 WHAT'S THE BIG DILL?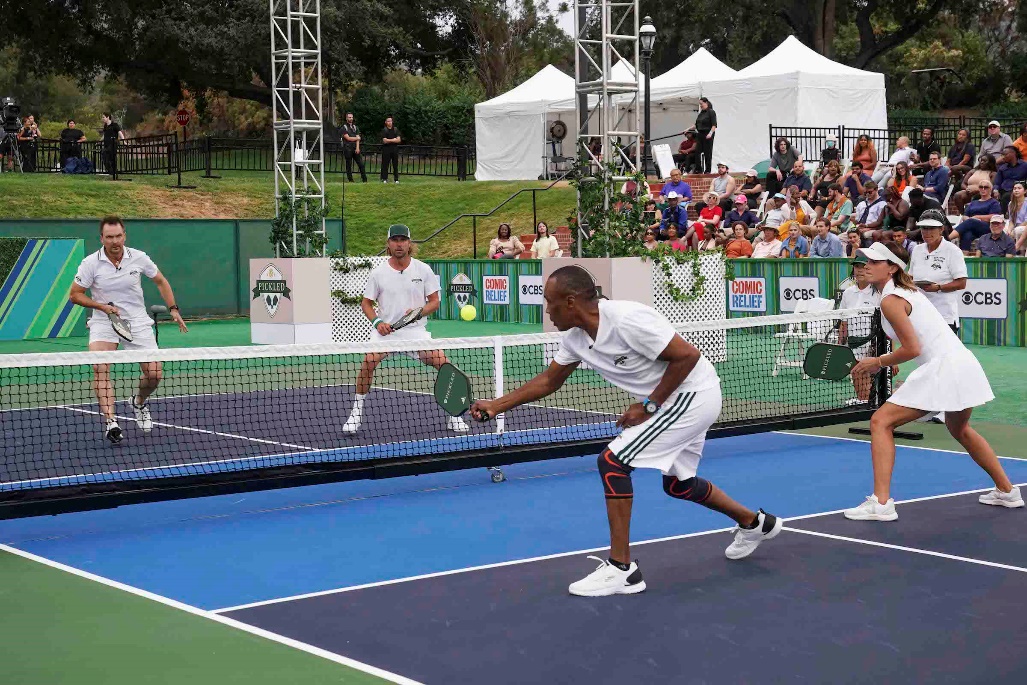 The Two-Hour Sports Comedy Special Airing Nov. 17 on CBS Is Hosted by Emmy Award-Winner Stephen Colbert of "The Late Show with Stephen Colbert"
CBS announced today the eight celebrity teams competing in the new two-hour sports comedy special PICKLED. The pickleball tournament, produced by Stephen Colbert's Spartina, Funny Or Die and CBS Studios, will air Thursday, Nov. 17 (9:00-11:00 PM, ET/PT) on the CBS Television Network, and will be available to stream live and on demand on Paramount+*. Emmy Award-winner Stephen Colbert of THE LATE SHOW hosts this cutthroat pickleball competition.
Below, meet the acclaimed teams playing to benefit the non-profit Comic Relief US and ultimately win the coveted totem of excellence: The Colbert Cup!
TEAM: DINK FLOYD
CELEBRITIES: Kelly Rowland and Murray Bartlett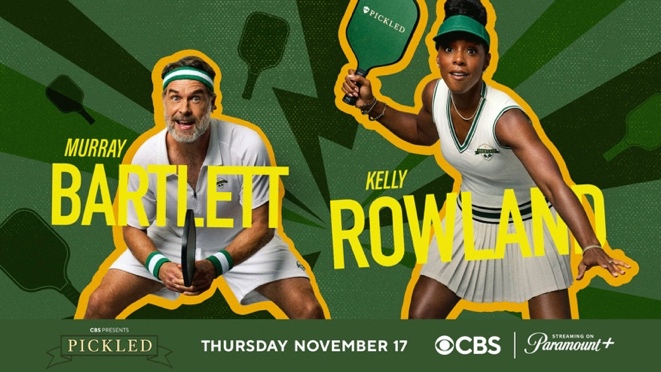 TEAM: PARTY 'TIL YOU CUKE
CELEBRITIES: Tig Notaro and "Mystery Player"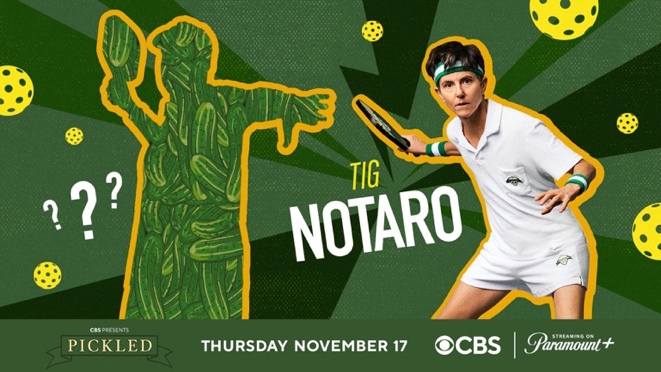 TEAM: THE PADDLE SNAKES
CELEBRITIES: June Diane Raphael and Paul Scheer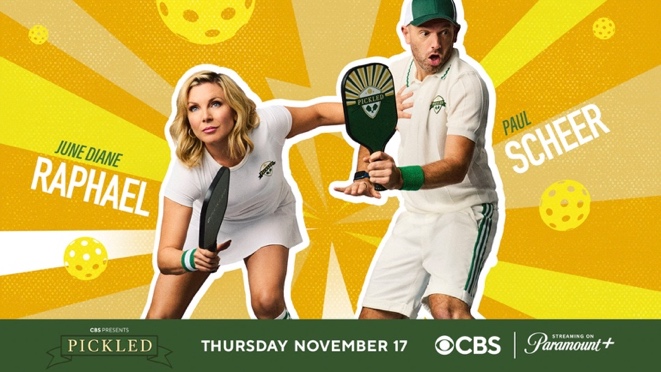 TEAM: TAKE THIS LOB AND SHOVE IT
CELEBRITIES: Jaime Camil and Aisha Tyler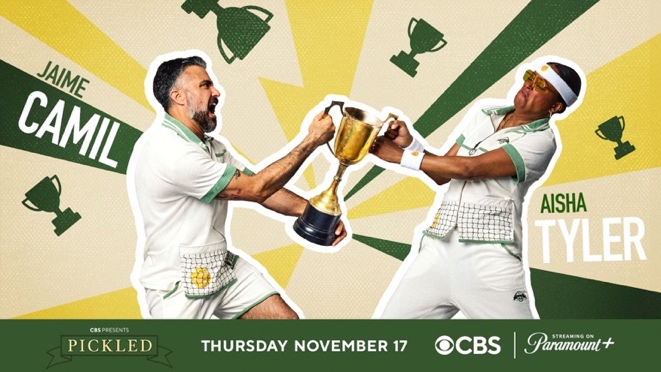 TEAM: THE VOLLEY RANCHERS
CELEBRITIES: Sugar Ray Leonard and Emma Watson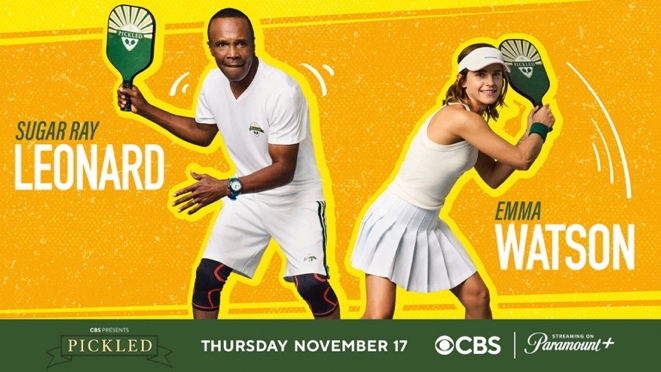 TEAM: DANIEL DAE LUIS
CELEBRITIES: Luis Guzmán and Daniel Dae Kim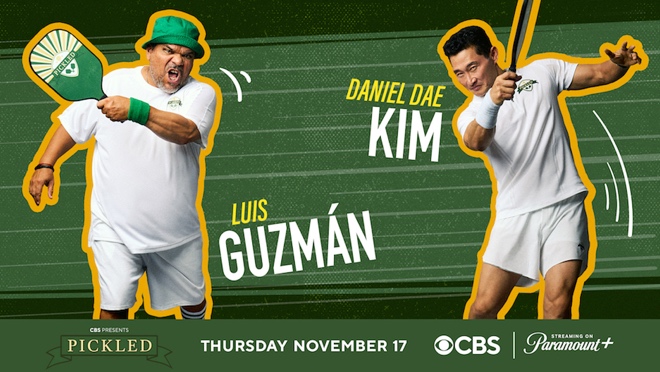 TEAM: DILL-I-AM
CELEBRITIES: Jimmie Allen and Max Greenfield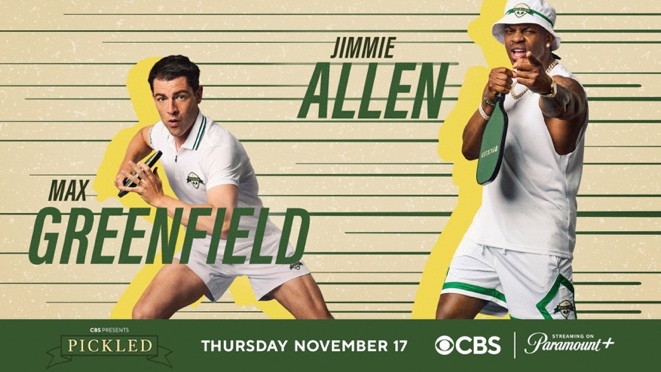 TEAM: WHEN HARRY NET RALLY
CELEBRITIES: Dierks Bentley and Phil Keoghan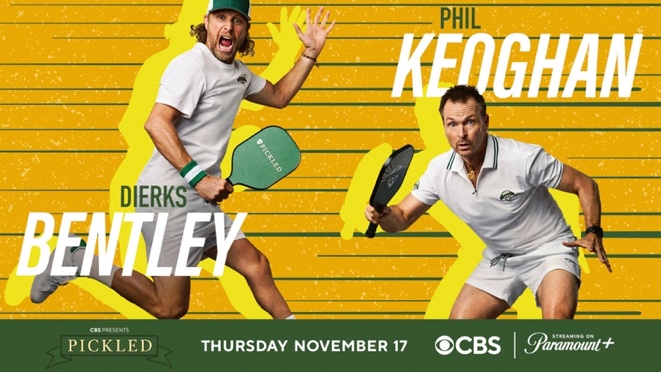 All-star announcers, including Cari Champion, John Michael Higgins and Bill Raftery, add color and commentary to the thrilling matches. After the national anthem is performed as a duet by singer-songwriter Kenny Loggins and Stephen Colbert, the eight celebrity teams take to the court to battle for the honor of being named the PICKLED champions.
Stephen Colbert's Spartina, Funny Or Die and CBS are joining forces with Comic Relief to re-ignite the magic of creating change through comedy with PICKLED. Calls to action during the broadcast will raise funds to support Comic Relief's safety programs, which address the life-altering impact of homelessness, rootlessness and lack of safety often experienced by children and families living in poverty.In addition to funds raised from the broadcast event and at ComicRelief.org/pickled, Comic Relief will also be engaging pickleball leagues, lovers and communities across the U.S. to get in on the fun to help children and families experiencing homelessness.
PICKLED partnered with two brands as exclusive sponsors of the event.
Claussen Pickles, the Original Cold Crunch, brought viewers a fun, comedic take on the traditional mid-game recap – "The Claussen Crunch Time-Halftime Show." The host and analysts gathered in the branded space with the competitors to review first-half highlights and laugh about the lighter moments in the matches. Of course, there were pickles provided by the brand, for everyone including the fans in attendance to enjoy.
OOFOS Active Recovery footwear presented the "OOFOS Recovery Lounge." After each competitive pickleball match, players could cool off in the courtside branded tent to begin active recovery while conducting their post-match interviews. The premium lounge included a misting system, comfortable chairs and displays featuring the latest OOFOS styles.
PICKLED is produced by Funny Or Die in association with Spartina and CBS Studios. Executive producers are showrunner K.P. Anderson, Funny Or Die's Mike Farah, Joe Farrell and Henry R. Muñoz III, and Spartina's Stephen Colbert, Carrie Byalick, Evelyn McGee Colbert and Tom Purcell.
About Spartina
Founded by Stephen Colbert, Spartina is a production company with a first-look deal at CBS Studios. Spartina has produced several projects including Comedy Central's "Stephen Colbert Presents Tooning Out the News" and "Hell of a Week with Charlamagne Tha God," and Hulu's "Derek DelGaudio's In & Of Itself." Spartina is on a mission to make the world a little bit better through content that brings people joy.
About Funny Or Die (FOD)
Funny Or Die (FOD) is a renowned entertainment brand and independent comedy studio that creates premium content in TV, movies, digital, and more. Recent credits include the pop-culture film phenomenon "Weird: The Al Yankovic Story" starring Daniel Radcliffe (Roku), as well as the critically acclaimed mockumentary series PLAYERS on Paramount+. A company with a uniquely high profile across multiple media, FOD has won six Emmy Awards and dozens of Emmy nominations, two Clios, a Peabody, and a Cannes Golden Lion for everything from iconic TV shows like "Billy on the Street" (TBS) and "American Vandal" (Netflix) to groundbreaking multiplatform IP like Zach Galifianakis' "Between Two Ferns" and Hank Azaria's "Brockmire," all while continuing to reach a global audience of more than 40 million people across our social platforms.In 2021, FOD was acquired by the designer and activist Henry R. Muñoz III, and we rededicated ourselves to the mission of our original founders, Will Ferrell and Adam McKay – to not only make people laugh, but also inspire critical thinking, inclusion, and social change.
About CBS Studios
CBS Studios is one of the industry's leading suppliers of programming with more than 70 series currently in production across broadcast and cable networks, streaming services and other emerging platforms. The Studio's expansive portfolio spans a diverse slate of commercially successful and critically acclaimed scripted programming, genre-defining franchises including the ever-growing "Star Trek" universe, award-winning late night and daytime talk shows, and an extensive library of iconic intellectual property.
About Comic Relief
Comic Relief US harnesses the power of entertainment to drive positive change to break the cycle of intergenerational poverty, in the United States and around the world. Since 2015, The nonprofit has raised over $380 million by mobilizing donors of all ages to engage with causes through powerful content-driven campaigns and new digital platforms. Donations are invested in grantee partners and social impact programs that ensure children are safe, healthy, educated and empowered and that address the root causes of poverty in communities most impacted. Comic Relief US, also known as Comic Relief, Inc., is a registered U.S. 501(c)(3) public charity. For more information about Comic Relief US and its impact, visit www.comicrelief.org. Follow @ComicReliefUS on Twitter, Instagram, and Facebook.
*Paramount+ Premium subscribers will have access to stream live via the live feed of their local CBS affiliate on the service as well as on demand. Essential-tier subscribers will have access to on-demand the day after the special airs.