Release
"CBS EVENING NEWS" ANCHOR/MANAGING EDITOR NORAH O'DONNELL AND SIMONE MISSICK, STAR OF THIS SEASON'S #1 NEW SERIES, "ALL RISE," ARE FEATURED ON THE COVERS OF WATCH! MAGAZINE'S NOV./DEC. ISSUE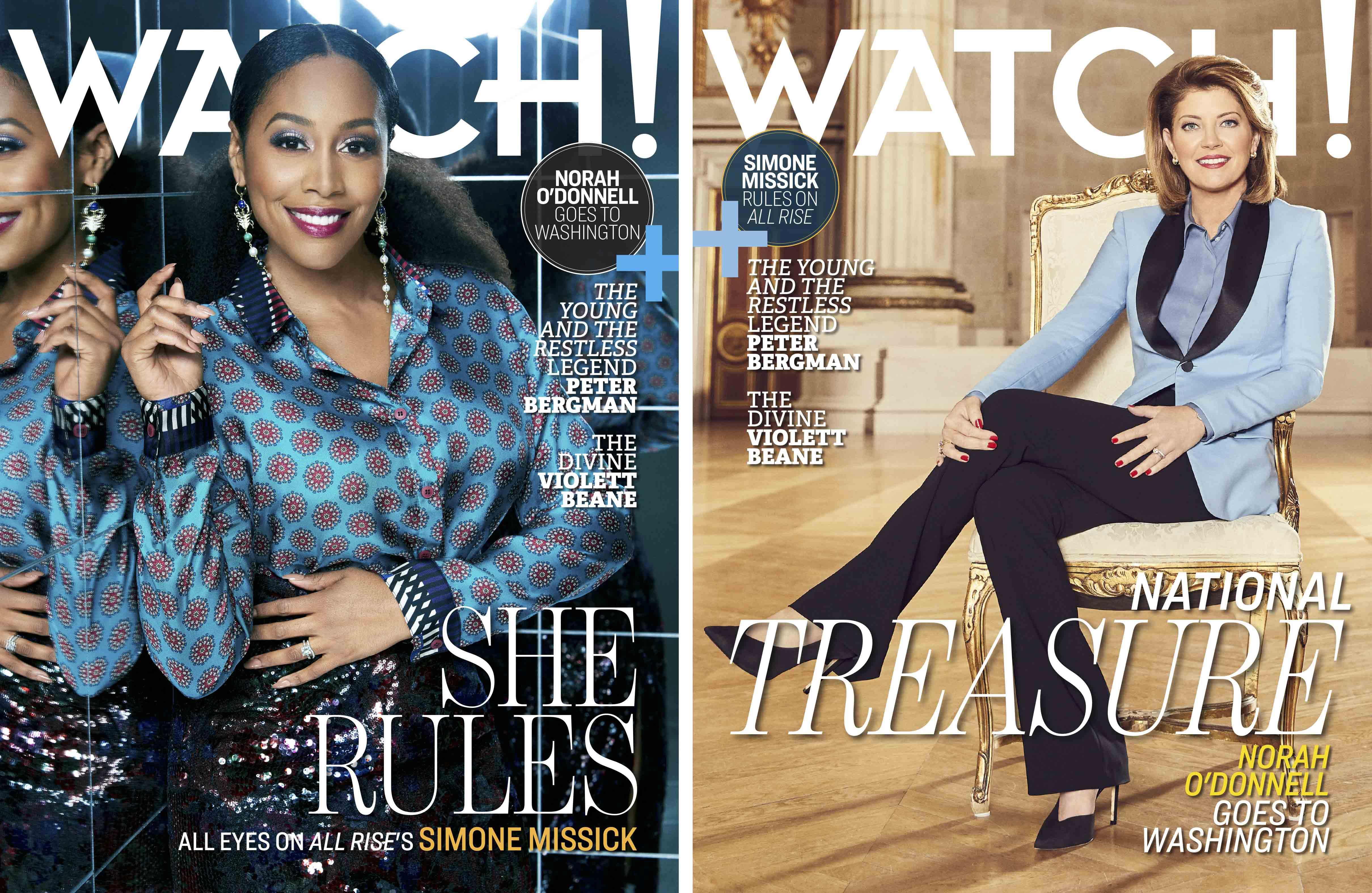 O'Donnell Shares What the "CBS Evening News" Audience Should Expect from Her Program, the Best Advice She's Received from Her Mentors and
How She Balances Her Children's Screen Time with Family Time
Missick Reveals How She Developed Strength and Confidence Thanks to Her Hometown Detroit Community, the Gratitude She Feels to the African-American Actresses and Creators Who Paved the Way for Her to Helm "All Rise" as "Judge Lola Carmichael;" and What It Was Like Playing "Misty," the First African-American Female Superhero
"The Young and the Restless" Legend Peter Bergman Ushers in the Holidays
with a Festive Photo Shoot at a Beverly Hills Estate and Discusses His 30 Incredible Years as Jack Abbott and His Enjoyable "Hidden" Hobby
"God Friended Me" Star Violett Beane Goes Preppy-Chic in a Fashion Portfolio Shot in Portland, Maine, and Chats About When She First Caught the Acting Bug, How Her Spiritual Life and Creativity Are Intertwined, and Why Her Current Role Is Her Most Satisfying Yet
Stars Cedric the Entertainer and Max Greenfield of "The Neighborhood" Talk About Fatherhood, Their Characters – and What Makes a Good "Yardecue"
The Issue Also Includes a Holiday Gift Guide Inspired by the Styles of Several TV Character Favorites
NEW YORK – Nov. 19, 2019 – The November/December issue of CBS' Watch! magazine, on newsstands now through mid-January, features cover stories with CBS EVENING NEWS anchor and managing editor Norah O'Donnell and Simone Missick, star of this season's #1 new series, ALL RISE. Also in this edition are a holiday gift guide inspired by the styles of several TV character favorites, a festive holiday photo shoot and feature with THE YOUNG AND THE RESTLESS legend Peter Bergman, a preppy-chic fashion portfolio and interview with GOD FRIENDED ME star Violett Beane, and a neighborly chat and playful photoshoot with stars Cedric the Entertainer and Max Greenfield of THE NEIGHBORHOOD, as well as interviews with star Jennifer Beals (the SHOWTIME sequel THE L WORD: GENERATION Q), showrunner Peter Lenkov (CBS' HAWAII FIVE-0, MACGYVER and MAGNUM P.I.), CBS SUNDAY MORNING's Mo Rocca (regarding his new book, Mobituaries: Great Lives Worth Reliving) and author Candice Carty-Williams (who penned the international best-seller Queenie).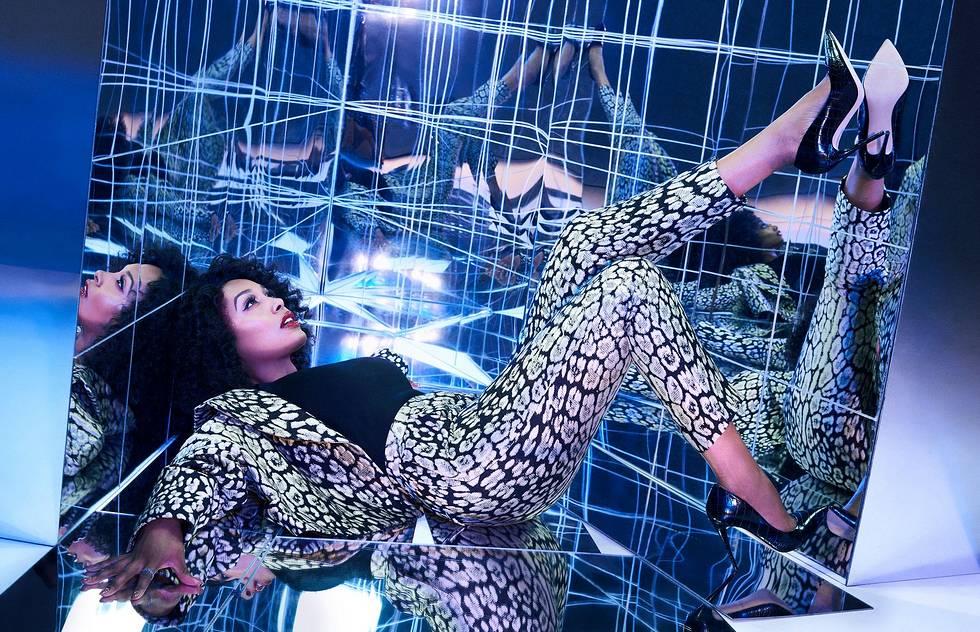 Mirrored backdrops made things twice – sometimes thrice – as nice at Simone Missick's cover shoot in Los Angeles, as photographer Jeff Lipsky captured multiple angles of the easygoing and enthusiastic actress in vibrant fashions styled by Ashley Zohar. During her interview with writer Henry Goldblatt, Missick talked fondly of her formative years: "Growing up in Detroit, there's a certain level of strength and confidence that I was given in a community where people embraced me for who I was, and that confidence is something that all the characters I keep coming into contact with have." Missick also discussed her first groundbreaking character, Misty in the show "Luke Cage" and its two sister series, the first African-American female superhero, who was created in 1975 but didn't appear on live-action TV until decades later when Missick portrayed her. "To be the first person to give [Misty] a voice and to have this built-in network of fans that have been around for 40-plus years waiting to see her come to life was amazing." Speaking of groundbreaking roles, Missick relayed being grateful to Kerry Washington who, in 2012, became the first African-American woman to lead a primetime show in nearly 40 decades. "Thank God for ["Scandal" creator] Shonda Rhimes and Kerry Washington and Viola Davis ["How to Get Away with Murder"]. Had it not been for Kerry and Viola with her Oscar showing you what was what, we would not have these opportunities." Not only is Missick the lead of CBS' Monday night courthouse drama ALL RISE, the season's #1 new series, she's also playing the "strong and capable yet flawed and clumsy" Judge Lola Carmichael who, per Missick, has "the heart and passion to make a change in her community... We have never seen a black woman on TV like this, and I relish being able to do it."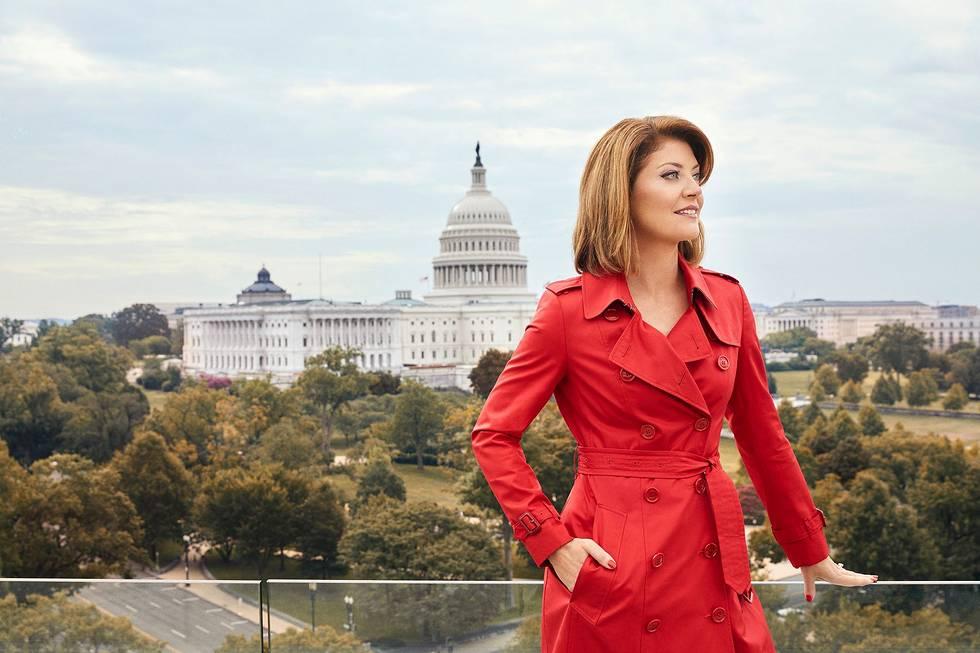 Photographed by Sami Drasin on location in Washington, D.C., where the esteemed CBS EVENING NEWS WITH NORAH O'DONNELL will soon be based, with backdrops of the iconic Capitol Building, the Washington Monument and interiors of the Andrew W. Mellon Auditorium, the gregarious Norah O'Donnell was styled by Fran Taylor in a mix of power business wear and formal attire. In addition to speaking with writer Melina Bellows about her career path, mentors, strengths and family, O'Donnell relayed what she aims to achieve with each CBS EVENING NEWS broadcast: "What we have to do well is provide context, in-depth analysis and clarity. We have to choose the most important stories to tell in a 30-minute broadcast…I think that Americans are craving an independent source of news. There are plenty of channels for affirmation. We are a channel for information." Among O'Donnell's many mentors was the late Tim Russert, NBC's longest-running "Meet the Press" moderator, with whom she worked when she started her broadcast career at NBC. Shared O'Donnell, "He would always say, 'What do you know?'…Tim taught me that every day you have to bring value to the table." Additionally, as an intern, O'Donnell worked with Ann Compton, who covered the White House for ABC. Per O'Donnell, Compton advised: "You need to keep everybody's phone number and information, and you need to reach out and ask for help." "That was a lesson from day one, that your relationships matter," said O'Donnell. "Andrea Mitchell [NBC News chief foreign affairs correspondent] told me, 'You can actually succeed by outworking the competition.' Hard work equals success. Bob Schieffer [CBS News' former chief Washington correspondent] was one of the most important mentors in my entire career. He took me under his wing and taught me the importance of being a great storyteller." As for how she's guiding her own three preteens, one issue that's key to her is limiting their screen time. "I would like to do a series on that. It's the #1 issue affecting most parents, and it has to do with the health and well-being of their children. We have rules: No phones after 8:30 PM or at breakfast, lunch or dinner. No phones in the car. Whenever we're in a family environment, no phones because you have to talk to one another, and we have a device in the house where after an hour or an hour and a half, they're allowed to text us, but it shuts off everything else."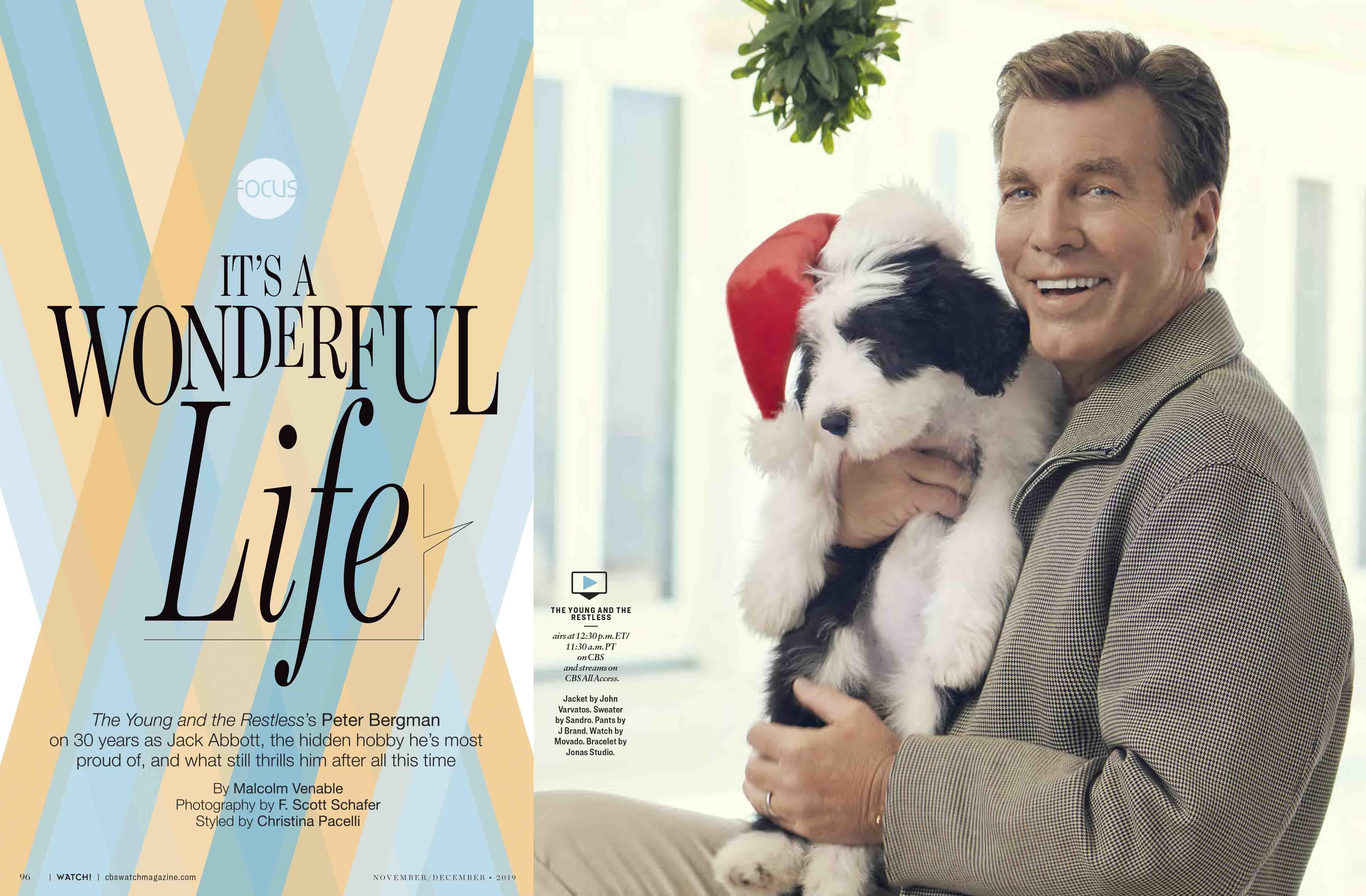 The good-natured Peter Bergman channeled cooler weather during his holiday-themed photo shoot on the grounds of a Beverly Hills estate, despite the balmy August temperatures. Photographed by F. Scott Schafer, Bergman was styled in casual, elegant, and somewhat toasty styles of the season selected by Christina Pacelli. One of his favorite "accessories" was the real-life puppy sidekick he held in one of the set-ups. For his feature story, Bergman chatted with writer Malcolm Venable about his incredible and "fortunate" 30-year run as Jack Abbott on CBS' daytime drama powerhouse THE YOUNG AND THE RESTLESS, which came his way when his wife was pregnant with their second child and his "All My Children" character had just come to a sudden end. To Bergman's amusement, the first he heard about it was when his agent said, "THE YOUNG AND THE RESTLESS wants to know how tall you are. Should we call them?" Additionally, he shared that, when he's not working, his "secret" hobby is playing piano. "It's one of the great joys of my life. I started when I was 20 years old…I started disciplining myself to sit at a piano and play those scales to get where I wanted to get. I practice probably four days a week. At Christmas, with my extended family, at some point I play and we all sing Christmas carols."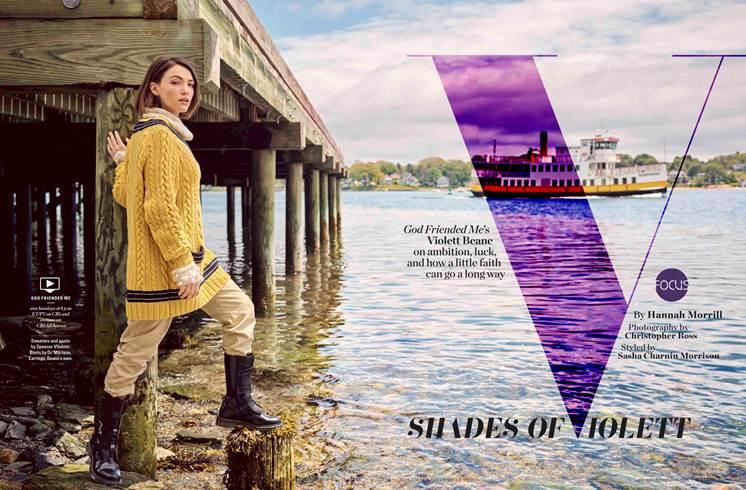 For her fashion portfolio, Violett Beane, star of CBS' hit Sunday night series GOD FRIENDED ME, now in its second season, traveled to the charming coastal city of Portland, Maine, where she was photographed by Watch! director of photography (and Portland local) Christopher Ross and styled in preppy-chic fashions by Watch! style director Sasha Charnin Morrison. Though Beane had impressive turns on "The Leftovers" and The CW's FLASH, she relayed to writer Hannah Morrill that her GOD FRIENDED ME role is her most satisfying yet. ("Cara is a fun person to play. She does what her mind tells her to do, and she follows through with it."). She also reminisced about first realizing she'd like to become an actor, while playing a supporting role in the musical "Parade" as a high school sophomore in Austin, Texas ("It was scary and very, very exciting. And I thought, 'I want to feel that again.'"), and she expressed how her spiritual life and her creativity are intertwined ("Being a Quaker is just about communicating with each other and living a peaceful existence" with the five core values of simplicity, peace, integrity, community and equality. "I think [being a Quaker] is part of my creativity, because it is so inclusive and open.")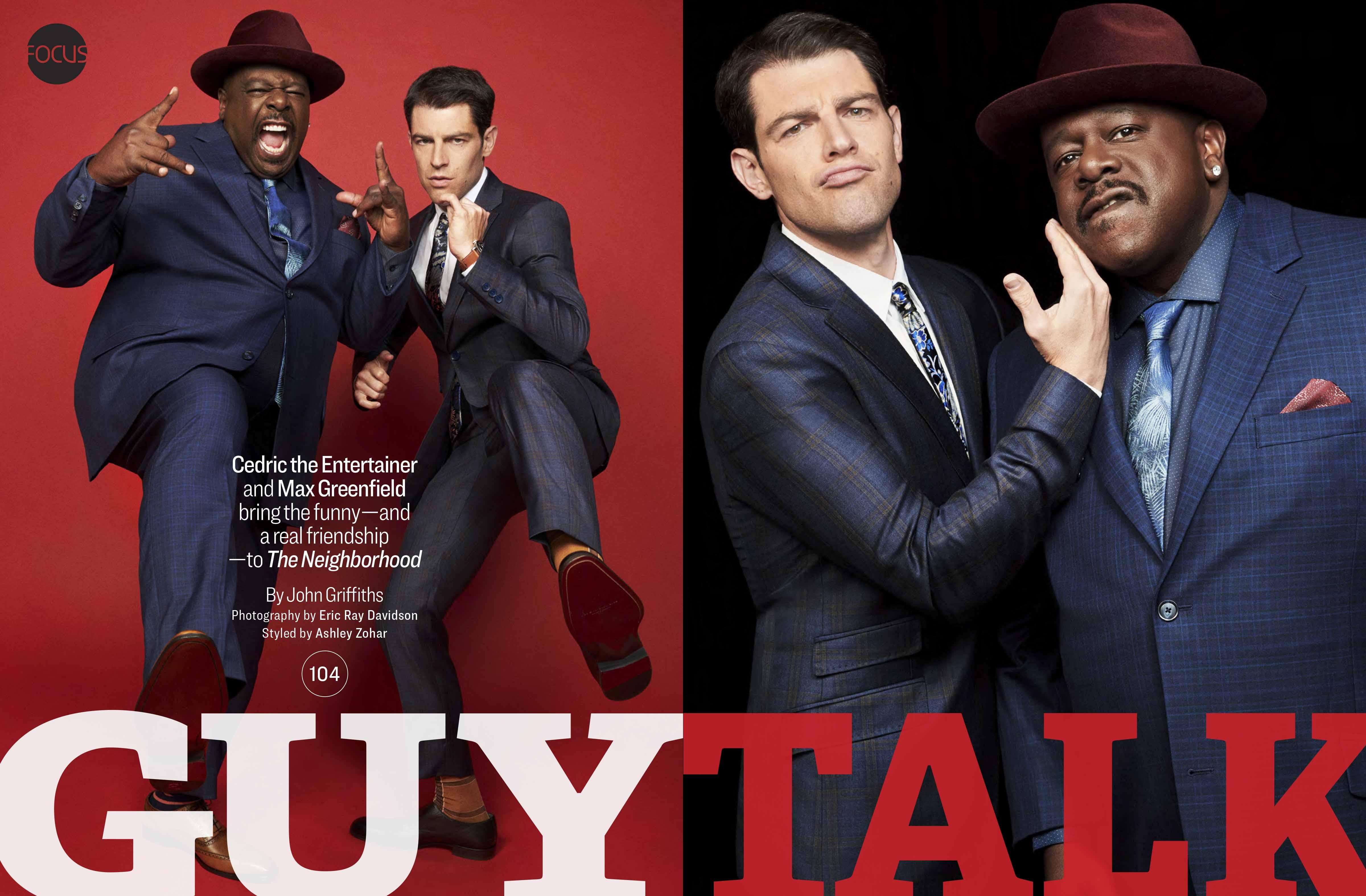 Though their characters on CBS' popular Monday night sophomore series THE NEIGHBORHOOD generally don't see eye to eye, the talented and funny Cedric the Entertainer and Max Greenfield exuded mutual respect, humor and camaraderie with each other during their Watch! shoot (photographed by Eric Ray Davidson and styled in trendy suits, and hats for Cedric, by Ashley Zohar) and throughout their interview with writer John Griffiths. In discussing the show and how they relate to their own characters, Greenfield shared, "I love how optimistic Dave is, how he's always looking at the bright side of things. I'm in a better mood by playing this guy." Cedric added, "It's funny. When I'm the Entertainer, I'm very out front and gregarious. But lately, when I'm just Cedric Kyles, I don't know why, but in larger groups I'm more super reserved now, like Calvin. I don't want to be the center of attention – just kind of dip in, dip out." Both are fathers on the show and in real life, and after Greenfield reveals that he got "a great piece of advice" from Cedric's wife regarding relating to his [10-year-old] daughter by watching and talking about the YouTube shows she likes, Cedric shares about Greenfield, "When I watch Max with his [two] kids, he's really relaxed and fun and engaging. He allows them to be free and knows their little minds. It's really cool to see how they interact. And Max cracks me up talking about [his younger child, 4-year-old] Ozzie..." Cedric's two teens and 30-year-old daughter visit the set often, and Cedric, who has a 3-year-old granddaughter, shares, "She has a lot of energy – she FaceTimes us every day!" As for their favorite food at a "yardecue," Cedric savors "great ribs, brats, dogs and burgers," and the meat-free Greenfield favors broccolini with olive oil and sea salt.
Also in the issue is a "Gift Guide Spectacular" with "39 fabulous ideas guaranteed to spark joy," inspired by the styles of various TV characters, including the elegant/glamorous Diane Lockhart on THE GOOD FIGHT (CBS All Access); the "laid-back cool" and sporty Jughead from RIVERDALE (The CW); the sweet colorful looks of the young sophisticated title character of NANCY DREW (The CW); Dawn Darcy's bold, glimmering '80s garb on BLACK MONDAY (SHOWTIME), the budding fashionista Grace Felton on THE UNICORN (CBS), and the dapper and sleek Billy Baker on ALL AMERICAN (The CW).
Additional stories in the issue include:
Columnist Brantley Bardin's Q&A with star Jennifer Beals about her return to her THE L WORD character in the SHOWTIME sequel THE L WORD: GENERATION Q, premiering Dec. 9. It's been 10 years since the original series immersed viewers in a lesbian community never before seen on television, and says Beals, who will be joined by two of her original co-stars and four new young leads, "The world was so different the first time around. There was no marriage equality, and when somebody said 'non-binary,' it was just a mathematical term. So to explore these ideas and give representation to these people is exciting."
Peter Lenkov, showrunner of CBS' current hits HAWAII FIVE 0, MACGYVER and MAGNUM P.I., talking to columnist Fred Schruers about the art of multi-tasking and keeping each show's individual voice. "With all three shows, we've tried to stay true to the origin story. But we also take some license, so there's something new, or some twist to the backstory."

Star Omar Miller of CBS' new comedy series THE UNICORN discussing his nearly 4-year-old "un-PC and extremely opinionated" sports podcast, The O-Zone, for which he chats with pro athletes, famous friends and family members.

"24 Hours with…" lead actor Jared Padalecki, sharing the details of a typical day for him when shooting The CW's SUPERNATURAL, which is in its 15th and final season.

Folake Olowofoyeku, star of CBS' freshman Monday night comedy series BOB ♥ ABISHOLA from Chuck Lorre, revealing "7 Things That Make Me Smile." #6 is "guitar music," explains the Nigerian native. "Slash's solo on 'Knockin' on Heaven's Door' was the first thing I learned on the guitar. I'm self-taught, but I get by."

Daniela Ruah, the popular star of CBS' NCIS: LOS ANGELES, taking readers on a guided tour of her Mediterranean hometown in Portugal.

An interview with CBS SUNDAY MORNING's prolific Mo Rocca about his new book, Mobituaries: Great Lives Worth Reliving, his "Mobituaries" podcast and what makes a "Mobituary" different from an obituary. Explains Rocca, "Some of the subjects of 'Mobituaries' never got the send-off they deserved…I also like reevaluating people who are household names. Sammy Davis, Jr. died the same day as Jim Henson, which was way too much talent to lose in one day…I think of [Davis] as the greatest entertainer of the 20th century. It's not just about the passing of a person but about the passing of a kind of entertainment."

Author Candice Carty-Williams talking about her debut novel, the international best-seller Queenie. Though Carty-Williams has said the title character is a version of her, she clarifies, "Queenie doesn't have the same thought processes as me. I'm too prideful. If someone wants to break up, I'm like, 'Bye.' But we're living in the same world. No one seems to understand the experience of black womanhood but us. If we are in a story, we are usually a side character, or a sexual conquest, or that mammy figure."
Also, CBSWatchmagazine.com continues to complement the print magazine's articles while still showcasing its own unique content, including photos and videos that are original to Watch!
About Watch!
The official magazine of CBS since 2006, Watch! offers a rare, glamorous window into the lives of television and film's biggest stars. With distinctive photography by top tier talents and first class stories curated by industry veterans, Watch! has steadily become one of the most elegant, sophisticated publications today. This intriguing amalgam of entertainment, celebrity, culture, fashion, travel and beauty features talent from CBS, SHOWTIME, The CW, CBS All Access, CBS Television Distribution, Simon & Schuster, CBS Films, Pop and beyond.
The magazine's digital properties present readers with richer pathways to continue the journey beyond the velvet rope. Timely behind-the-scenes videos and photo galleries bring the reader closer to their favorite characters and their favorite shows. The digital version of Watch! can be found at cbswatchmagazine.com. The bi-monthly print magazine is enjoyed by subscribers and sold on newsstands at select Barnes & Noble, Hudson News, Target and Walmart stores.
Media site: www.cbspressexpress.com/watch-magazine/
Website: www.cbswatchmagazine.com
Facebook: facebook.com/CBSWatch/
Twitter: https://twitter.com/CBSWatch
Instagram: https://www.instagram.com/CBSWatch
* * *
Watch! Press Contact:
| | | |
| --- | --- | --- |
| Barbara Abseck | 212-975-4637 | |