Storyline
BOB LETS DELE GET A NEW HAIRCUT AND FINDS HIMSELF CAUGHT BETWEEN AN IRATE ABISHOLA AND A SURPRISINGLY STUBBORN DELE, ON "BOB ♥ ABISHOLA," MONDAY, OCT. 17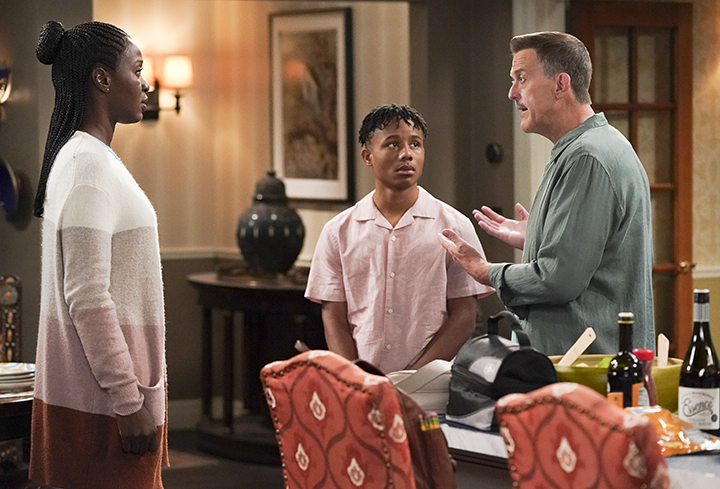 "Kicked Outta the Dele Club" – Bob lets Dele get a new haircut and finds himself caught between an irate Abishola and a surprisingly stubborn Dele. Also, Dottie runs into difficulties with the MaxDot board of directors, on the CBS Original series BOB ♥ ABISHOLA, Monday, Oct. 17 (8:30-9:00 PM, ET/PT) on the CBS Television Networkand available to stream live and on demand on Paramount+*.
REGULAR CAST:
Billy Gardell

(Bob)

Folake Olowofoyeku

(Abishola)

Christine Ebersole

(Dottie)

Matt Jones

(Douglas)

Maribeth Monroe

(Christina)

Vernee Watson

(Gloria)

Shola Adewusi

(Auntie Olu)

Barry Shabaka Henley

(Uncle Tunde)

Travis Wolfe, Jr.

(Dele)

Gina Yashere

(Kemi)

Bayo Akinfemi

(Goodwin)

Anthony Okungbowa

Saidah Arrika Ekulona

(Kofo)

(Ebunoluwa)
STORY BY: Chuck Lorre, Gina Yashere and Matt Ross
TELEPLAY BY: Nathan Chetty, Gloria Bigelow and Marla DuMont
DIRECTED BY: Beth McCarthy-Miller
GENRE: Comedy
Click HERE for photos
Website: https://www.cbs.com/shows/bob-hearts-abishola/
Twitter: https://twitter.com/BobAbisholaCBS
Instagram: https://www.instagram.com/bobheartsabishola/
Facebook: https://www.facebook.com/BobHeartsAbishola
*Paramount+ Premium subscribers will have access to stream live via the live feed of their local CBS affiliate on the service as well as on-demand. Essential tier subscribers will have access to on-demand the day after the episode airs.
CHEAT TWEET: Bob lets Dele get a new haircut and finds himself caught between an irate Abishola and a surprisingly stubborn Dele on @BobAbisholaCBS 10/17 8:30 PM @CBS @BillyGardell @TheFolake @ginayashere https://bit.ly/3TegZgU
CBS Twitter: https://twitter.com/CBSTweet
Cast and crew on social:
Twitter

Instagram

Billy Gardell

@BillyGardell

@billygardell

Folake Olowofoyeku

@TheFolake

@the.folake

Maribeth Monroe

@MaribethMonroe

@maribethmonroe

Barry Shabaka Henley

@barry_shabaka_henley

Matt Jones

@mattjonesisdead

@mattjonesisdead

Shola Adewusi

@SholaAdewusi_

Travis Wolfe, Jr.

@TravisWolfejr

Gina Yashere

@ginayashere

@ginayashere

Bayo Akinfemi

@bayoakinfemi

@bayoakinfemi

Anthony Okungbowa

Saidah Arrika Ekulona

@TONYOK

@tokungbowa

@ms.saidah
***
Press Contact:
| | | |
| --- | --- | --- |
| Andrea Ballas | 818-655-1581 | |
| | | |
Photo Contacts:
| | | |
| --- | --- | --- |
| Heidi Rubin | 917-577-0766 | |
| Karla Gotcher | 818-655-1545 | |