Storyline
HOST RUPAUL CHARLES WELCOMES 4 TEAMS TO FACE OFF IN THE ORIGINAL FAST-PACED WORD-TWISTING GAME SHOW, ON THE SEASON PREMIERE OF "LINGO," WEDNESDAY, JAN. 11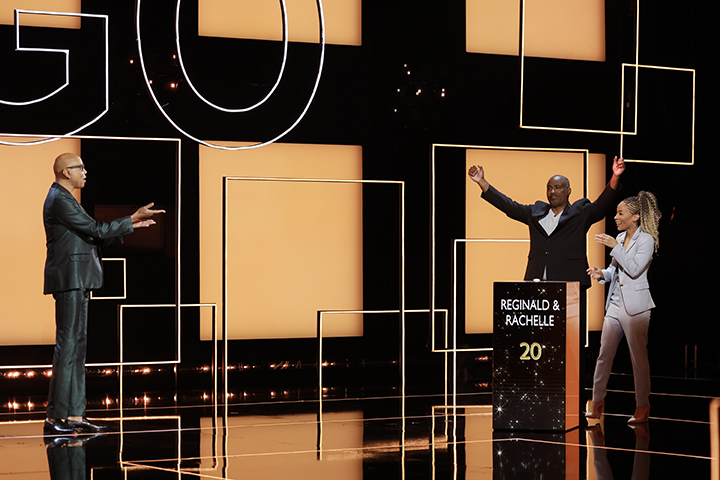 "Episode 1" – Host RuPaul Charles welcomes four teams to face off in the original fast-paced word-twisting game show where the correct words could be worth thousands, but only one team will take home the extra $50,000 jackpot prize, on the season premiere of LINGO, Wednesday, Jan. 11 (9:00-10:00 PM, ET/PT) on the CBS Television Network, and available to stream live and on demand on Paramount+.
About Objective Media Group
Objective Media Group comprises industry-leading production companies across London, Los Angeles, Glasgow and Manchester. OMG companies excel in world class, award-winning scripted, entertainment and reality television. These include "The Cube" for TBS, "12 Dates of Christmas" for HBO Max, "The Great American Recipe" for PBS, "Worst Cooks in America" for Food Network, "Flirty Dancing" for Channel 4 and FOX, "Wheeler Dealers" for Discovery, "Sweet Life: Los Angeles" for HBO Max and "Feel Good" for Netflix.
About Lingo
All3Media International has sold the format in more than 17 territories, with versions of the hit show produced in major markets including the UK, Italy and Spain – where the series is currently airing – as well as the US, Netherlands and France. There is a Lingo boardgame, Facebook game and app available.
CHEAT TWEET: Host @RuPaul welcomes four teams to face off in the original fast-paced word-twisting game show where the correct words could be worth thousands, but only one team will take home the extra $50,000 jackpot prize, on the season premiere of @lingocbs Jan. 11 @CBS! 9/8c. https://bit.ly/3Bwz8QC
Click HERE for photos
Website: https://www.cbs.com/shows/lingo
Twitter: https://twitter.com/LingoCBS
Instagram: @lingocbs
CBS Twitter: http://twitter.com/#!/CBSTweet
CBS Facebook: https://www.facebook.com/CBS
RuPaul Charles on Twitter: @RuPaul
RuPaul on Instagram: @rupaulofficial
***
Press Contacts:
| | |
| --- | --- |
| Lori Dellicolli | |
| Trenise Burleson | |
Photo Contacts:
| | |
| --- | --- |
| Gaye Ann Bruno | |
| Heidi Rubin | |